Many websites use private messaging systems to enable users to chat with one another without leaving the website. If you are running a blog with WordPress, then you can easily do so via a plugin. The beauty about adding most new functionality in WordPress is that you don't need coding knowledge and there are probably a great number of plugins available for it.
You can easily add a private messaging system to WordPress by using a plugin such as Front End PM. It's a free plugin on the WordPress repository that has all the basic features to allow you to add a private messaging system. The best feature about this plugin is that you can allow users to chat on your website without giving them access to the dashboard.
Why You Need A Private Messaging System on Your WordPress Site?
Private messaging systems can come in handy for websites that have multiple authors and need to chat with each other. Not just multiple authors but if you have multiple people managing various aspects of your website, they may need to communicate with each other. Collaboration is an important aspect of working together. They can also be used if you are running a forum or a blog and want your users to be able to communicate with each other.
Allowing your website users to private message each other can also improve the user experience of your website and increase user engagement.
Step by Step: How to Add A Free Private Messaging System in WordPress
Step 1. Installing the plugin
In your WordPress dashboard click on plugins and add new. Search for Front End PM, install and activate the plugin.

Step 2. Using / Setting up the plugin
After activating the plugin there will be a new menu item in your WordPress dashboard: Front End PM. Click on settings under front end PM to configure the plugin and setup your website for private messaging.
There are 7 tabs under the settings. We will go through the basic setup of the plugin to help you get started and you can modify other settings as per your requirements.

Under General settings you first need to configure the page on which you want users to send private messages to each other. You can either select a page from the drop down or create a new page for private messaging. If you select a page then you need to add the shortcode [front-end-pm] to it.
Next you can configure the message view as threaded or individual. Threaded view will show messages sent and received. Individual view will show only the most recent message.
Other settings you can configure here include the messages per page, the announcements per page, the maximum users per page, the time delay between two sent messages.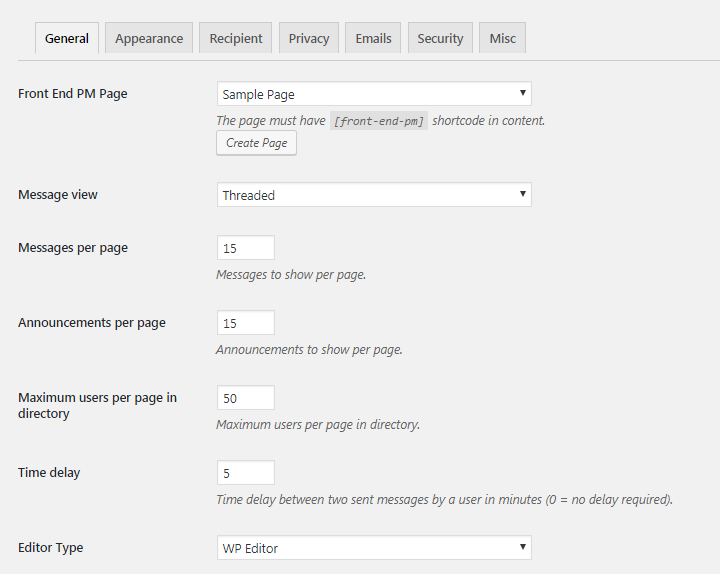 You can scroll further down and configure the status of the parent message, the reply message and the attachment status. You can also define the maximum size of attachments allowed. You can enable or disable the directory in the front end and remove or allow the footer branding.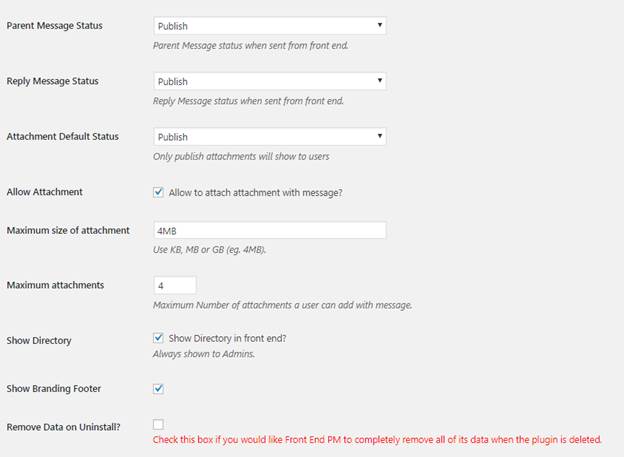 Under the appearance tab you can adjust the color schemes of the chats to match with your overall look and feel of your website.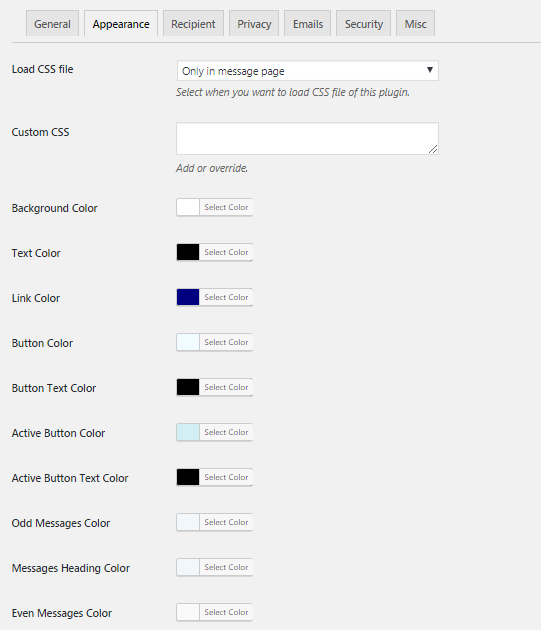 In the recipient tab you can allow suggestions for usernames. Other features are available in the paid version of the plugin only.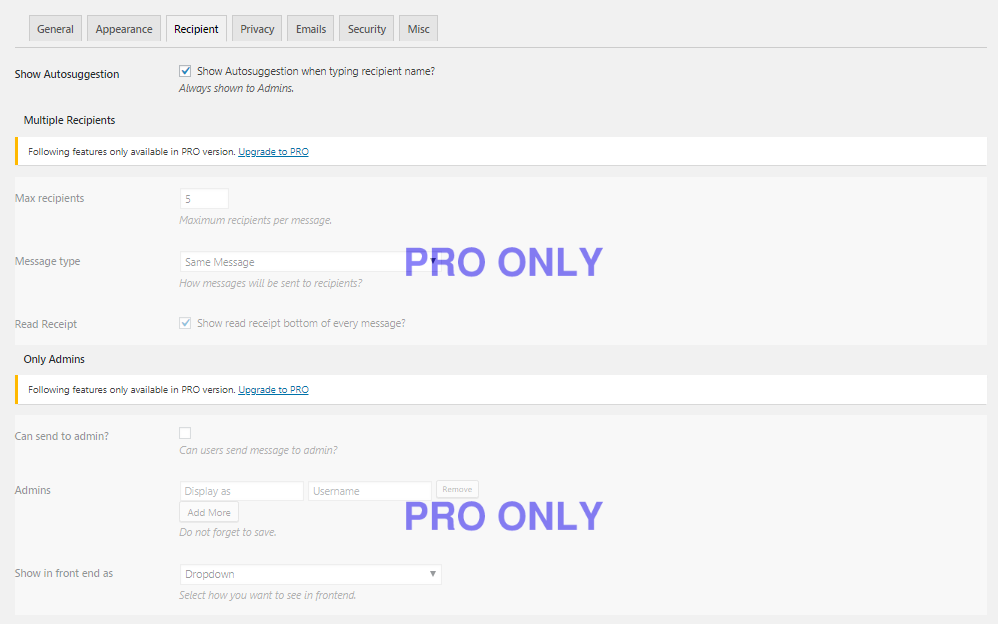 In the privacy settings you can allow exporting of announcements and messages. You can also allow erasing or storing of messages.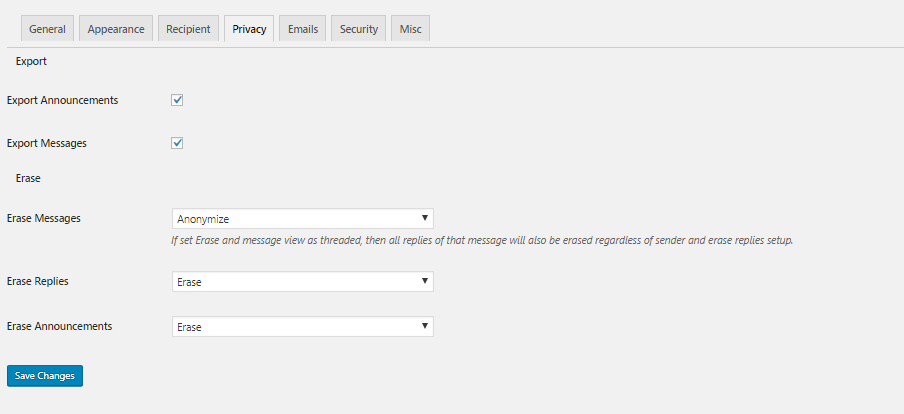 The other 3 tabs under the settings are:
Once you are done setting up the plugin according to your requirements, you can visit the front end of the page where you had set up the plugins shortcode to start using private messaging.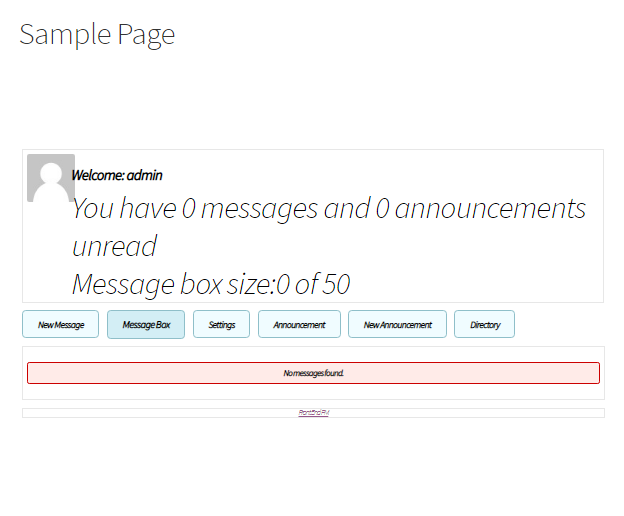 The plugin is a complete solution for anyone looking to add a private messaging system on their website. Here are some of our favorite features of the plugin:
Messaging through a page and not the dashboard
Threaded message views
Support for attachments
Desktop notifications
Blocking of users
Storage of messages
Conclusion
That's all we have for this article. We hope you are now easily able to add a private message system in WordPress. Do check out the paid version of the plugin also. It has a few neatly put together extra tricks up its sleeve such as: group messaging, multiple recipients, email templates, email piping and many others. A single site license costs $39, a 2-5 site license costs $79 and an unlimited site license costs $199.
You may also want to add web push notification in WordPress to increase repeat visitors