Back in 2003, when WordPress was originally created, it was meant to help users easily create and maintain an online blog. Today, the CMS (Content Management System) powers over 30% of the entire World Wide Web. Now, WordPress can help you build almost any type of website pertaining to any niche, and isn't limited to blogs.
All this flexibility is thanks to supported themes and plugins for the popular CMS. When you install dedicated plugins on your WordPress website, it adds extra features to your site. For example, we all know WooCommerce plugin, one of the best e-commerce plugins plugin for WordPress, which adds e-commerce support into the platform.
Similarly, there are a host of other plugins which can help you host a dedicated forum on your WordPress website. And for the purpose of this read, we will be looking at some of the best forum plugins for the job. So, without keeping you waiting any longer, here are our picks for the 5 best forum plugins for WordPress.
Best Forum Plugins
1. wpForo Forum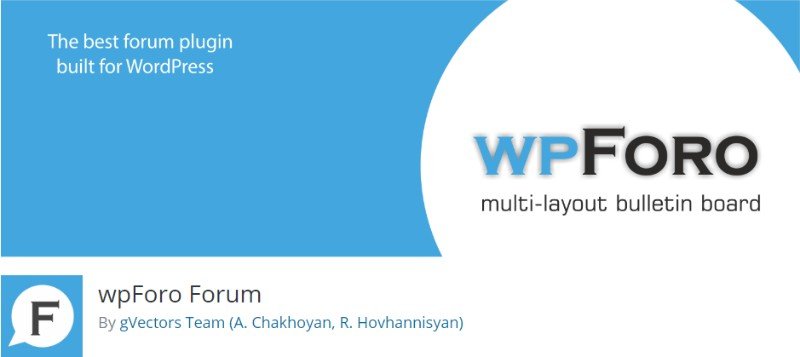 Starting off the list, we have wpForo Forum WordPress forum plugin. This light-weight free to use tool helps you set up a full-fledged forum on your WordPress site. To get you started, the plugin will give you access to three different forum layouts and designs. Customization options are also available in the form of six different color styles and a dedicated dark style.
Plenty of other features are also included to help you properly manage all activity going on your forums. For example, to help optimize the user experience of your WordPress forum, the plugin also provides easy integration with other dedicated profile builder and membership plugins like BuddyPress and Ultimate Members. You will even have access to a couple of add-ons which will help you optimize the forum layout.
All in all, with wpForo Forums, you will get the complete package that can help you design small as well as large forums. Here is a more comprehensive rundown of all the features it brings to the table:
And much more.
2. Asgaros Forum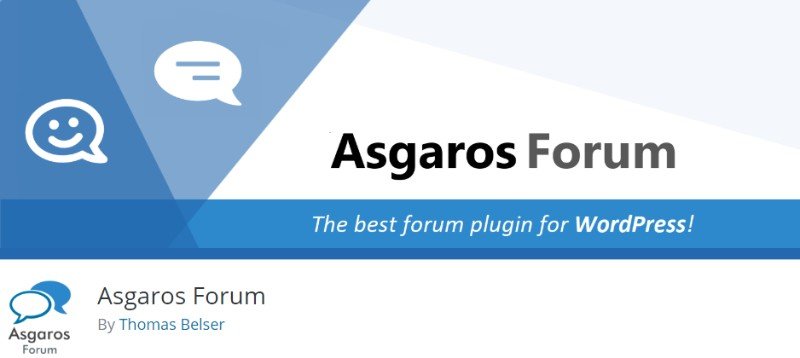 Once installed, Asgaros Forum WordPress forum plugin will help integrate a feature-rich discussion board on your website. It is free to use but brings in a lot of useful features wrapped up in a lightweight package. On top of that, it is very easy to use and installs rather quickly making it one of the ideal plugins for beginners looking to install a forum on their website.
The plugin functions using shortcodes. All you have to do is configure some settings on how you want the forum to look and function, and then you will get access to a shortcode. All you have to do now is paste that shortcode on any part of page or post where you want to embed a discussion board and voila, it's done!
Designwise, the discussion boards created using the plugin are very minimalistic and carries over a design language similar to old-school messaging boards. However, you do have access to some customization options that let you tweak the design to your liking.
Here is a quick look at all the different features the plugin has to offer:
And much more.
3. bbPress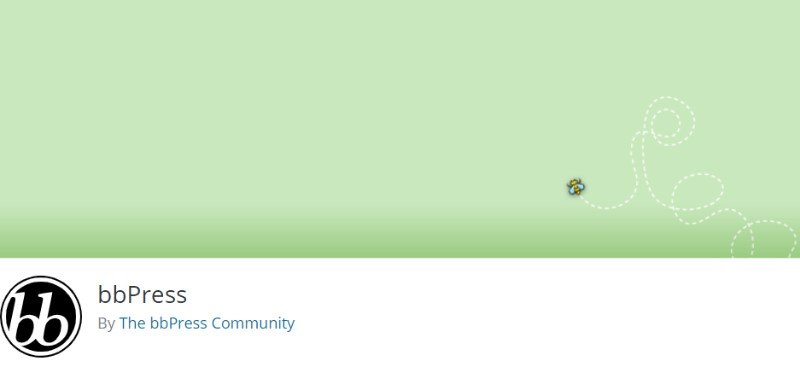 Coming from the developers of WordPress themselves, bbPress is by far one of the most popular forum plugins for the CMS with over three hundred thousand active installations. Also, since the plugin is developed by the same team as the CMS, it offers one of the simplest and seamless ways of integrating a forum into your website.
Also, a fun bit of trivia – bbPress is used to create and support forums that run on WordPress.org. This should give you an idea regarding its features and potential.
As the plugin integrates itself in your WordPress website, you will get intuitive access to options and tools that help you manage forums, topics, and posts, directly from the backend. From the front-end, you have options to specify whether or not users require to register in order to write a post. Certain forums can even be made private and restricted from private access or even to specific users.
And that's not all. There are hundreds of third-party add-ons for bbPress which helps add extra functionalities into the mix. But for now, we will go over some of the more important features of bbPress.
And much more.
4. Discussion Board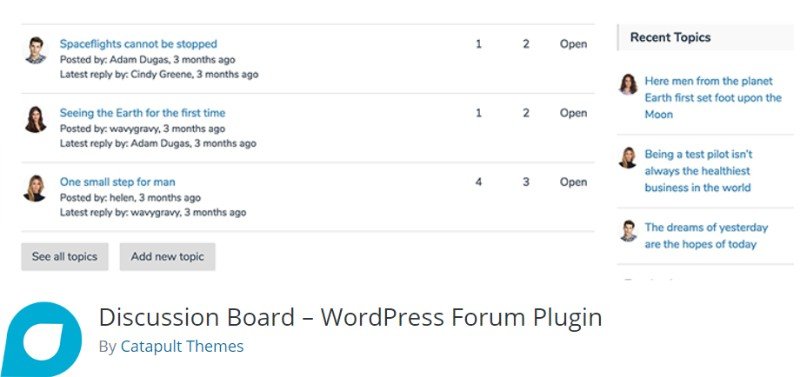 Discussion Board WordPress forum plugin offers a plug-and-play solution to integrating a discussion board on your WordPress website. In a single click, the plugin will install three new pages on your website which will function as the backbone for your forum. First, you have a front-end user registration form where new members sign up. Up next there is the simple form which users can use to post new topics. And finally, you have a dedicated page boasting all the existing topics.
Design-wise, all the pages will inherit the look and feel of the WordPress theme you have installed. That way, the pages don't seem out of sync with the rest of your website. Besides this, you get access to plenty of other features including a powerful user management area from where you can look over and control user activity on your forum. You can also specify which roles a user occupies when they signup for your forum. Email verification for new signups is also configurable which can drastically reduce spam registration.
Now all the above-mentioned features are available on the free version of the plugin. There is a paid version as well which brings many more advanced functionalities. Down below we go over all its different features for you to have a better idea.
And much more.
5. BuddyPress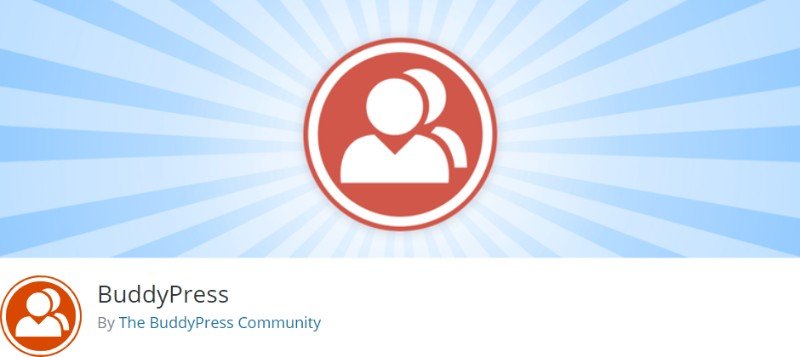 Similar to bbPress, BuddyPress also comes from the developers of WordPress. However, this isn't specifically designed to help you put up a forum on your website. Instead, it serves by introducing features that help you create a powerful social networking platform on your site, which includes having a forum. On top of that, BuddyPress also neatly integrates with bbPress, helping you develop a more immersive experience for your users.
The plugin features all necessary features to allows your users to create an account on your site, access their user profile, create discussion groups, and much more. And if you choose to supplement it with bbPress integration, you can even set up a static discussion board coupled with social networking features so users can interact more intimately.
Clearly, you can see that BuddyPress is a very powerful plugin rich in useful functionalities. Let's go over these features briefly so you can have a better understanding:
In Conclusion
So these were our top 5 picks for the best Forum plugins for WordPress. Do let us know if you found the read helpful. Now, if you decide to use one of the plugins mentioned here for your own personal project, then don't forget to leave a comment down below on how it turned out for you.
Similarly, if you have used any of the plugins mentioned here please share your experience as well. Your fellow readers can make use of your insight, and it might help them pick the right plugin for their own project.
We'd be glad if this list has helped you find the best forum plugin for you, you may also want to see our hand-picked list of the 9 best donation plugins to help monetize your blog.