Learning is always the way to grow in any field, if you have on demand and marketable knowledge then you can add courses to WordPress to share your knowledge and expertise with your audience and make some money while at it.
Using LearnPress a free WordPress Learning management system you can deploy a fully fledged online learning platform that rivals the likes of Udemy, teachable, Coursera, among many others.
Today we shall help you launch your dream to create an e-learning platform and add courses to WordPress.
Step by Step: How to launch your dream to create an e-learning platform and add courses to WordPress
Install LearnPress to your WordPress website
Login to your backend, navigate to Plugins and click Add New.
In the search form, enter LearnPress to search WordPress plugin repository on your website.
Click Install and Activate.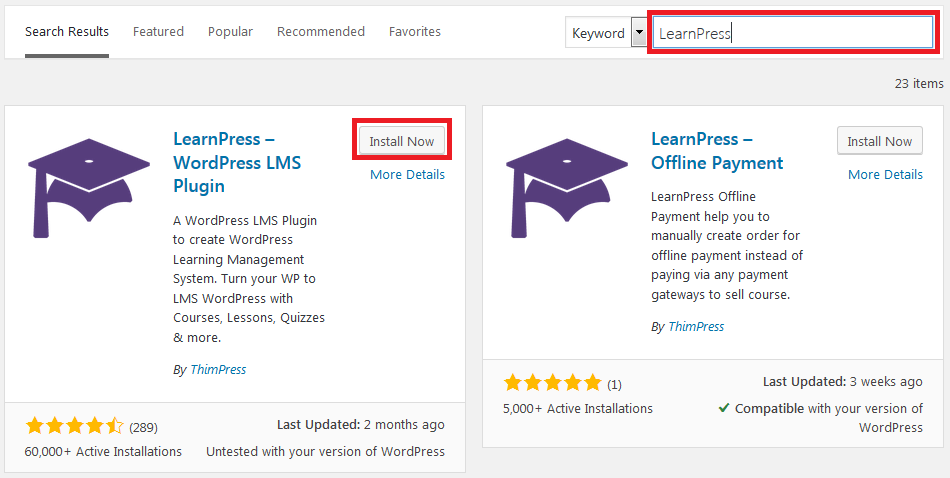 Configuring LearnPress
On installation click the Run setup wizard button on the notice that is displayed.

You can alternatively get to this setup and configuration page through the settings of the plugin by clicking Settings under LearnPress on your admin menu.
On the welcome page click, Run setup wizard.

Set the currency you will use to charge for your courses, then click continue.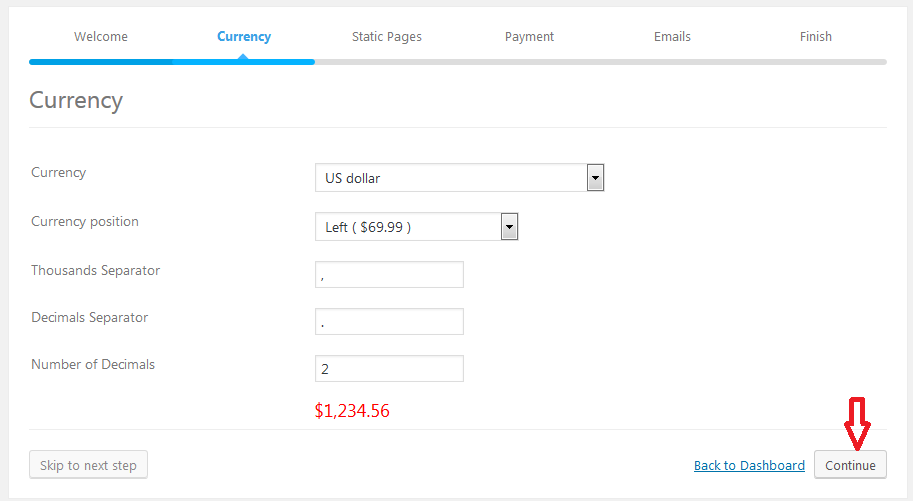 Next create the pages for the Courses, Profile, checkout, and one that will display a form for individuals interested in becoming a teacher.
Click the create button beside each page, provided the title or page name and then click continue.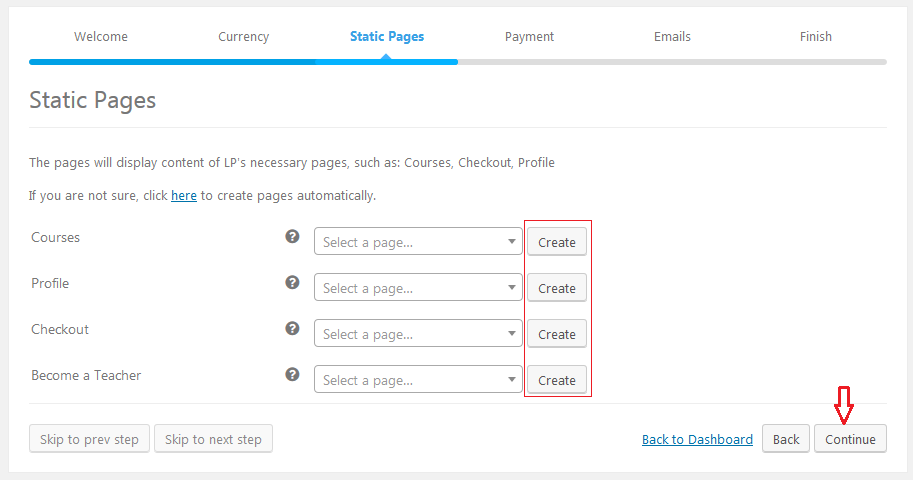 You will now configure the payments processor.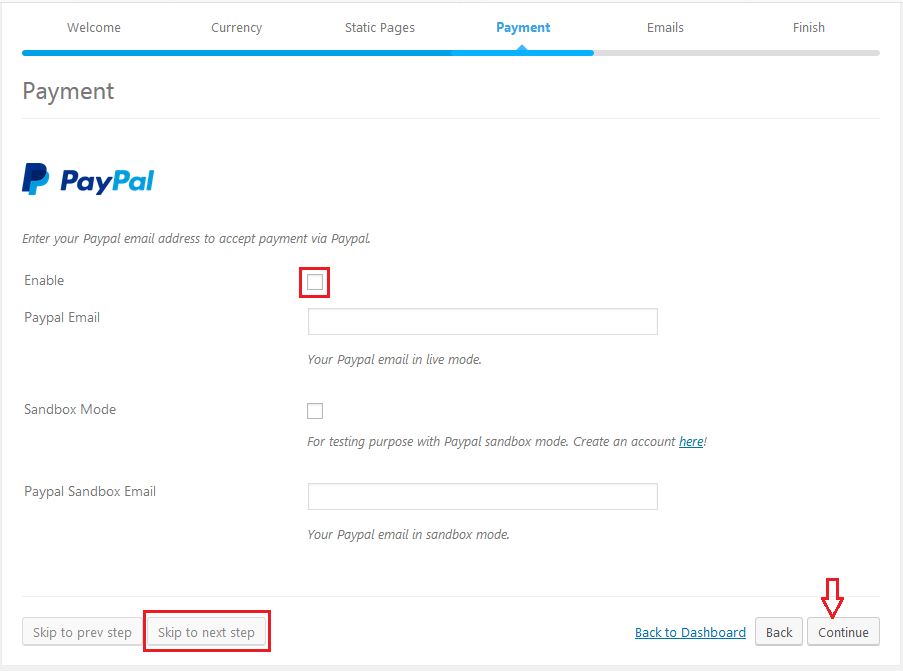 LearnPress supports PayPal, for processing payments. If you do not accept PayPal, then click skip to next step, if you do, enable PayPal, supply your PayPal email address and then click continue.
We will now enable system emails sent to teachers and students and then click continue to finish our configurations.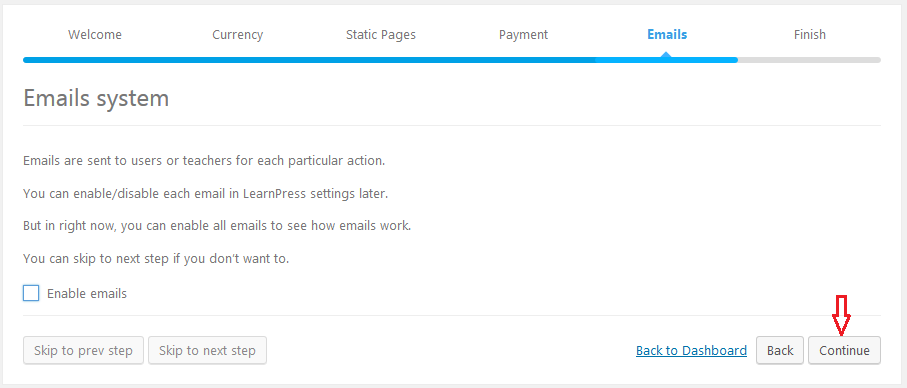 The last step, has us choose whether to Install a sample course, create a new course, visit the site or go back to the dashboard.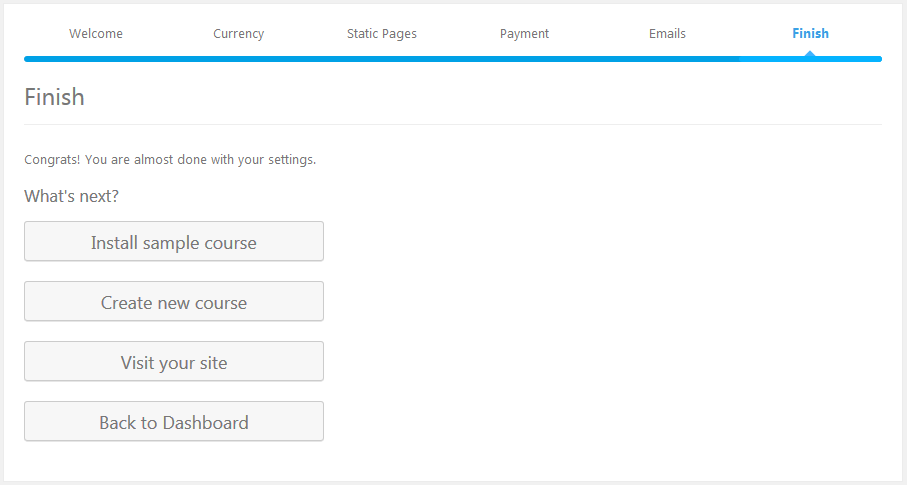 You can Install a sample course to see how the courses work or create a new one.
Adding courses to WordPress
To add a course, go to LearnPress, Click Courses

In the courses page, Click Add New.

Provide a Name for your course.
Then provide the course details in the content area
Add tags.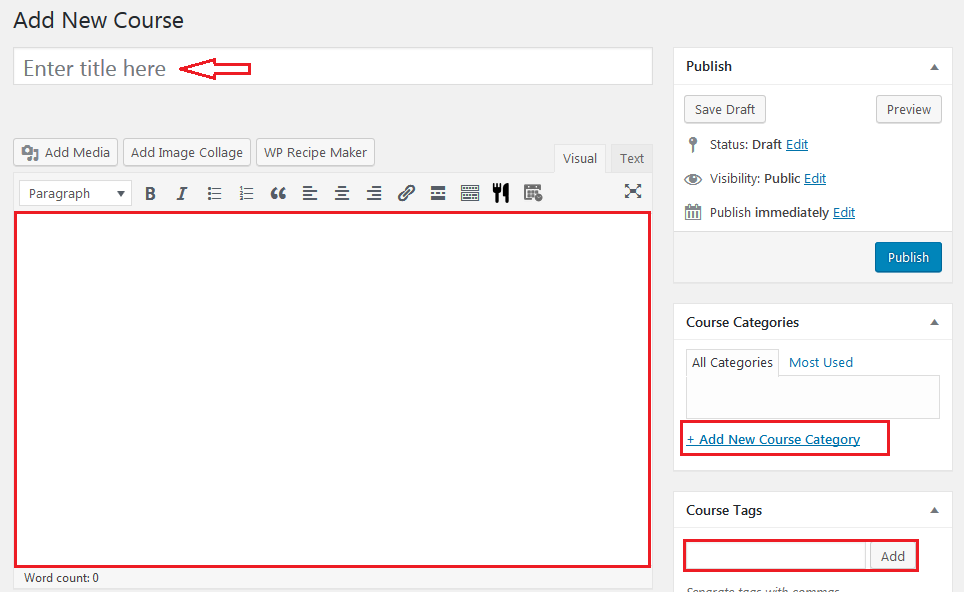 On the same screen, scroll down
Add the course curriculum.
Next, add a lesson and press the enter key.
Set the featured image.
Down further go to the course settings and supply the relevant details and requirements for your course.
The General settings cover the most important aspects of the course including but not limited to the duration of the course, the total number of students who can enroll, if students can retake courses,
Assessments – covers, how students will are graded and the passing mark

Next, set the price for the course under Pricing.

Do not forget to set the author or teacher of the course under the Author.
When all is good, scroll back up to the top of the page and publish your course.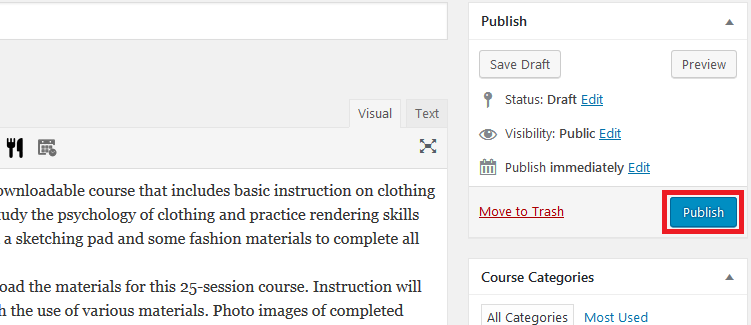 Your course is now visible on the front end and ready for students.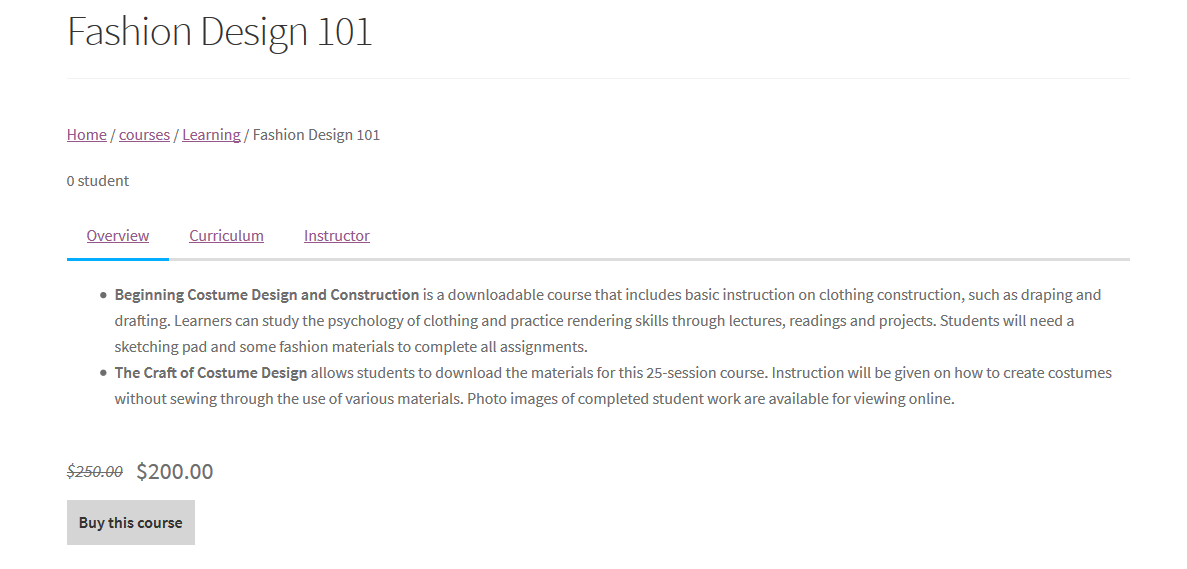 Managing your course
Now that you can add courses to your WordPress site, you would want to know where to manage them.
The LearnPress submenu has all that you need to manage your courses and students.

Courses – this is where you will find all the courses you will ever add.
Lessons – all the lessons universally offered in all the courses are displayed here.
Quizzes and Questions – all course quizzes and questions can be found here
Orders – manage all the course purchases here.
Statistics – course statistics are tracked on this page.
Add-ons – LearnPress, has some add-ons you can purchase and extend your e-academy. From additional payment processors, like Stripe, 2checkout. Certificates, announcements and many more.
Settings – early on when we configured the course settings, we did it through the initial setup after the plugin is activated. This is the alternative way of setting up initially or if you ever needed to make any modifications to your courses, profile, payment options you accept, the default course pages, and email, then you can always come to this settings page.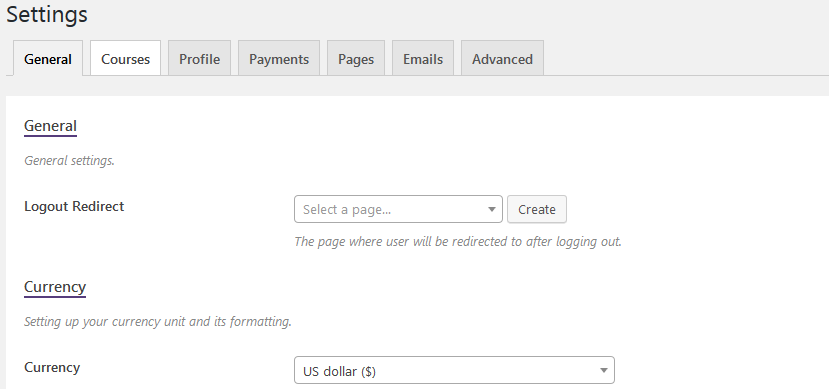 Under tools we have;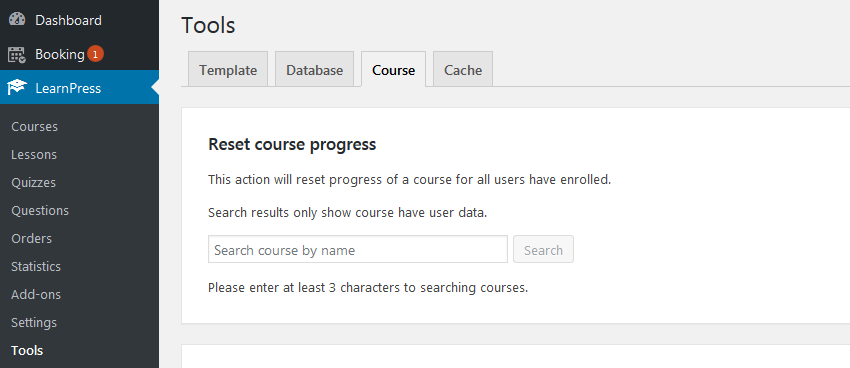 Template –  override templates from here, that is if you are using one of the themes from the plugin developer.
Database – you can install a sample database, repair your database, upgrade the database to a new version, remove a course, student and lesson data from the database and remove outdated data from the older version.
Be careful with what you do here; you may break your e-academy. That is is why you should consider backing up your database and website before attempting anything here.
Course – under this you can reset course progress, user or student progress or a specific item for a user.
Cache.
You can enable or disable LearnPress content cache from here.
Conclusion
As you have seen launching an e-academy is not hard at all. With LearnPress you can add courses to WordPress and get on your feet fast.
LearnPress is powerful and probably the best free Learning Management system that you can add courses on a WordPress site. But, always go with what works for you.
Are you using LearnPress? Do you plan on using it? Share with us your thoughts in the comment section below.
We love to provide our readers with alternative plugins and tools that accomplish the same tasks; in this case, here are a couple more Learning Management Systems that you can use to add courses to WordPress.
LearnDash– one of the most used and trusted WordPress Learning management systems. But to use it you will have to part with $159 for a single site license.
LItterLMS– pricing for this powerful WordPress plugin starts at $99
WP Courseware – another great WordPress Learning Management system, a two-site license starts at $129. It also comes with a 30day trial period for you to test if it meets your needs.
More details and options in our picks for the best WordPress LMS plugins to sell and engage online courses.