Get a reign over spam with Akismet, in this article we shall take you a quick guide on how to set up Akismet WordPress plugin on your website.
Spam spam spam, every web admins nuisance and time waster.
You know WordPress is an impressive content management system, truth is, it made it so easy for anyone to create an online presence.
For some of the great features, it comes with, like adding comments to posts and pages, comes with some drawbacks.
This world never has and will never run out of malicious people; they have even automated posting junk comments to posts.
As an admin, you need a way of bringing this to check.
Left unchecked malicious comments can have a disastrous effect on a website.
From their impact on search engine ranking to negative user experience on the website.
Let us look at one easy and sure way we can deal with spam on a WordPress website using Akismet.
Akismet is a WordPress anti-spam plugin built by the same team behind WordPress.
This is how it works.

Activate Akismet
Akismet comes pre-installed on every WordPress website; there is, therefore, no need to install it.
On the chance that your site does not have it, then you can download the plugin files here and then install it on your website.
To activate Akismet, go Plugins and then go to Installed Plugins.

Among the first plugins on the list, you should see Akismet Anti-Spam.
Click the Activate link.

Once it is activated, click Set Up Akismet Account on the banner you will see on top of the Installed Plugins page you are in.

To set up Akismet on a WordPress website you need an API key.
No need to worry about that if you are running a personal site or blog; the Akismet API key is free with a WordPress.com account.
If you do not have one, then Click the Get your API Key button.
If you do have one, then paste under enter an API key then click connect with API Key.
You can find the key on your akismet.com account overview page.

When you click, Get your API Key, the Akismet website is opened in new window or tab, from there click Activate Akismet.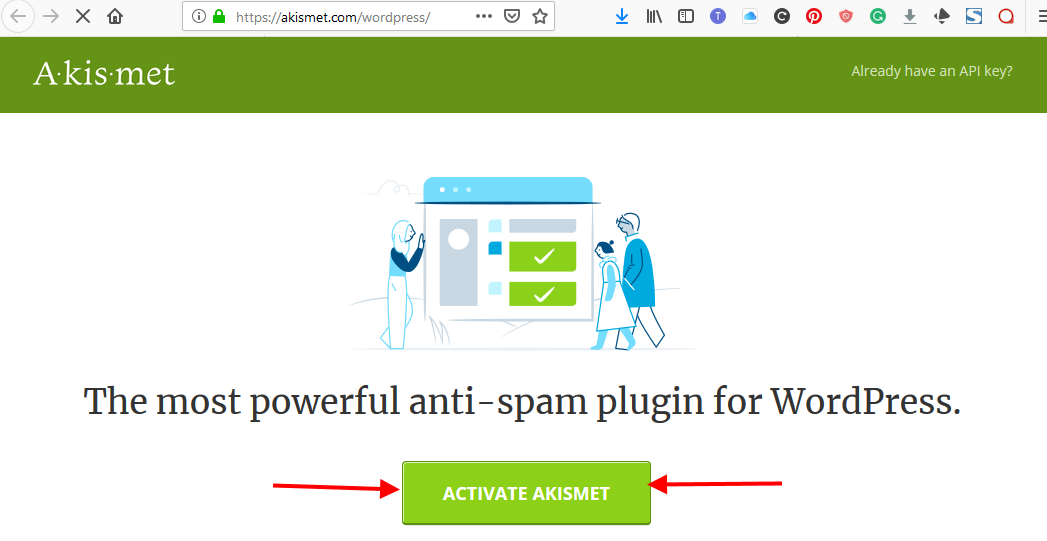 If you do not have a WordPress.com account, then you will need to signup, supply the relevant information then click Create your account.
If you already have one, at the bottom of that form, click Already have a wordpress.com Account.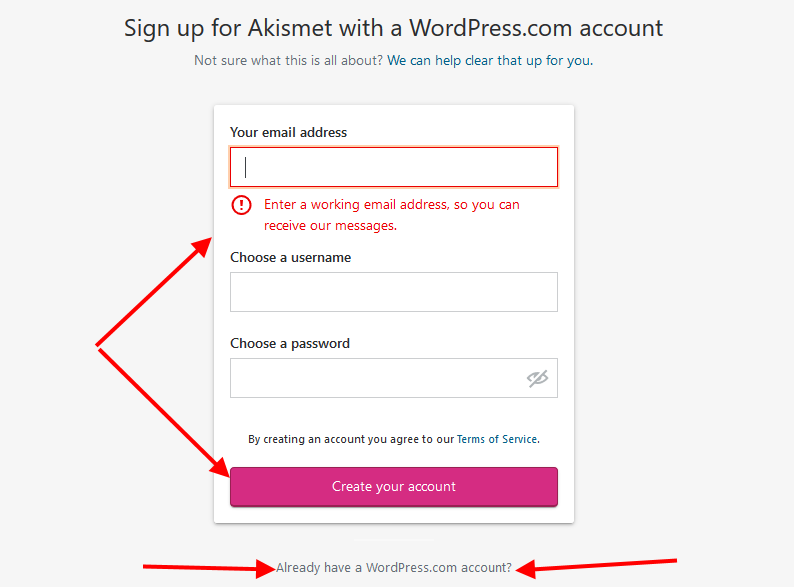 Now, click the Approve button to log in to Akismet using your WordPress.com account.

Under the pricing plans, choose the Personal Plan, click the Get Personal button.
You could as well subscribe to the Premium Plus or Enterprise plans.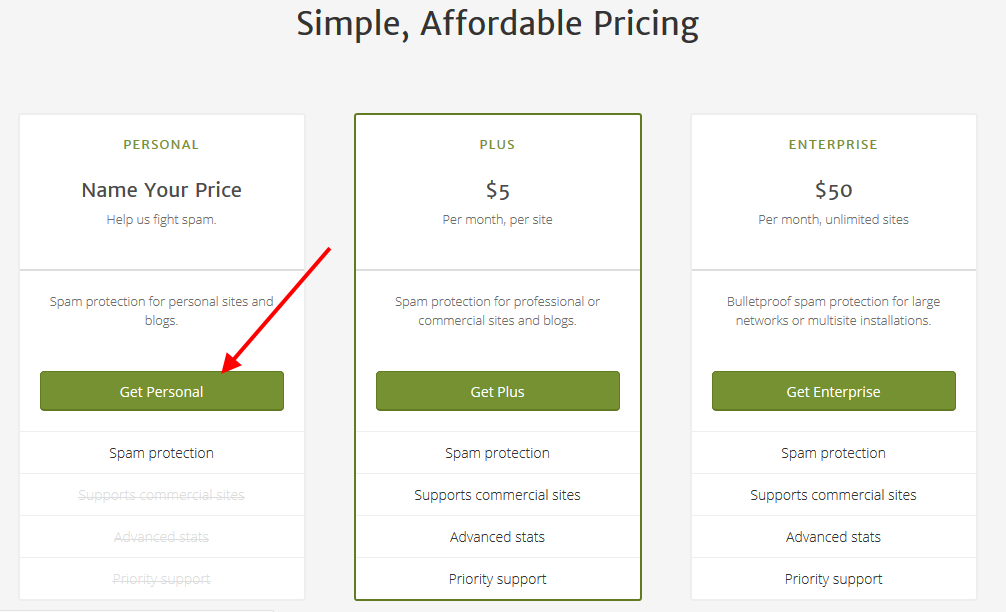 On the next page, you can donate some money, if you rather note, drag the slider to the left under What is Akismet worth to you?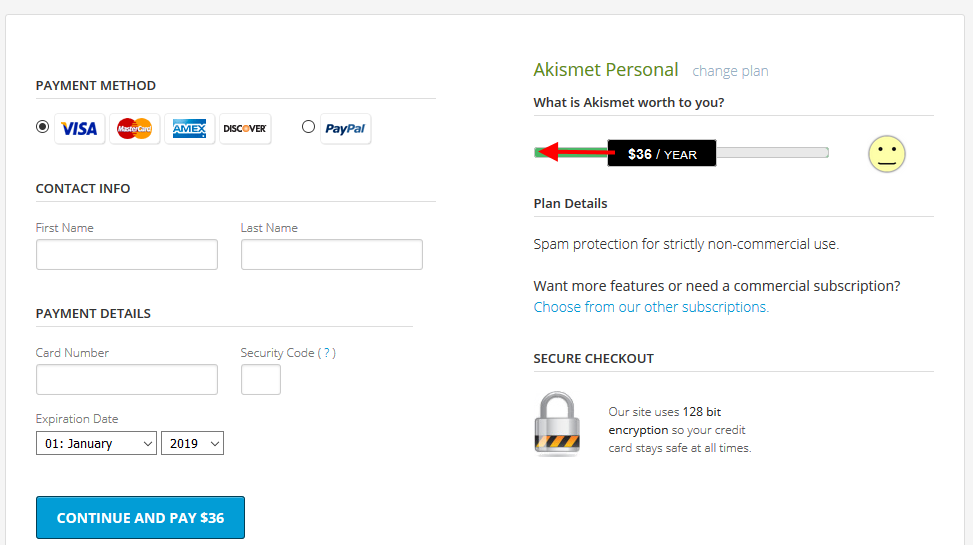 Enter your Personal site URL – it has to be the exact website address you are installing Akismet to.
To comply with the non-commercial license for personal use of Akismet, verify that you are not running ads, selling products or services and that you do not promote any business on your website.
Check all the checkboxes.
Then provide your contact information and then click Continue with personal subscription.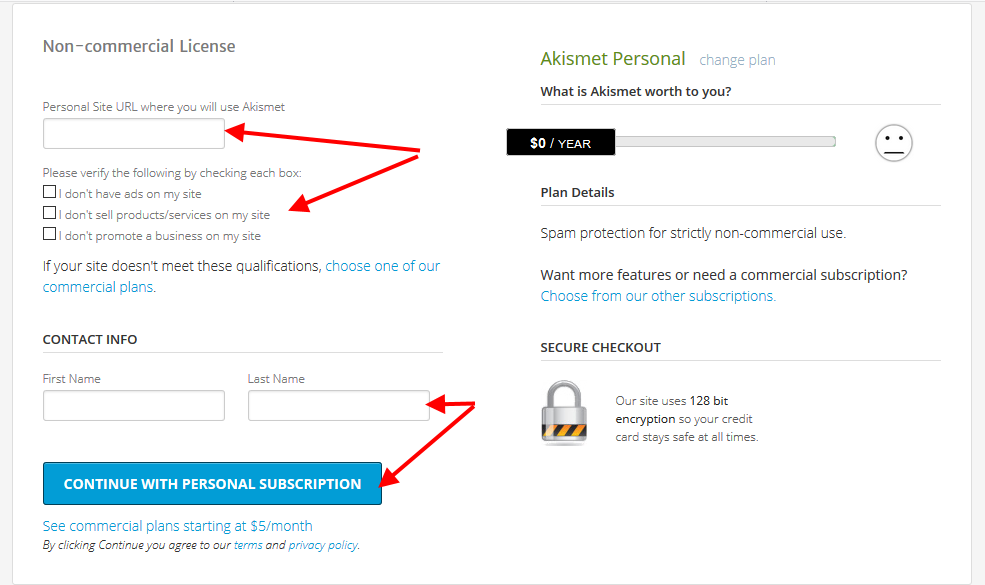 An API key is generated for you, but, wait for a moment, on the popup click activate this site.

That's all you need to do; you are now taken back to your WordPress dashboard to the Akismet page showing you that Akismet is now protecting your website from spam.
If your website operates in under the GDPR jurisdiction, you are advised to enable the display of a notice to your users under the comment forms.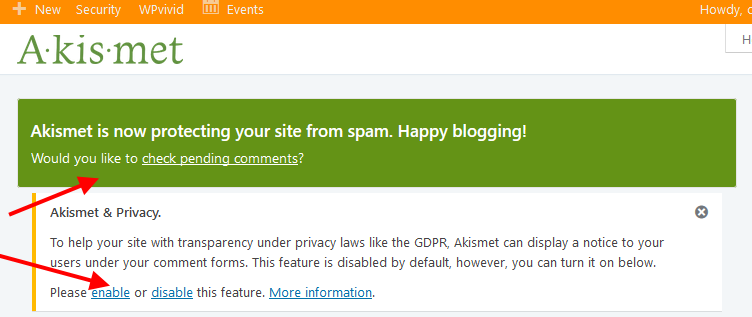 Conclusion
That's how you Set up Akismet on a WordPress website.
Set it up once, and Akismet will worry about spam on your website as you focus on the critical aspects of your site.
However, what you should keep in mind is that the personal or free version of Akismet is not meant for websites doing anything commercial.
If you run ads, if your website is for business purposes, a blanket statement would be, if you in any way derive a monetary value from your website then you can get into legal trouble for using the non-commercial license.
To be safe upgrade to the commercial licenses that start at $5 per month.
Want more options? Another alternative is to use Google reCaptcha, or you can check out our list of the best anti-spam WordPress plugins for your website to fight spam.