With the ever-increasing pool of hackers and online malware, cybersecurity is becoming more and more important. Now, if you own a WordPress website, you too can fall prey to serious hacking attempts and lose your data. Therefore, it is super important that you considering installing WordPress Firewall plugins to keep your site safe and secure.
Why You Need Firewall Plugins on Your WordPress website?
Having a firewall will help act as a shield between your site and the hackers. It can monitor incoming traffic and block common security threats from reaching your WordPress website. This can help prevent brute force attacks and even DDoS attacks from compromising your online business/blog.
So now that you understand the crucial need of these security tools, let's get started with our list of the
Top 8 WordPress Firewall Plugins
1. Wordfence Security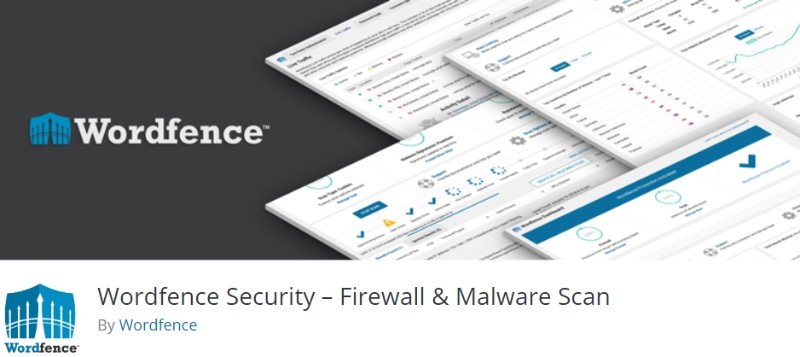 Wordfence Security is by far one of the most popular free to use WordPress plugins in the market. And with over 3 million active installations, the plugin is dedicated to protecting a huge user base. Once installed, it will integrate an endpoint firewall along with a malware scanner on your site.
An active Threat Defense Feed constantly updates WordFence with all the latest Firewall rules, along with malware signatures, and malicious IP addresses, helping the plugin stay on top of every cyberthreat. Now, mostly all necessary security functionalities are bundled in the free version of the plugin. There is a paid version as well, which will introduce you to more advanced functionalities.
Features:
And much more.
2. All in One WP Security & Firewall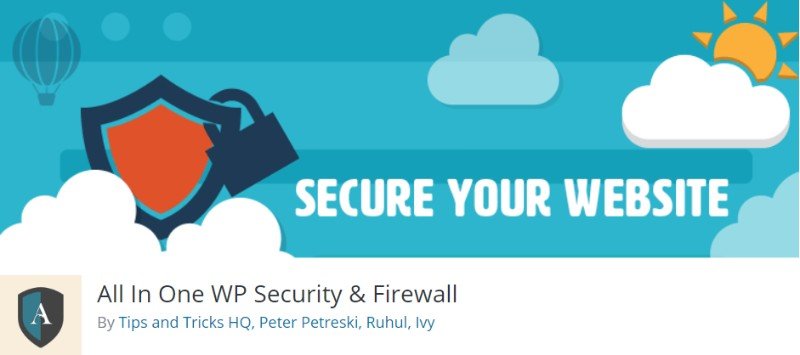 All in One WP Security & Firewall is one of the most intuitive and comprehensive WordPress firewall plugins in the market. As you can guess by its name, the plugin serves as a swiss army knife for most of your security needs. It works to protect your site from all possible angles so hackers and malware have no way in.
Starting from user account security, to installing a dedicated firewall, and protecting your comment section from spams, the plugin will help you in all imaginable scenarios. And even though it comes with this massive laundry list of features, the plugin is very lightweight and won't slow down your system. It is also completely free to use, and all features are accessible without any extra payment.
Features:
And much more.
3. Sucuri Security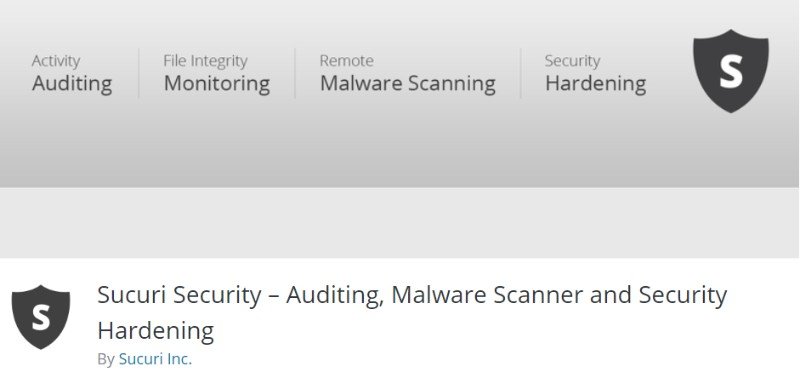 Sucuri Security is another popular name in the WordPress community and is an excellent security plugin for the CMS. In fact, Sucuri Inc. the parent company is a globally recognized authority in security-related matters revolving around WordPress.
It is basically a free-to-use plugin covering all basic necessities for securing your WordPress website. But with that being said, the website firewall option is reversed as a premium functionality for paying users.
Features:
Website Firewall. (premium)
Regular security notifications via email to keep you informed about the security status of your website.
Powerful security hardening functionalities so hackers and malware can't easily get in.
Post-Hack security actions to keep you safe even if your primary defenses fail.
Blacklist monitoring to avoid traffic form malicious sources.
Remote malware scanning.
File integrity monitoring to check for corrupted files.
Security activity auditing.
And much more.
4. iTheme Security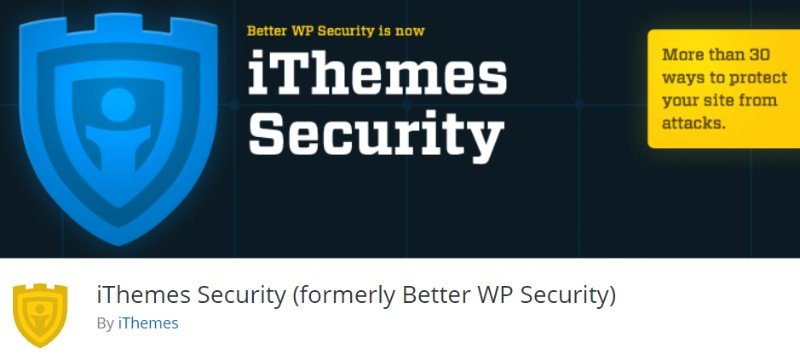 iTheme Security is a feature-packed security suite for WordPress websites. Formerly known as Better WP Security, the plugin has been in the WordPress security business for a long time and amassed a massive user base of nearly a million active installations. Once activated on your site, you will get access to over 30 powerful tools to keep your site safe and secure.
The plugin can basically lock down WordPress, detect all vulnerabilities on your site, and fix them without you having to lift a finger. Furthermore, the plugin is also available in both a free and paid version. As you can guess, the paid version introduces even more advanced features to better strengthen your online security. The advanced features are geared towards more experienced users to give them more comprehensive control over their website.
Features:
And much more.
5. Cerber Security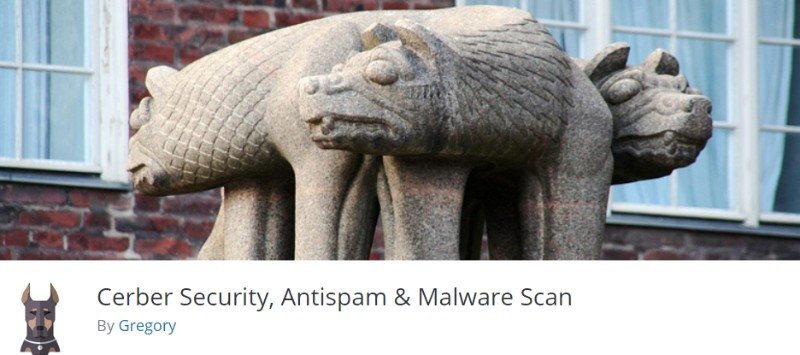 Cerber Security is an anti-spam and malware scanning plugin for WordPress websites. It has been designed to safeguard your site from hacker attacks, comment spams, trojans, and even malware. It can even help mitigate brute force attacks by limiting the number of login attempts through the WordPress login form.
The plugin will also track users and intruder activity using email, mobile, and desktop notifications. On top of all this, the plugin also brings in an advanced malware scanner, integrity checker, and file monitors. Another useful feature would be the option to restrict user access based on blacklisted IPs and whitelisted IPs.
Features:
Limit login attempts along with the option to create a custom login page.
User monitoring using emails, and mobile & desktop notifications.
Blacklist and whitelist IPs based on malicious activities on your site.
Malware scanner with automated recurring scans and email notifications.
Integrity checker to detect vulnerabilities in WordPress files.
Powerful anti-spam engine that doesn't need reCAPTCHA.
And much more.
6. Shield: Security, Scanning & Protection for All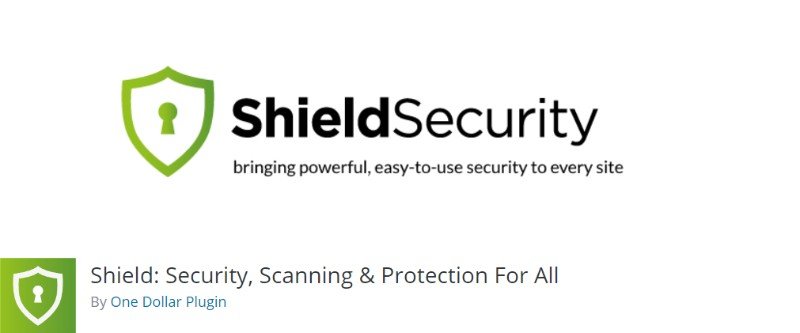 Shield is another well known and feature-rich security plugins for WordPress. It functions as a security suite and delivers a lot of useful features and functionalities besides a strong website firewall. It is also super easy to use and comes with an intuitive setup wizard to help you configure all the security settings as per your requirements.
What's more impressive is that the plugin is fully compatible with all other WordPress firewall plugins in the market. So you can install another plugin with Shield and compound the security of your website. Now, mostly all necessary features are available for free. However, the plugin does come with a pro version which introduces a lot more advanced functionalities.
Features:
Setup wizard to help you configure the security settings as per your requirements.
Block automatic brute-Force bots.
A dedicated core file scanner to help detect any vulnerabilities.
Plugin vulnerability scanner. (premium)
Plugin & Theme Hack detection scanner. (premium)
Automatic IP blacklisting.
2-factor authentication.
Firewall
Protection for your WooCommerce customers. (premium)
Audit trail logging. (premium)
And much more.
7. Anti-Malware Security and Brute-Force Firewall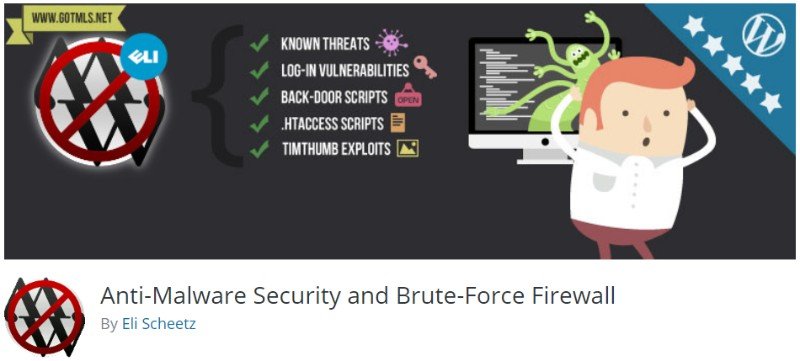 Anti-Malware Security and Brute-Force Firewall is another well known and powerful security plugin with over two thousand active installations. As you can guess by its name, the plugin helps you scan for malware, fend off brute force attacks, and also install a firewall on your site. It is available in both a free version as well as premium version.
The free version features all the basic functionalities including the ones mentioned above. However, if you are looking for some advanced level of control over your site's security, then its pro-version will be better suited.
Features:
Runs complete site scan and removes known security threats, backdoor scripts and database injections.
Set up a firewall to safeguard against malicious traffic sources.
Option to manually download every definition update to protect against new threats.
Automatic download of definition updates. (premium)
Checks integrity of core WP files. (premium)
Patches your wp-login and XMLRPC to block brute force attacks and DDoS attacks. (premium)
8. NinjaFirewall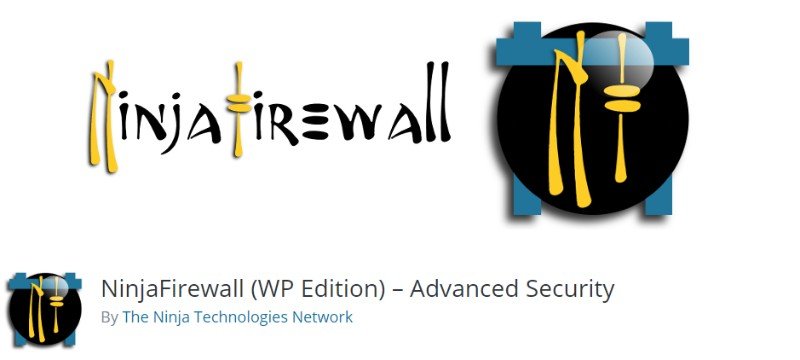 And now, for the final entry in our list of WordPress firewall plugins, we have Ninja Firewall. It is a standalone plugin which functions more like a powerful web application but can be easily installed and configured on your site just like a plugin. The plugin works by normalizing and transforming data from incoming HTTP requests. This helps it to detect web application firewall evasion techniques to neutralize them in the act.
Once installed, it can hook, scan, sanitize, and reject HTTP and HTTPS requests sent via a PHP script. This helps safeguard all files that are located inside the blog installation directories as well as sub-directories. Besides its awesome firewall integration, the plugin also introduces many more functionalities to supercharge your site's security.
Features:
A powerful filtering engine to detect malicious traffic.
Powerful Brute Force Attack Protection.
File Integrity monitoring to detect vulnerabilities in your core files.
Option to monitor website traffic in real time.
IPV6 compatibility.
And much more.
In Conclusion
So these were our top picks for the best WordPress Firewall plugins in the market. Online security is no joke and considering you have invested (investing) a lot on your WordPress website, you shouldn't neglect to keep it safe.
With that being said, WordPress firewall users are encouraged to share their stories surrounding online security to better inform other readers who are starting out with the CMS. Veteran WordPress users are also encouraged to share their experience using WordPress firewall plugins as well. Your insight will be highly valuable, and might even help out your fellow readers.
In case you may also be interested, here is our ultimate guide on how to secure a WordPress blog.