The social movement is a big thing today, if you have not already embraced it, then you've got to jump onto the wagon.
With WordPress, it can be easy to distribute your content with the ability to auto publish posts,images and medias, pages even custom post types to the popular social networks.
If you are wondering what this social craze is all about, then let me give you some perspective.
The world population as of January 2019 is about 7.7BN
Of that, 4.5BN have access to the internet.
With Facebook reporting 2.7BN users of its products.
Do you get the picture?
58% of the world population is online with 60% of the people on the internet on Facebook alone.
Those are staggering numbers, right?
If you are like me, you should be seeing an opportunity there.
The opportunity to distribute your content on the major social network on planet earth, and since you are already creating content, why not auto-publish it to the social networks.
Why you need a plugin to auto-publish your posts?
Taming such a monster is not an easy task, you have to spend a lot of time and probably money to figure out who your audience is, then spend a bit more on creating the kind of content that is engagement worthy.
Next, you have to create the posts or pages on your WordPress website.
The next logical step is promoting your new content.
This is one task of the content creation process that can easily be delegated and automated.
There are many content management tools like Hootsuite, Buffer that you could use.
Or you could create your content calendar on your WordPress website and then configure it to auto-publish posts, pages and custom post types to social networks.
That way you do not have to worry about moving back and forth tools or manually sharing your posts across the different social networks.
And so you are able to leverage automation tools to auto publish posts, pages and other custom posts types to the different social networks where your target audience is actively engaged in.
A free WordPress plugin you can use to auto-publish to Facebook
What is AccessPress Facebook Auto Post?

AccessPress Facebook Auto Post is a WordPress plugin used to auto-publish posts, pages and custom post types to Social Networking websites.
Why would one opt for AccessPress Facebook Auto Post?
It provides a free and easy way to distribute your content to Facebook.
Given that Facebook is the largest network, most website owners do not care about other networks, so if one wanted to focus on Facebook, this would be an easy tool to deploy.
The free version available on wordpress.org can auto-publish posts to Facebook.
Secondly, AccessPress Facebook Auto Post features two Facebook API types to connect your WordPress website to Facebook.
Facebook Graph API and Facebook Mobile API.

After the Facebook–Cambridge Analytica data scandal, Facebook made sweeping changes to how third-party tools accessed their platform.
Many social media tools, including some of the big name high priced premium social management platforms and most WordPress Facebook auto publish plugins could not post directly to Facebook.
This was majorly a result of the Limitations and restrictions on the Facebook Graph API which most tools use to connect their applications to Facebook.
AccessPress Facebook Auto Post, however, gives you the choice of using the Facebook Mobile API which does have the limitations of the Graph API.
Besides, that, the Facebook Mobile API, is much easier to configure for beginners.
Supply your Facebook credentials and an access token is generated with allows you to select a Facebook profile, pages and groups one can select to auto-publish posts to.

Thirdly, with AccessPress Facebook Auto Post you can choose to auto publish not just posts, but custom post types too.
You have control over what content type is auto published. You should see all the content types your themes and plugins create.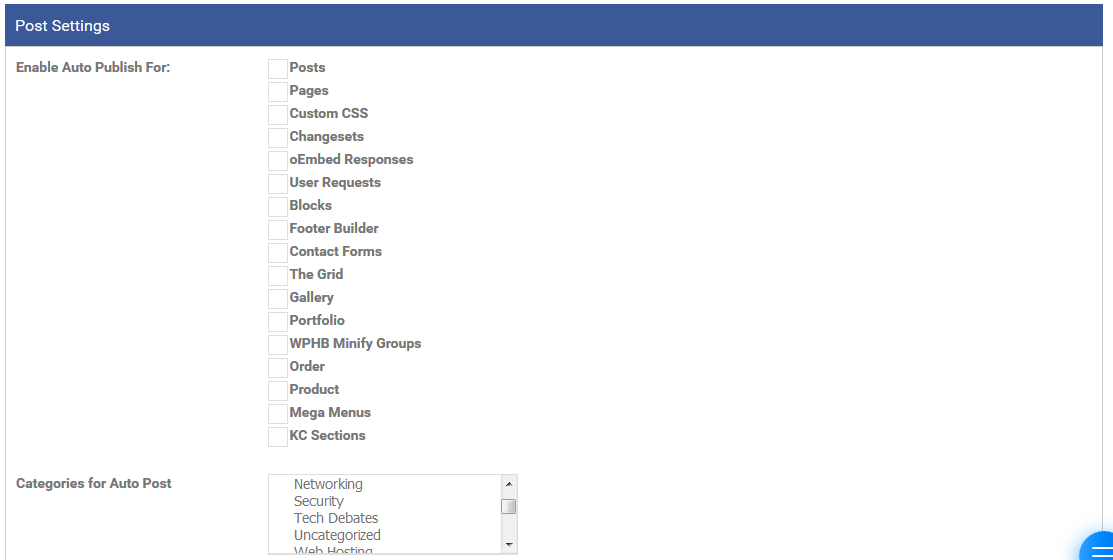 Limitations of AccessPress Facebook Auto Post
What would usually limit usage of this plugin is its limitation to only Facebook.
If you want to auto-publish posts, pages and custom post types to other social networks one would need to install different plugins or buy the premium version of the plugin.
It is reported that internet users are actively engaged in 3-6 social networks daily.
Ability to be where your audience is at would be great, and a tool that enables you to auto-publish posts to all or at least the majority of these platforms would be preferred.
Secondly, the free plugin is not regularly updated and maintained.
WordPress releases updates regularly, so does Facebook. It will not be strange to fail to auto-publish posts to Facebook after a major update.
Besides, the security risks and vulnerabilities a plugin is faced with if it does not regularly match the pace of technology development.
In Conclusion
The idea is that you should be doing something to automate the distribution of your content. Auto publish posts, pages and even some of your content types to the social networks your audience is actively engaged in.
With AccessPress Facebook Auto Post you can easily auto-publish your posts to Facebook, the largest social network today.
Have you used or are you using AccessPress Facebook Auto Post on your WordPress website?
If yes, then share with us your experience with it in the comments section below.
You may also wish to learn how to connect your Facebook fan page to a WordPress site.