In this article, you will learn how to build an Amazon Affiliate Store using WordPress.
This is a followup to a great article we wrote some time back on how to monetize your WordPress website; in it, we recommended affiliate marketing as one of the ways you could monetize your site.
Affiliate marketing is exciting and lucrative if you can get it just right.
Starting with Amazon is a no brainer for anyone venturing into this business since it has the largest pool of products you can possibly think about promoting.
It is free to join, with expected payouts of up to 10% of the products you promote.
So, where does one start?
Step by Step: How to Build an Amazon Affiliate Store Using WordPress?
Step 1. Find a niche
The logical first step is finding a niche to focus on. Amazon has an extensive database of all sorts of products from books to machinery, but, that doesn't mean you want to sell everything they offer.
So you need to critically think of a niche or product category your store will focus on, this is probably the most critical and most laborious aspect of affiliate marketing.
You may get the overall design of your website wrong and still sell, but if you get a niche that does not have buyers, then you will not sell a thing. If you go to a competitive niche, then you will be suffocated by the competition.
Research your idea, look at the current trends, research your audience, find out their pain points, then sell them a product that solves these pain points.
Step 2. Signup to the Amazon affiliate program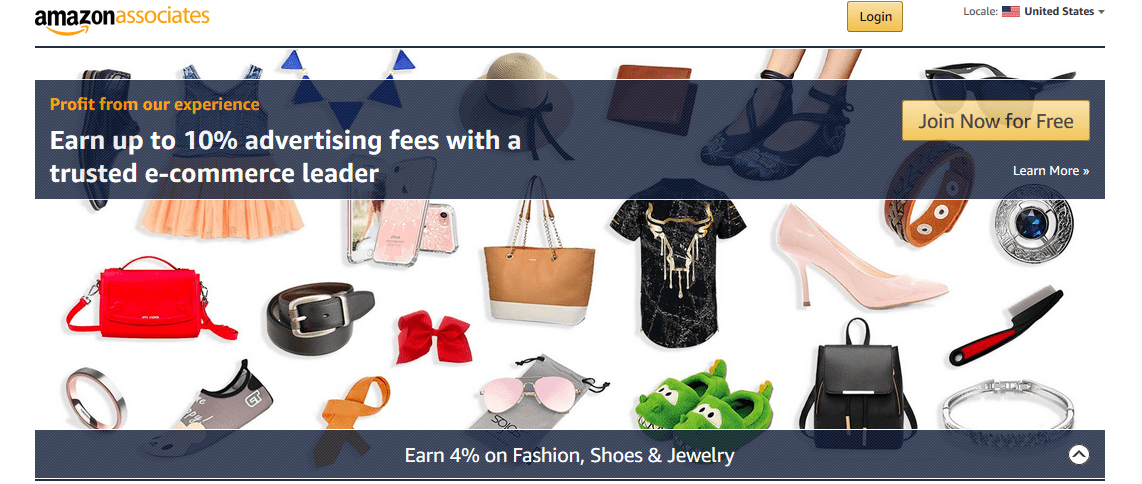 Once you have your product idea, head to Amazon Associates, and signup to their affiliate program.
You are required to supply your, Account Information, Website and Mobile App List where you intend to promote the products, fill in your profile details, verify your identity with a phone call before you start using the Associates central where you get the product links to promote.
You can do this at any point, for instance creating an account before finding your niche seems plausible since you will need to research the products you will promote, there is a no better place to do that than from Amazon itself, or you can get the hosting and website up before creating an account, it doesn't matter much.
Importantly, please read all the terms and conditions that govern their partnership or affiliate program. You do not want to invest time and money only to be thrown out for violating policies.
Step 3. Buy a domain name and hosting
If you do not have one already, then this should come next.
Again, with this, there are no hard written rules on what domain name or hosting you should get.
However, it is advised to choose a domain name wisely – a name that your audience will readily recognize, a name related to your product or niche.
While for the hosting, it really does not matter whom you host your website with, there are plenty of hosts out there, but as much as possible work with hosting companies that are proven to cater for WordPress websites.
Step 4. Install WordPress, WooCommerce, a theme, and an affiliate plugin.
Got a domain name and hosting? Perfect, now it is time to build your website.
Most WordPress hosting companies have a one-click WordPress installation feature on their hosting platforms; you can make use of that.
Next, choose a theme for your store. There are lots of free items, but you can also purchase a premium theme – if you want a classy looking store, then I recommend a premium theme for you.
If you are not so techy or adventurous, then you can outsource the entire aspect of your store design.
There are quite a number of freelance websites today that showcase talents across the world from all price ranges – if that is a route you are willing to take, then you can consider a turnkey website designer on Fiverr that comes highly recommended.
For the store itself, you will use WooCommerce. It is a very powerful eCommerce platform available for WordPress. The best part is is that it is totally free unless you opt to purchase its premium add ons.
We have WordPress for the website, and WooCommerce for the store now, we need a tool to manage and track all your affiliate links.
For that, you can start with ThirstyAffiliates. The premium version of the plugin comes with an Amazon API Importing feature to search and import affiliate links from Amazon's Product Advertising API to your website.
One other essential plugin you need to install is a backup and restore plugin – for that go with WPvivid free backup plugin. Always prepare for the worst, then focus on growing your store other than losing your sleep when the unfortunate happens.
Note: What you need to remember is that Amazon prohibits cloaking URLs, whatever affiliate plugin you choose, do not risk it or you will get kicked out of their partnership program.
Step 5. Import the products to your store
To complete your building your website and start selling, you will need to get the affiliate product links from the Amazon Associates Central.
Using any Amazon-specific affiliate plugins will automate the task for you.
However, you can still hand pick and manually add products to your store.
Remember again that you are not allowed to cloak or use a redirection service for Amazon product promotion. If you want a clean and short URL, then use Amazon's URL shortener Amzn.to that is hosted by Bit.ly or Bitly.com.
Step 6. Promote your store
Your store is up and running, now starts the hustle. Promote, promote and promote some more
In the process monitor what is working and what is not, learn from everything you are doing – using analytics whether it is from Google or Facebook will provide you enough data to understand the workings of your store, and finally, scale, push what is doing well, and be ruthless with what is not.
Summary
It is easy to be taken up by the allure of tapping into the billion dollar company Amazon is, or the lavish lifestyle many so-called affiliate marketers flaunt around, but, the truth is affiliate marketing is not for the faint of heart.
However, as regards the platform, WordPress is robust enough to get your Amazon Affiliate Store running in no time.
As your business grows, you will need to consider branching out into other ideas of monetizing your website, since you are already promoting Amazon products, why not create your product, in this case, you get to keep 100% of the profits other than the meager 2-10% that Amazon gives its affiliates.
You can live your dream of financial freedom; going online is one of the best ways to do that; there are loads of testimonies of individuals who have crawled from debt to freedom.
In this article, we have given you an overview of how to build an Amazon Affiliate Store using WordPress, it all starts with your idea, validate it then follow this guide, with hard work and perseverance you may be the next big success story affiliate marketing produces.
When you find success or in your struggles, could you share with us your journey?
Finally, do you think Amazon associates is the best affiliate program out there?
Your answer and thoughts are welcome in the comments below.
To your success.
Now you may also want to check out our top picks for the best affiliate membership plugins to help you manage your affiliate marketing programs and improve sales easily.