So you have heard about Facebook Comments and Disqus Comments as the perfect replacement for the native WordPress comment system.
But you are at crossroads over which comment system to integrate to your website.
Facebook Comments and Disqus Comments are probably the big bulls in the comment system kraal, and both have unique features and benefits that can be added to a WordPress website.
And it is quite understandable why many WordPress website owners struggle to choose what commenting system to integrate to their website.
What if it was possible to run Facebook Comments and Disqus Comments side-by-side, would it make it any easier for you?
An awesome plugin by Team Heateor gives us the means to run both these plugins on a WordPress website simultaneously.
That way you get to enjoy the benefits of both worlds while giving your visitors the choice of what comment system they prefer.
Why you want to run Facebook Comments and Disqus Comments side-by-side.
The idea and motivation here is that we want to provide our visitors with the ability to interact with our website using the tool that they are most familiar with.
Thinking with a marketers mind frame; you go where the customers are, you use the tools and channels your target customers are already familiar with to propagate your message.
Knowing how sometimes fickle customers can be, the task for us regarding the role the website plays to the overall success of your business is to provide them with tools and facilities that bridge the gap and cement the bonds.
We are trying to build relationships, great relationships and only the best tools can facilitate that,
Mindful of the complications and intricacies involved in building a robust easy to use, visually appealing, feature rich commenting system to facilitate engagement we have always relied on the WordPress ecosystem for viable solutions.
In that regard.
Let me introduce you to WordPress Social Comments Plugin for Facebook Comments, Disqus Comments.

Its title tells it all. It allows one to Integrate Facebook Comments and Disqus Comments to WordPress Comment System.
Pros of this plugin
In terms of features, Heateor social comments plugin houses the two most famous and widely used social commenting plugins – Facebook Comments and Disqus comments, while keeping the native WordPress comments system. Ideally, you have three comment systems in one.
That means you get the best of both worlds in one place.
We have quite in-depth and highly informative articles on the individual benefits of both Facebook Comments and Disqus comments that you may want to read first to understand what each plugin has to offer your website.
Since you are now familiar with the benefit of integrating Facebook Comments or Disqus Comments to WordPress Comment System, here is my take on this particular plugin.
Hands on Heateor social comments plugin
First, it is very easy to install. You won't need to do anything you aren't already familiar with.
Configuring it is also quite easy. All configurations are on a single page you click to provide the required information.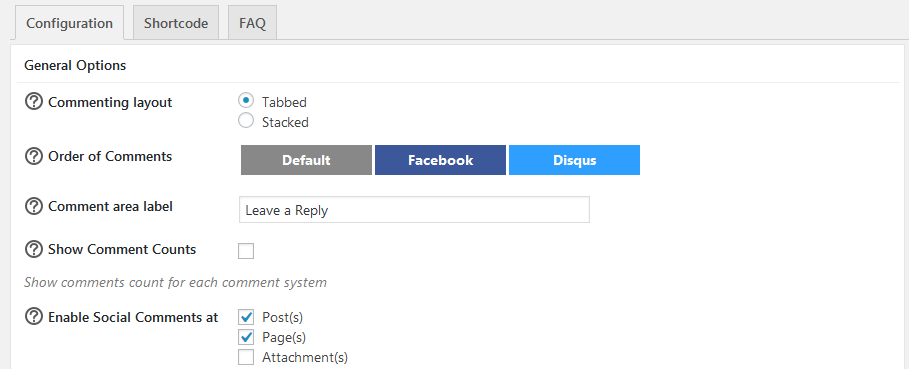 Facebook comments get activated and displayed on all posts as soon as you activate the plugin.
While with Disqus you would be required to supply a shortname – which should be something you can do in less than 2 minutes – It is not as complicated as getting a Facebook API that you would need if you wanted to moderate the Facebook Comments.
Secondly, I love the idea that a website administrator or developer has a choice of what commenting system they can deploy on their website without having to install multiple plugins.
And most importantly, Heateor social comments enables marketers and also admins to perform A/B tests on what social commenting system is most suitable for their website.
Earlier we said that it is important for a brand to use tools its audience is already using.
We want to make it as easy as possible for visitors to relate with us.
Having options that can be tested side by side enables businesses to zero down on what tools work best for their audience.
Cons of using the plugin
If you are not using the plugin for some comparison test, it will not make much sense as to why you want to run three independent comment systems side by side.
I love that I can have three systems, but I would only run them in parallel if I needed to gauge which one is the best fit for my website based on actual real-life application. That's the purpose of A/B tests.
Having three different systems means that an administrator needs to manage them separately when it comes to engagement moderation.
Moving back and forth these different applications would be too tedious and quite hard to keep up with.
Secondly, running three different systems in parallel adds extra performance issues to your website. Facebook comments and Disqus comments are third-party applications that depend on external resources to work.
For someone concerned about the performance of their website, there would be no need to add extra load to a website.
Besides those shortcomings, I believe this is a great plugin for administrators and marketers.
Final Thoughts
If you want to integrate Facebook Comments and Disqus Comments to WordPress Comment System and run the three systems simultaneously then WordPress Social Comments Plugin for Facebook Comments, Disqus Comments by Team Heateor is the perfect plugin for you.
If that is not you, there are standalone plugins for Facebook Comments and Disqus comments that you could use if you want a perfect alternative to the default WordPress commenting system.
Still haven't decided yet? Check out our hand-picked list of the best free comment system plugins for WordPress.