A custom short URL provides several benefits to a website; if you are interested in and are looking for ways to do that on your WordPress blog, then this article is for you.
What is a custom short URL?
From its name you can tell that a custom short URL is a unique and shortened link of your post or page.
Benefits of a custom short URL.
How to create a custom Short URL?
There are different ways to create a short URL for your website;
Go the branded route. I am sure you have seen these everywhere.
For instance, Google has https://goo.gl for its products.
YouTube – has https://youtu.be
Creating a custom short URL this way will require you to register a new domain name.
Use existing URL shortening services.
Today there are several such services; the famous and popular one is Bitly with their famous short URL links – https://bit.ly
Others are Tiny URL and Adfly (AdFly pays you for clicks on each URL you shorten with them – beware though that they show your visitors ads)
Use a URL shortening plugin on your WordPress website.
URL shortening services do not provide you branded URLs unless you purchase their premium plans.
When you do not want to buy a new domain name or subscribe to a premium plan, then the closest to a custom URL is one you create using a plugin on your WordPress website.
Let us do that now.
Create a custom short URL with Shortlinks by Pretty Links

With Pretty links a great Free WordPress URL shortening and link tracking plugin, we shall create custom short URLs for our WordPress website.
First, you, install and activate Pretty Links.
Go to Plugins, Add Plugin.

In the page, you are taken to, enter "Pretty Links" in the search box.
When the results are populated, you should see, "Shortlinks by Pretty Links – Best WordPress Link Tracking Plugin."
See the image below.
Click the Install Now button and then wait for a few seconds and in the same place click Activate.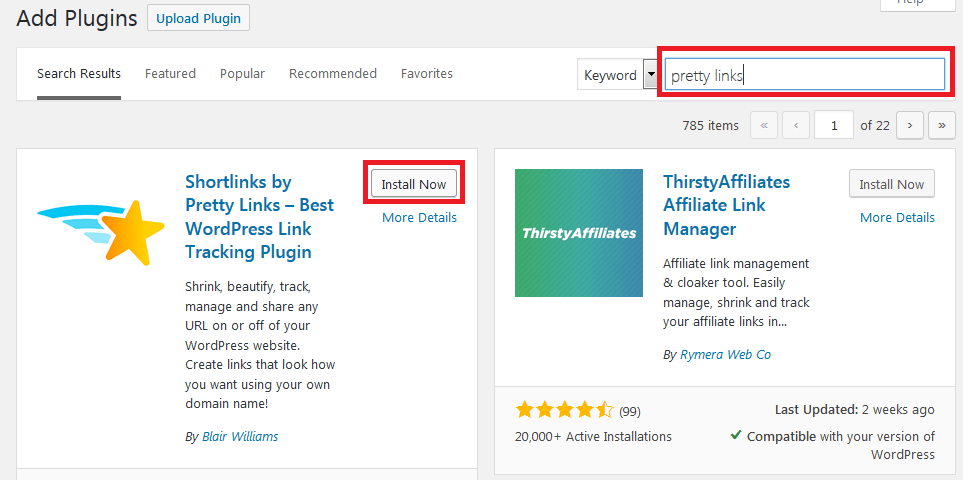 Once it is installed and activated, you can start adding links right away.
Go to Pretty Links then Add New Link.
But, for organization, I advise that you start by creating groups for your links.
When the links you add grow, it is easier to retrieve and manage your links if they are organized logically.
You can do that when you are creating the custom short URL or from Pretty Links groups.
Go to Pretty Links, then Click Groups.

Next, organize your affiliate links in logical groups.


Once you create the group, you can now add your links.
If you are using WordPress permalinks, then your URLs typically take the form –
https://yourdomain.com/ how-to-create-a-custom-short-URL-for-your-wordpress-blog
Some have the category name and post date attached to the URLs
It gets worse if we are working with affiliate links.
With Pretty links, we shall create a much shorter and easy to remember the link.
From the Pretty Links, sub-menu click Add New Link. On the next page, Supply the required information. Beside Pretty Link, you enter your desired slug or a short name that is appended to your domain name.

Save your link.
From the links page you are redirected to, you should see the new custom short URL you just added.

The long https://yourdomain.com/ how-to-create-a-custom-short-URL-for-your-wordpress-blog
Is now shortened to something like;
https://yourdomain.com/ custom

With that, you have created a custom short URL which you can share.
Conclusion
I believe there is a lot to gain from using custom short URLs on a WordPress website.
It does not have to cost you much, using a free WordPress plugin you can create branded short URLs that are easy to share and easy to remember.
So why not try it out today.
If you are an affiliate marketer, Pretty Links is a definite option you should consider for creating custom short URLs.
Here are a couple more plugins.
These may be an overkill for some who just wants a simple way to shorten URLs but would do great for affiliate marketers.
Have you used any other plugin to create a custom short URL? Let us know in the comments section below.
You may also want to create a custom login page in WordPress.