Are you planning to offer your products and services online or planning to start a small business website? Are you planning to build an e-commerce site? If you do, then, you need to integrate a FAQ section in your website.
The FAQ page is the most critical section of your website that needs to be updated after a specific period. It not only plays an essential role in SEO but helps you provide information to your customers in the form of most researched questions.
A visitor or a potential customer may have various queries regarding your product offering, pricing, services, policies and many more. However, very few would step up and contact your support team. They would prefer to move forward to some other company. So, if you are building a website, don't forget to create an FAQ page.
Now, creating an FAQ page is a hassle. You need to update it over period constantly. Are you going to hire a web designer or a programmer to refresh your FAQ page? If you ask us, It is not a wise decision. Instead, get hooked with a FAQ WordPress plugin and manage your FAQ section your way with ease.
Within this article, we are enlisting the best 8 WordPress FAQ plugins. Choose the appropriate plugin you love the most and create one astonishing FAQ for you.
The best FAQ plugins for WordPress
1. Ultimate FAQ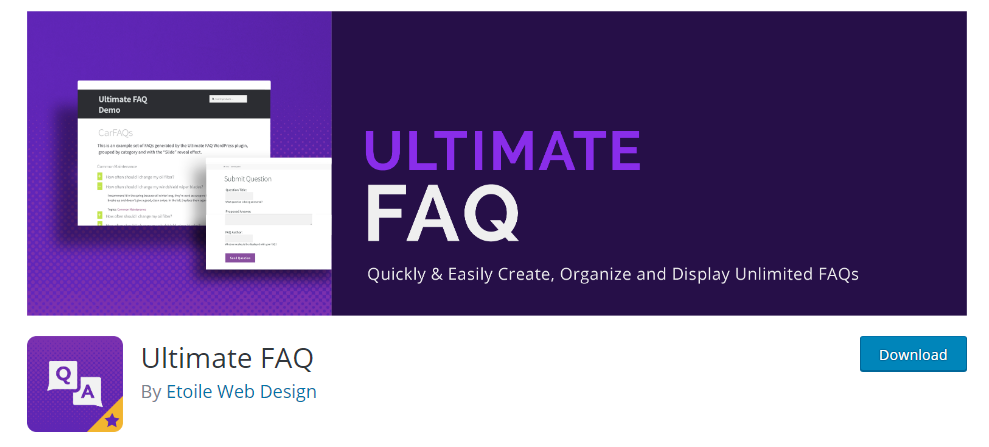 Ultimate FAQ is free WordPress FAQ plugin that has attained more than 30,000 active installations with a 4.4-star rating. It helps you create, organize and publicize your FAQs within minutes through your WordPress panel. It is one of the most comprehensive FAQ plugins that offer a wide range of features.
Features of Ultimate FAQ:
Offers multiple FAQ layouts and styles
Equipped with modern and compatible accordion style layout
Offers Gutenberg blocks for displaying FAQs and search and submit FAQ form
Provides unlimited FAQs with unlimited tag and category support
Include a custom CSS style to FAQ post
Compatible with WooCommerce
Ultimate FAQs plugin dashboard
Offers a wide range of animation options for displaying posts
And much much more.
Want to know more? Their premium version offers additional features.
2. Accordion FAQ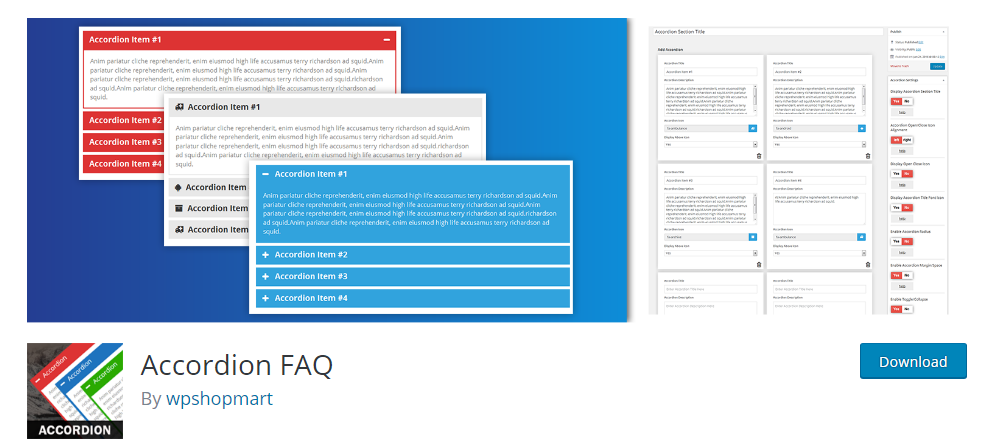 If you are in search of a responsive Accordion FAQ, then this plugin is just rocking it. It enjoys more than 20,000 active installations with a 4.4-star rating. Isn't it incredible?
With the help of Accordion FAQ, you can add unlimited accordion and play with its unlimited colors. Moreover, you can sort out your accordion position at the backend. It's free, responsive, friendly and offers a wide range of features.

Features of Accordion FAQ:
Were they far too much for a free plugin? However, if you desire for 8 design templates, 500 Google fonts, 12 open/close icon sets, 30+ content animation, etc. Then you need to get hooked with their premium version.
3. WP-Responsive FAQ With Category Plugin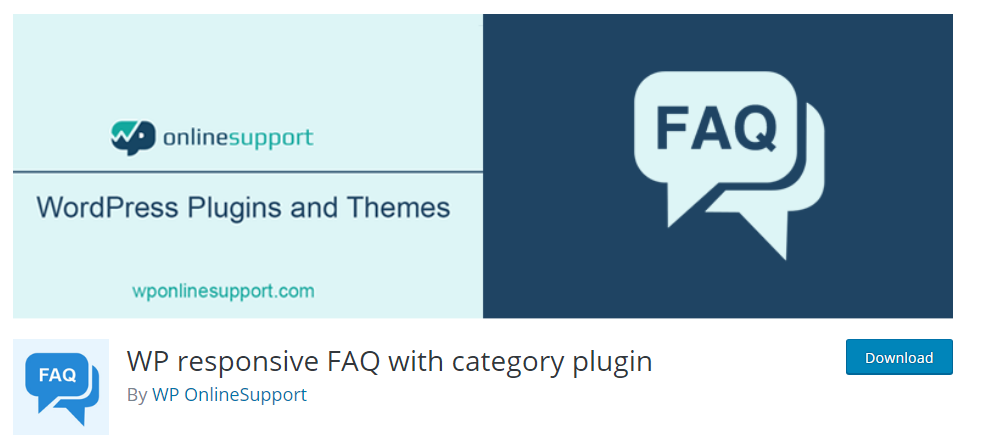 WP-Responsive FAQ is another popular and outclasses plugin that helps users design eye catchy FAQ for their WordPress site. This plugin has attained more than 8000 action installation with a 4.3-star ranking. With the help of this plugin you can easily add, display, manage and arrange FAQs on your site without any professional help. It offers various other unique features.
Features of WP Responsive FAQ:
Easily create a FAQ page with a shortcode
Offers users to add thumb image for FAQ
Easily configure a FAQ page and create a smooth FAQ accordion effect
Offers search engine friendly URLs
Impressed with its features? Look into their premium version for additional features and customization options. Its premium version offers 15 pre-defined designs, customized designs, shortcode parameters for FAQ limit, color, background, border color, and much more. Which version did you like? Comment in the section below.
4. Arconix FAQ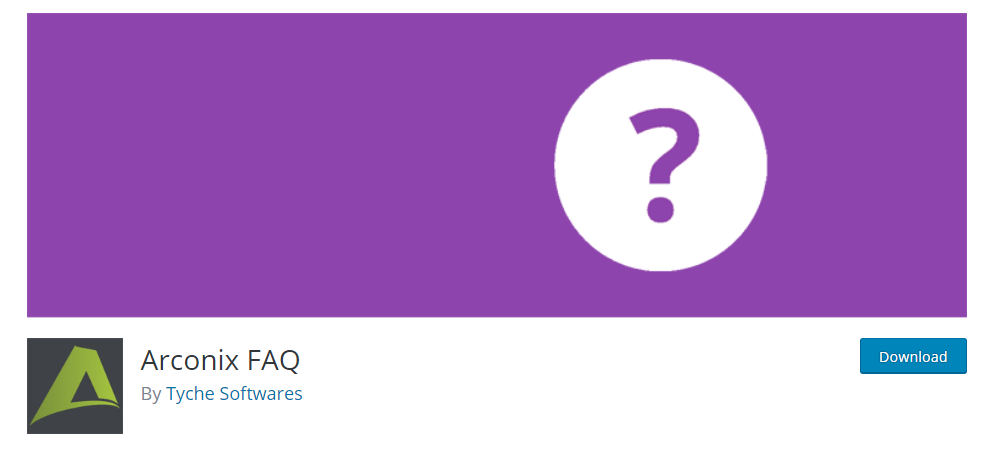 Arconix FAQ is another free and a popular WordPress FAQ plugin that has won the hearts of many. It has attained more than 10,000 active installations and earned a 4.9-star rating due to its incredible offerings. It offers one of the easiest and stylish FAQ platforms with HTML5 responsive FAQ. With the help of shortcode, you can easily add an FAQ section anywhere on your site with minimal disturbance.

Want to know more? Let's look over its features.
Features of Arconix FAQ:
It supports two types of FAQs: jQuery toggle and accordion box
Offers custom post type driven option
Offers individual display or FAQ group display using group taxonomy
Simple and easy to use interface
Arconix FAQ does not provide a wide range of styling options. However, if you need a plugin that will help you create an FAQ section with ease and great functionality. Then, the Arconix FAQ is the right choice.
5. Easy Accordion – Best Accordion FAQ Plugin For WordPress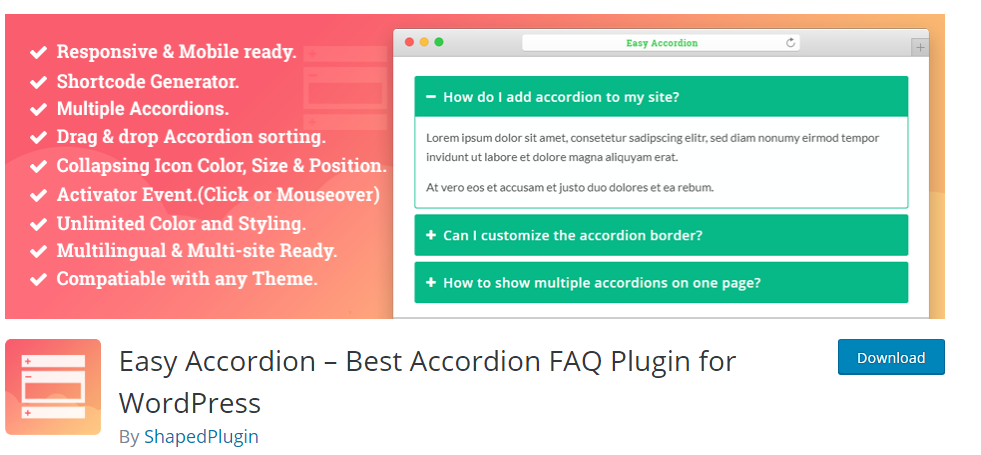 Easy Accordion is another responsive, drag and drop accordion FAQ builder plugin. With the help of this plugin, you can display multiple accordions to your WordPress site without a need for professional advice. So, no more coding, no more hassle, no need developer's help. Just log in to WordPress and install Easy Accordion.
Features of Easy Accordion:
Responsive, lightweight and robust interface
Offers users to create unlimited accordions to the same page
provides users to add or remove accordion items from the backend
offers a wide range of customized options; border, title background color, description text and background color,, section title and margin, unlimited color and styling and much more
SEO friendly and RTL, Widget and Multi-site supported
Most importantly, it offers WP classic editor for accordion content and multiple accordion collapsible or toggle option for its users. Whereas, the Easy Accordion Pro provides additional features, such as 16+ beautiful themes with preview, multilevel or nested accordion option, WooCommerce product accordion, 840+ Google fonts, and 25+ smooth animations and effects and much more.
6. Tab – Accordion, FAQ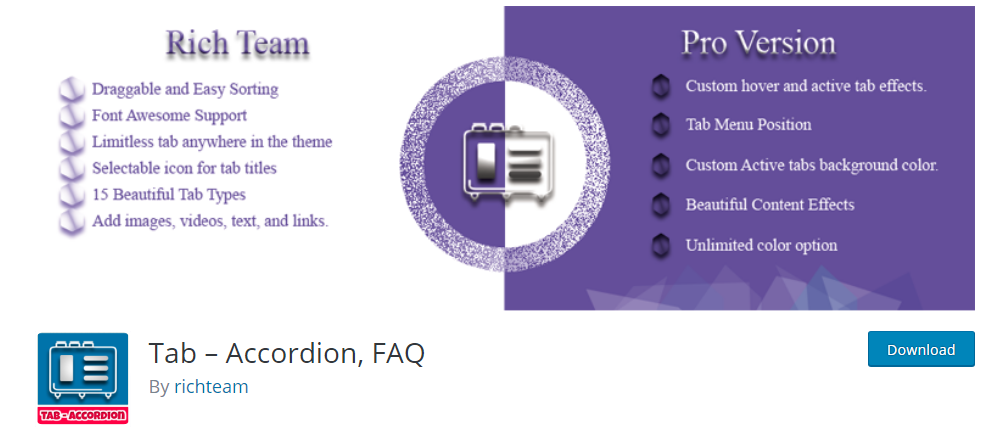 Tab – Accordion, FAQ is a comparatively new plugin that has not gained popularity among its peers. It enjoyed more than 2000 active installation and attained a 4.4-star ranking. Not that bad?
However, they offer a wide range of features free that others are providing in their premium version. Want to know? Head on…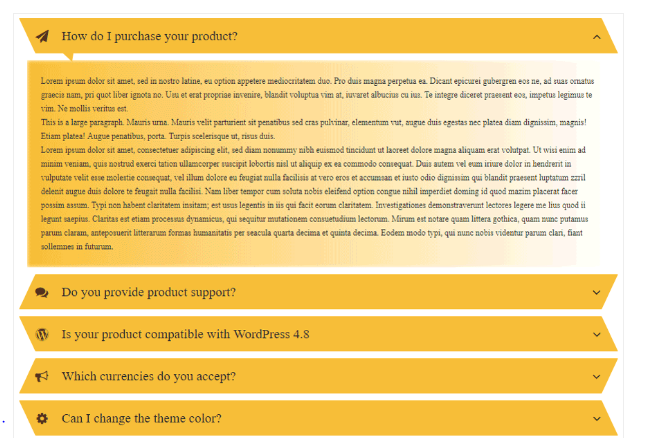 Features of Tab – Accordion, FAQ:
Fully responsive and compatible with all web browsers
Offers 31 types of tab options; vertical, horizontal, responsive, animation, circle, vertical, FAQ, Accordion and much more.
Users are allowed to add an unlimited number of FAQs, Tabs, accordions images and videos.
Offers clean HTML, JavaScript, and CSS code.
Allow users to align their tabs and accordion left, center or right.
Users can display their title, description FAQ, videos and images with beautiful slideshow effects.
And much more
Whereas, content transition animations, random effects, custom hover, and active effects are some of the additional key features of their premium version. So, if you are looking for a friendly, attractive and easy to use backend plugin that can help you display through a shortcode. Then, Tab – Accordion, FAQ is the right choice.
7. Quick And Easy FAQs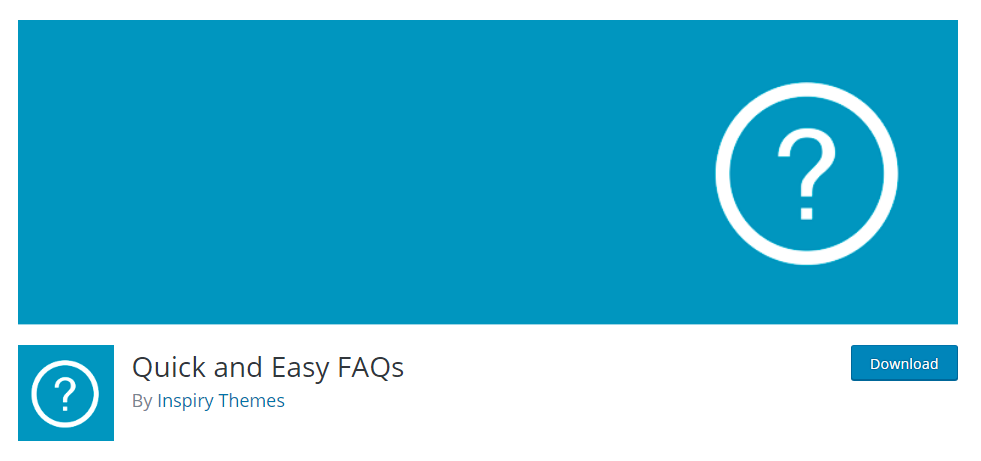 Quick And Easy FAQs is as quick and easy as it name suggests. So, if you are looking for a fast and simple way to add FAQ to your WordPress site. Then, here you have it. This plugin will help you add FAQs using custom post types and also help you display FAQs using shortcodes without any hassle or coding knowledge.
Features Of Quick And Easy FAQs:
Helps user display FAQs in a simple list, toggle, and filterable toggle style
Allows users to change toggle style text, background, and border colors
Supports RTL and visual composer plugin
Offers Transition ready option
8. WP Awesome FAQ Plugin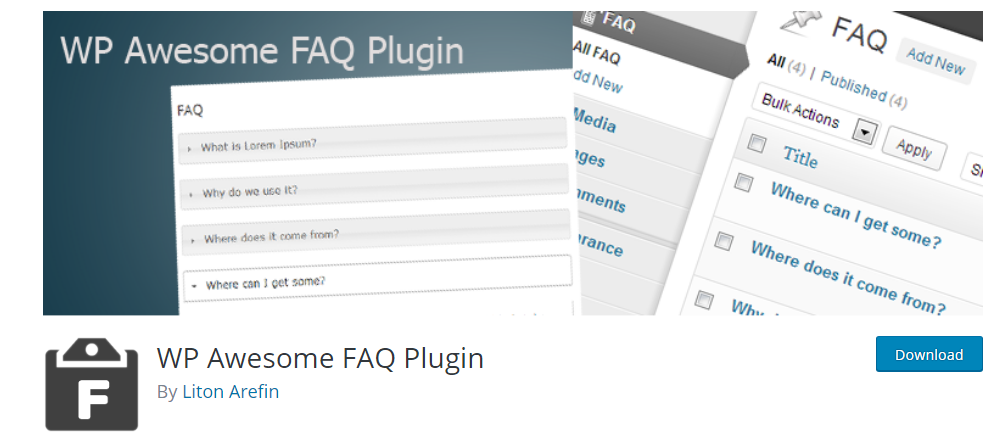 WP Awesome FAQ Plugin is another simple and easy to use WordPress FAQ plugin. If you are looking for a developer friendly and easy to customize FAQ plugin, then this plugin is just right for you. However, with every single character you are required to add FAQ process on your site.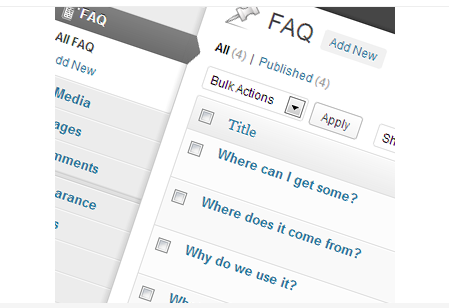 Features of WP Awesome FAQ Plugin:
Offers category shortcode based FAQ
Offers FAQ setting options like; close all, open all and 1stitem open
Allows users to install custom post type 'FAQ' automatically
WP Awesome FAQ Plugin offers very thin features, but it promises to deliver more setting soon.
Wrapping Up
The FAQ on your website could help you save time, resources and effort. In return, you can generate high rewards and revenues. All the plugins featured above entails specific unique functionality that brings something new within them. They are simple to use and can help you build beautiful FAQs.
Now you are all set to create a FAQ section on your WordPress website.