Podcasting is rising in popularity as one of the favored means of content consumption. In contrast to text-based content, users are free to engage in other activities while listening to podcasts, which increases productivity. It is also beneficial to the content creators as an excellent means to deliver long-form content, as well as, in building a connection with their userbase. With this in context, if you are running a website with WordPress and looking to start a podcast on your WordPress website, then you can easily do so by installing a podcast plugin to help you out.
Why Do You Need A Podcast Plugin On Your WordPress Website?
A WordPress Podcast plugin will integrate a customizable and feature-rich audio player to your WordPress website, which users can use to play podcasts. On top of that, by using a dedicated plugin, you can stream the podcasts from a different hosting service and won't have to fill up your web host's server resources.
Considering all these advantages, we have put together a shortlist of the 7 Best Podcast Plugins for WordPress. So without further ado, let's get started:
Best Podcast Plugins for WordPress
1. Blubrry PowerPress Podcasting Plugin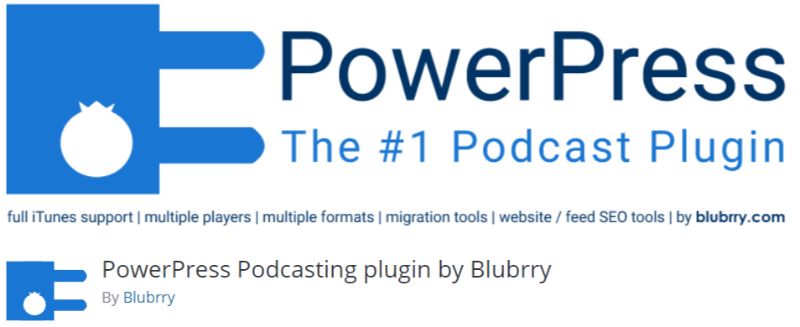 PowerPress by Blubrry is one of the leading podcast plugins for WordPress filled with rich features and powerful functionalities. It supports a simple and an advanced mode depending on your proficiency. The simple mode allows you to quickly set up a functional podcast on your site, whereas, the advanced mode contains more powerful options and controls that might be needed by professionals.
On the feature front, you get access to mostly all the necessary bells & whistles, including a dedicated "subscribe to podcast" page embeds and sidebar widgets, SEO configuration options, support for audio as well as video players, and much more. Best of all, these advanced functionalities are all available for free.
Features:
Option to create "subscribe to podcast" pages.
Support for subscribe-page shortcode embeds and sidebar widgets.
SEO optimization options.
Podcast import and migration tools.
Compatible with Apple Podcast as well as Google Podcast.
Integration with Blubrry services for free as well as paid Media hosting and statistical insights.
Features an integrated HTML5 audio/video player.
And much more.
2. Seriously Simple Podcasting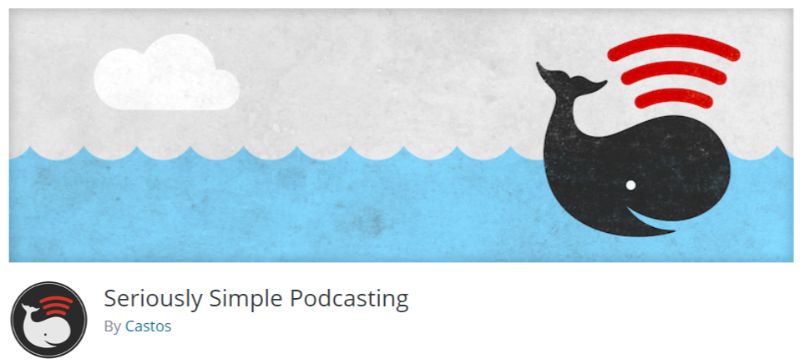 Seriously Simple Podcasting, as the name suggests, is a podcast plugin for WordPress that strives towards simplicity and ease of use. But with that being said, the plugin doesn't compromise on features and brings forth plenty of useful functionalities to the table.
Now, to help with juggling feature-richness with intuitiveness, the plugin integrates a minimalistic user settings panel to help you easily publish content on your site. On top of that, you also get access to a Castos integration, which serves as a dedicated hosting platform for all your podcasts.
Features:
One of the most intuitive and easy to use plugins for creating and integrating podcasts on your website.
Customizable media player with support for a podcast cover image.
Option to run multiple podcasts, each with its own RSS feed.
Shortcode and widget support to help embed podcasts almost anywhere on your site.
Castos integration to serve as your default podcast hosting platform.
And much more.
3. Libsyn Publisher Hub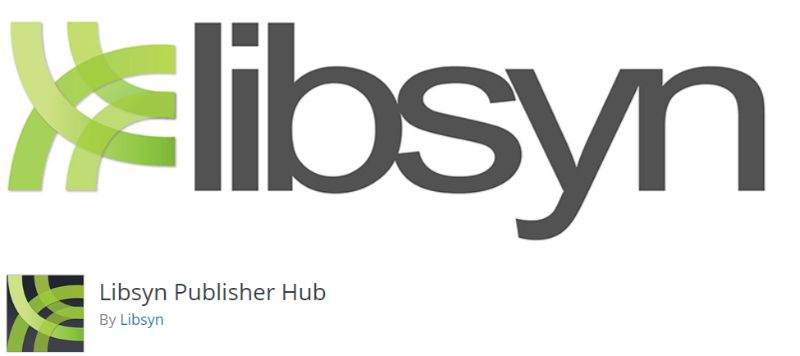 Libsyn is among the most popular and well-known podcasting hosting services, and the Libsyn Publisher Hub is their dedicated podcast plugin for WordPress. Needless to say, you will have to sign up with Libsyn or already be a Libsyn user before finding any utility in the plugin. But once you do, the plugin enables a smooth workflow for publishing podcasts from your WordPress website to your Libsyn show.
Other notable features of the plugin include features like episode creation, automatic feed/show migrations, advanced scheduling support for iTunes optimization, ID3 tags, and much more. Furthermore, all your podcasts including RSS feed is loaded on Libsyn, so that's a load off your web hosting server.
Features:
Official plugin from Libsyn Podcast Hosting Service.
Option to upload podcasts directly to Libsyn server, or through WordPress media library.
Streamline workflow, from creating podcasts to publishing them on WordPress or your Libsyn channel.
All podcasts, as well as RSS,  feeds hosted on Libsyn servers.
And much more.
4. Podlove Podcast Publisher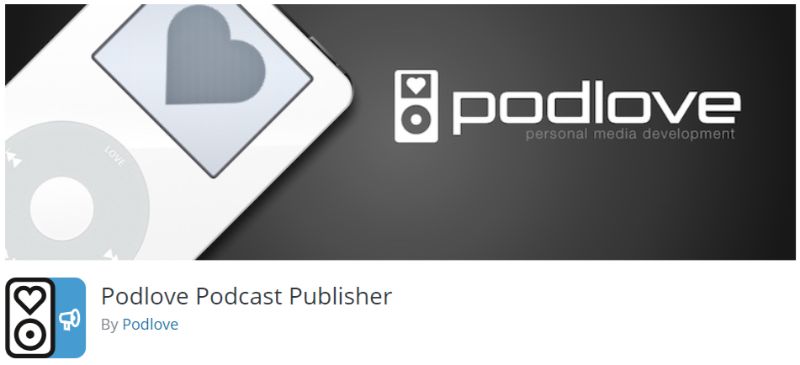 Podlove Podcast Publisher strives to create a modern, easy-to-use system for creating and sharing podcasts through your WordPress websites. The podcast plugin promises to provide a cutting edge listening experience to make sure listeners enjoy everything you have to say.
The main feature highlight for the plugin comes in the form of a HTML5 compatible optimized web player which can play different audio as well as video files. You will even get access to a flexible template system to tweak the aesthetics of the podcast experience.
Features:
HTML5 compatible optimized web player which supports both audio, as well as, video content.
Templating system to help you create visually rich media players.
Multi-format publishing enables support for modern as well as legacy audio and video codec.
Chapter support allows you to structure your podcasts into groups and chapters.
And much more.
5. Amazon AI Plugin for WordPress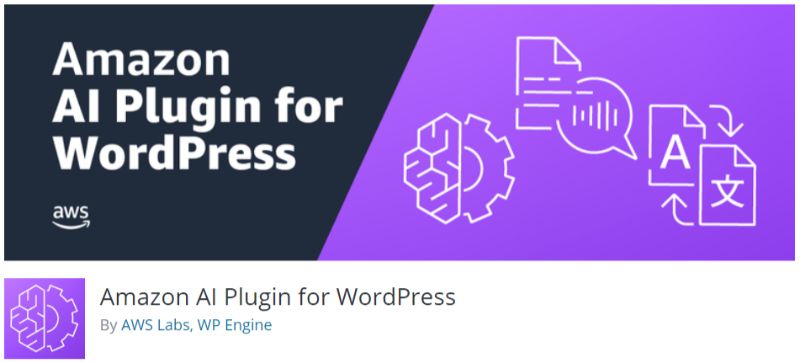 Amazon AI Plugin for WordPress allows you to create an audio version of your posts, translate them into any language of your choice, and then create a podcast. This gives users the option to listen to your posts instead of reading them. The plugin also allows you to create an audio feed for text-based content and insert to your posts and pages using an embedded player.
As far as features are concerned, you can look at this as a text-to-speech converter. There is even an option to let you choose the playback voice. And although it allows you to create podcasts out of your text-based content, it isn't the ideal plugin to embed actual podcasts and audio files on your website.
Features:
Helps to create podcasts out of your text-based content.
The plugin uses neural machine learning to translate your content to different languages.
All audio files are stored in Amazon S3.
Can be used as a text-to-speed functionality on your site, with complete control over the voice playback.
And much more.
6. Compact WP Audio Player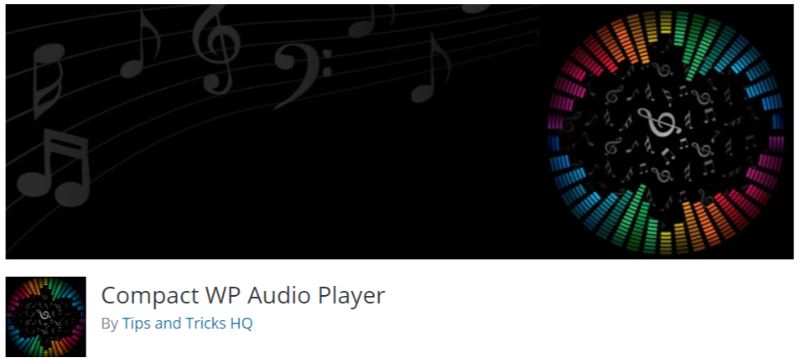 Compact WP Audio Player wasn't strictly curated as a podcast plugin but instead as a general-purpose audio player. It makes use of HTML5 as well as Flash to create a hybrid audio player that will work on almost all browsers and devices.
In terms of looks, the audio player boasts a compact and cute interface which can be easily placed on your posts as well as pages with the use of shortcodes. And in term of audio formats, the plugin only supports .mp3 and .ogg, so it is somewhat limited in this department.
Features:
Embeds a compact audio player anywhere on your site using shortcodes.
The audio player is compatible with both HTML5 as well as flash and thus supports all browsers – both old and new.
In terms of audio files, it only supports .mp3 and .ogg file formats.
And much more.
7. Spreaker Shortcode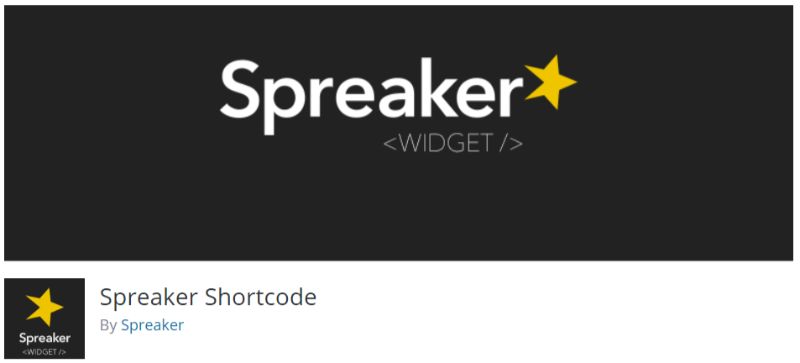 And for the final podcast plugin on the list, we have Spreaker Shortcode. As is evident from the name, the plugin enables shortcodes to help you embed the Spreaker audio player on your WordPress website. It works seamlessly with any show, episode, or even user on Spreaker, and will effortlessly embed onto any of your blog posts, courtesy of shortcodes.
Now, for those of you who don't know, Spreaker is a podcasting service complete with all necessary tools to help you create, distribute, and monetize podcasts. You can simply create a podcast on the platform and embed it onto your WordPress website using the plugin.
Features:
Refined control over which episode/show you want to embed on your website.
Complete customization control over the dimensions and styling of the audio player.
Playlist support.
Live autoplay functionality.
And much more.
In Conclusion
So these were our picks for the top podcasting plugins for WordPress website. Do let us know if you found the read to be helpful, and don't forget to tell us which podcast plugin you picked for your project.
On a similar note, experienced users are welcome to share their insight on using WordPress to promote their podcasts and the use derived from podcast plugins. Also, if any user has used any of the plugins mentioned here, then don't hesitate to write about your experience in the comments section. You might even help out a fellow reader in finding the right plugin.
Now you are all set to host your podcast project on a WordPress site.