Tables are an effective and efficient way to present your information. For example, a table of content in a post helps readers understand the layout of the information, a pricing table helps compare features, products, and services. They not only organize and present extensive data in a comprehensive manner but attract readers attention too.
Have you ever been attracted to a post that outlays fact and figures in the form of a table, charts or graphs? And wonder how to create tables in you own posts and sites?
If you are running a blog with WordPress, you can easily add tables to your site or post with a WordPress table plugin instead of manually using an HTML code; the coding procedure.
Creating tables in WordPress through HTML code is a lot of hassle. So, if you are a beginner who has just stepped in, choose a reliable WordPress Table Plugin.
Today, we have gathered a list of top 7 table plugins for your WordPress site, you can choose any, depends on your needs and your opinion.
Let's view them in detail.
Top Table plugins
1. TablePress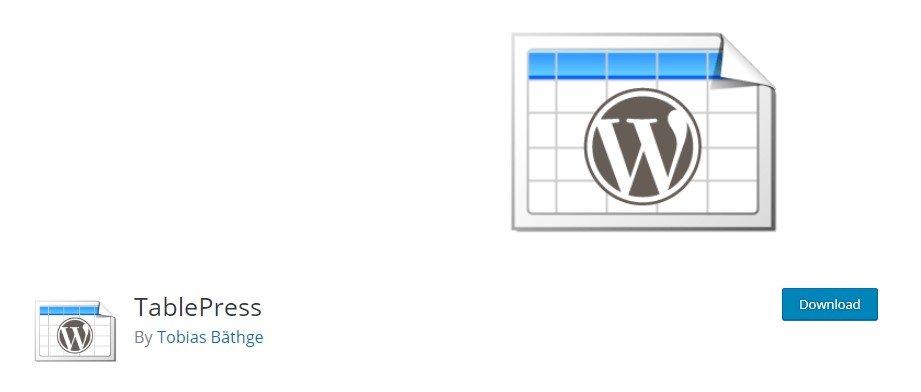 TablePress is a free WordPress plugin that allows users to create and manage tables according to their desires. So, if you want to insert tables in your posts, pages or text widgets you can easily do it with TablePress plugin. All you need is a simple Shortcode. TablePress enjoys more than 700,000 active installs and attains a 5-star rating.
Moreover, this table will help you release yourself from HTML and coding hassle. So, forget the coding and install this highly recommendable plugin. It's worth your time and effort.
Before we move further, let me discuss some of its features:
It allows its users to create tables on an Excel-like interface
Intuitive interface with drag and drop option
Insert a table into any post, page or text widget using simple Shortcode
Allows its users to edit tables without the hassle
Offers additional features; sorting and filtering
Allows its users to import and export table from Excel, CVS, HTML and JSON files
Easy to use
Let's move on with the list.
2. Data Tables Generator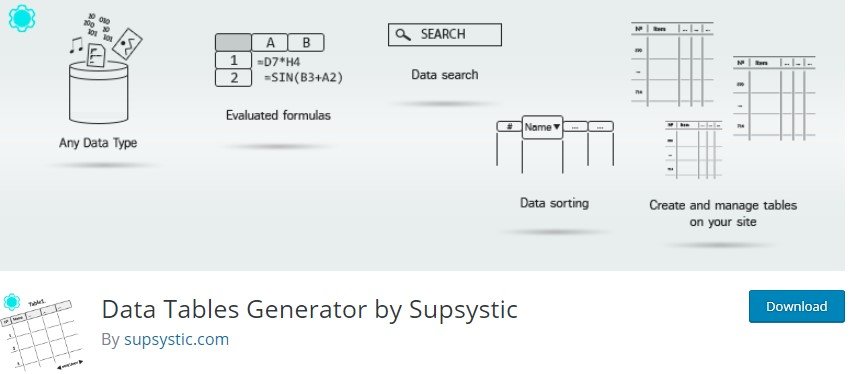 Data Tables Generator is another free WordPress plugin that creates responsive WordPress tables. It offers a free and premium version, but its free version is good enough. Data Tables Generator enjoys more than 20,000 active installs and attains a 5-star rating.
Let's see some of the reasons why Data Tables Generator is a good option:
Saves its users from coding and HTML process
Easy to use
Generates tables fast
The date to create tables can also be used to create diagrams and charts
Intuitive setting panel and responsive editor save a lot of the time of its users
Offer responsive tables on all devices
Images, links and video support option
Table properties variation
and much much more…..
3. Ninja Table

Ninja Table is another free fully responsive WordPress plugin that allows its users to create innovative, unique tables. It is user-friendly, easy to use and follows a quick interface. So, you can easily and quickly generate a unique table with the help of Ninja Table plugin. Ninja Table enjoys more than 20,000 active installs and attains a 4.4-star rating.
Let's see some of the other reason, you might choose Ninja Table:
Hassle free; no coding is required
Offers single line cells, fixed layouts, bordered tables, hower rows.
Simple configuration
Drag and drop facility
Offers import and export facility
Offers filterable table option
WooCommerce and Google sheets integration
and much much more….
It's notably that this plugin is also always used as one of the best pricing table plugins to create pricing table for products or services on a website.
4. Easy Table Of Contents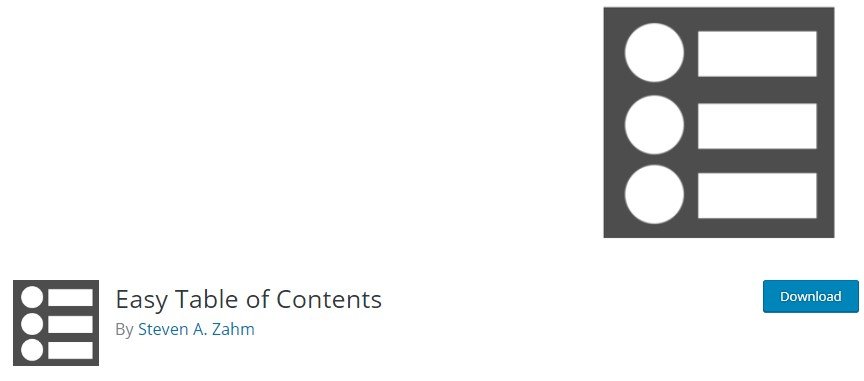 Easy Table of Contents is another remarkable WordPress free plugin that allows you to highlight the critical section of your article. Table of contents not only make things easier to understand but it helps them jump to the part he thinks is most relevant to them. Most importantly, the table of content helps to attain Google ranking. Since it shows snippet in the search results.
Wondering how to achieve? Follow our guide on how to build a table of content in WordPress.
This plugin has more than 60,000 active users and has attained a 4.6-star rating.
Let's see some other reasons easy table on contents is the right option for you:
User-friendly
Automatically generates a table of content
Creates able content for posts pages and custom post types
Multiple bullet formats
Supports smooth scrolling option
Developer friendly
Allows the user to hide the table of contents from their posts
Offers various options for its users  to configure a table of contents
And much much more….
5. Visualizer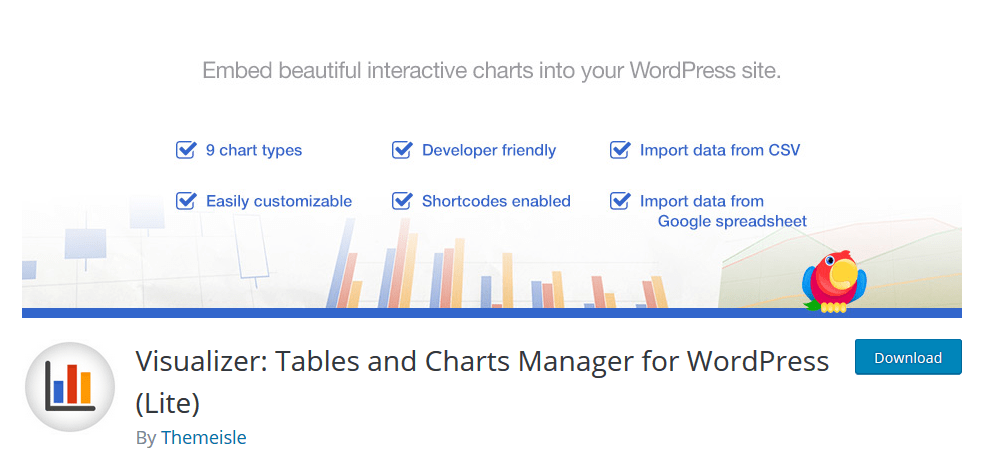 Do you want to create, manage and embed interactive charts and tables into your WordPress posts and pages?
If yes, then this tool is your essential need. Visualizer table and charts manager for WordPress is simple and easy to use powerful plugin. It uses the Google Visualization API and datatables.net and adds responsive & animated charts and diagrams. It supports cross-browser compatibility and cross-platform portability to iOS and new Android releases.
Using a simple chart builder, you can insert charts and diagrams to your WordPress site. Most importantly, it offers you flexible and customizable services; make your chart your way. Whereas, if you want to avail more additional features, avail their pro version. Their pro version entails numerous time-saving features:
Import data from other charts
Create charts from WordPress posts, pages, products, and post_type.
Auto synchronize its online user files
Allows users to edit charts
And offers various other additional options and features…
Want to know more? Click here and avail their free and pro version.
6. WP Table Builder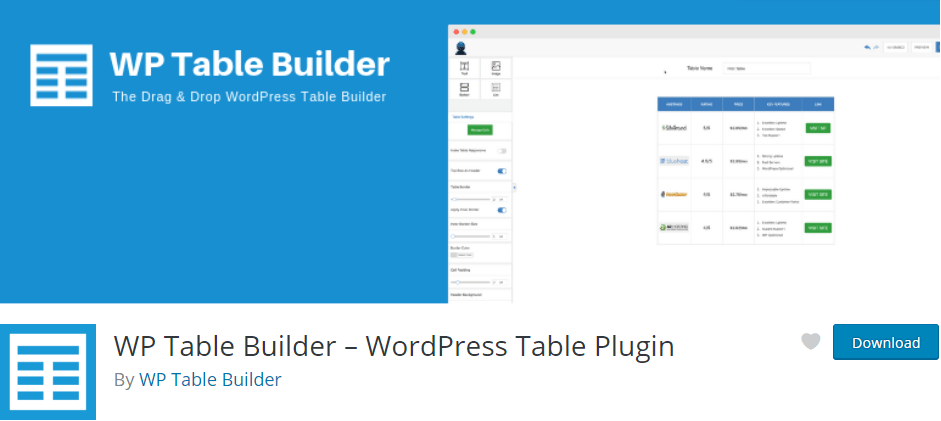 WP Table Builder is a drag-and-drop table plugin that lets you create responsive and beautiful tables. It's a free plugin and you can download it from WordPress.org repository. If you are familiar with page builders, you will find it extremely easy to create tables with this plugin. You can insert the tables anywhere by using the shortcodes. 
Let's see some of the reasons why WP Table Builder is a good option: 
It comes with a drag and drop interface. 

Extremely easy to use. 

Five elements (Text, Image, List, Button, & Star Rating).

Cell management mode to add and remove rows/columns. 

Mobile responsive tables. 

Shortcodes and more.
Click here to keep up with their latest updates and resources.
7. wpDataTables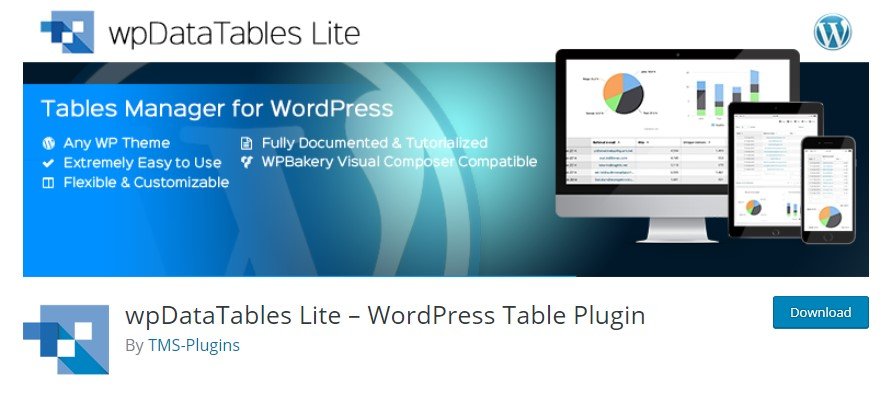 wpDataTables is one of the best WordPress plugins that comes only with its premium edition but at a considerable competitive cost; $28. It enjoys more than 20,000 active installs and attains a 4-star rating.
A premium WordPress plugin is hard to digest when you can easily choose from hundreds of free WordPress plugins. So, is it a good option to select a premium plugin when you have other options?
Is WpDataTables worth the investment?
Wait! Before you give your verdict, let's look into some more details.
Let's look into some of the features that are creating an immense impact in the online world:
With just simple clicking, you can build WordPress tables quickly and easily
Competitive advanced features and tools
Lifetime updates and 6 months of free support.
Fully customized WordPress tables and charts.
Multiple database support that can display data from MySQL, MS SQL or PostgreSQL data-bases.
Creates, edits huge tables within friction of a minute and create responsive tables
Advanced filters and search options.
Easily convert tables into charts; which are rendered by powerful engines; Google, Highcharts, and Charts.js.
It is equipped with the calculation tool that calculates the sum, average, minimum and maximum of all the values for a given column.
If you want to avail its services install it today.
Final Thoughts
A responsive table is a plus. I have enlisted the 7 best table plugins that you can add in your WordPress site or post, also, I have elaborated the steps of creating a table on your site in another guide.