Job manager WordPress plugins can help you add a job board on your WordPress site, create your own job website or charge other companies to post jobs.
Whatever methodology you adopt, eventually it will help you earn high rewards in the form of high sales and revenues.
However, choosing one right credential plugin is a crucial task. The WordPress repository is bombarded with plugins, thus selecting the right one without any prior knowledge can be fatal and deadly.
Hence, for your convenience, we have handpicked some of the best job manager WordPress plugins. Within this article we are entailing the features and functionalities of the best 6 plugins so, you can choose the one that suits you best. Before we start, let's see why you need a job manager plugin?
Why Do You Need Job Manager WordPress Plugins?
Online employment is gaining popularity. Hence, more people are heading in find employment on online portals. This is where a fully-functional Job Board Plugin steps in. Job manager WordPress plugins are a lifesaver for many. They are helping those talented and skillful ones get employed. A simple WordPress site can be turned into a job board site; through a simple installing process; simply Install and activate a reliable and authentic job manager WordPress plugin.
It will not only help you post new job openings on your site but can use to build a job portal. A search engine for job listing will ease the whole process. Job manager WordPress plugins also allow other employees to add jobs on your blog.
Hence, you earn twice; Earn by offering job opening on your site and also by allowing others to post their job openings.
So what are you waiting for? Get hooked with the best WordPress job board plugins and ease your process.
The best job manager plugins for WordPress
1. WP Job Manager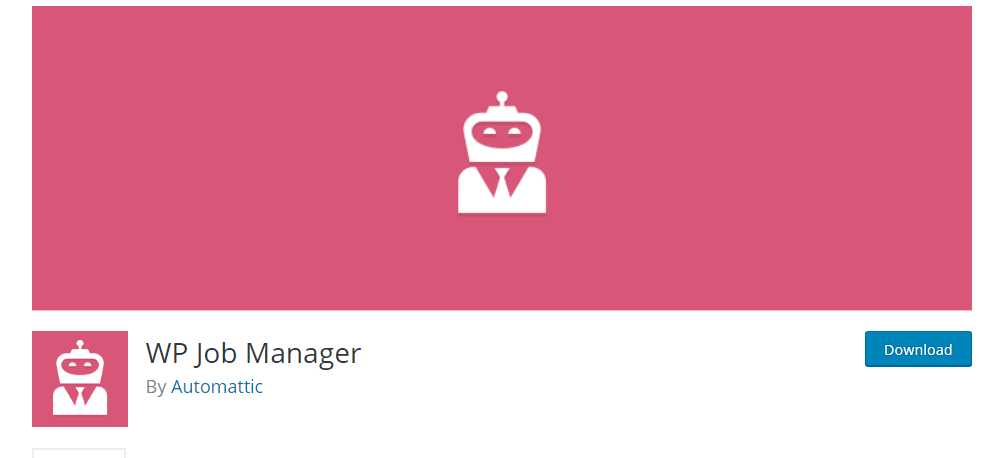 WP Job Manager is a light weighted job listing plugin that can help any WordPress site convert into a job board site. Since it works on shortcodes, thus it is very simple to set up. Simply create new pages and get a live job board in minutes. With the help of this remarkable plugin, various users can register to your site and post their job listings. Moreover, users can also manage their listing from simple dashboard options.
WP Job Manager is a popular WordPress plugin that enjoys more than 100,000 active installations and has attained a 4.5-star rating.
Want to know more?
Features of WP Job Manager:
Most importantly, it offers various add-ons, such as applications, paid listing for WooComerce, resume manager, job alerts, and core add-on bundle.
2. Simple Job Board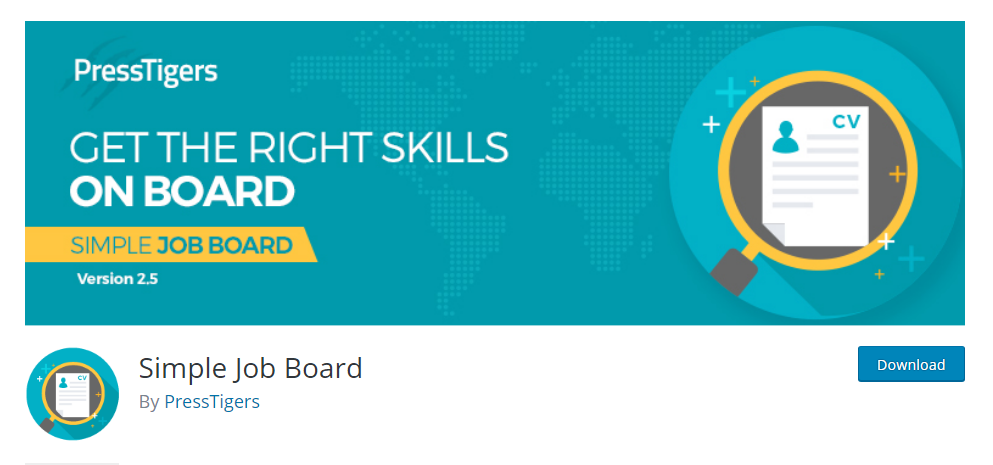 Simple Job Board is another popular WordPress job board plugins. It is a simple, free and lightweight plugin that will help users quickly add a job board to their site or blog. Simple job boards have attained a 5-star rating and enjoy more than 10,00 active installations.
Users can easily add multiple job listing and display them on any page of their WordPress site using a shortcode. Unlike, wp job manager, simple job board doesn't allow its employers to create an account on your website or add their own job listings. You can manually enter job listing with categories and job types. There are no built-in monetization options. It is a low key plugin and an excellent choice for those who have a small budget. However. If you plan to extend your site, you may purchase its add-ons.
Features Of Simple Job Board:
3. Jobs for WordPress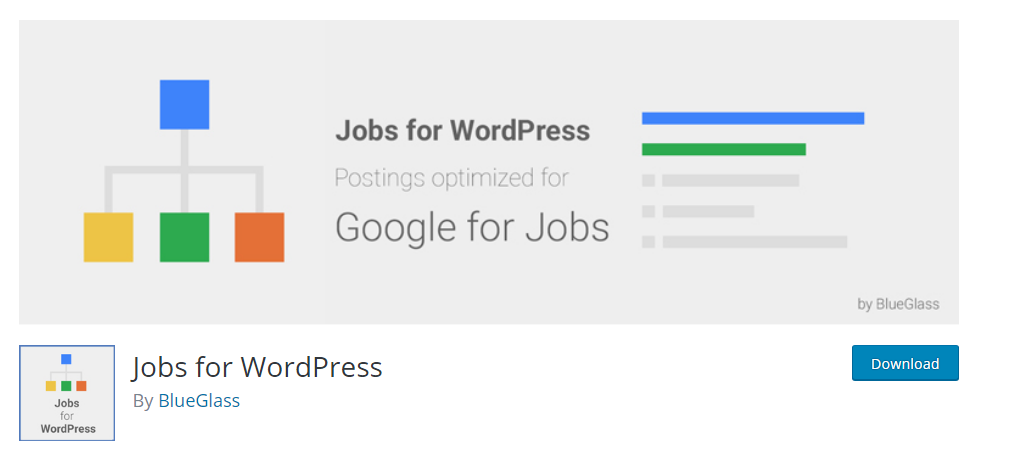 Jobs for WordPress is another recommended job manager WordPress plugin. This is comparatively new plugin thus not very popular but highly effective. Jobs for WordPress allows its users to add a job posting to their company site easily. Since they offer an easy to use interface, whereby users can easily and quickly create and manage job posting. Moreover, they are also offering automatic structured with scehma.org.
Features Of Jobs For WordPress:
Most importantly, they are SEO-friendly and can help you rank well in search results. Thus, help you earn and save on expensive posting. So, what do you say?
Ready to install this plugin or want to look over the rest of our recommended ones?
4. Job Board Manager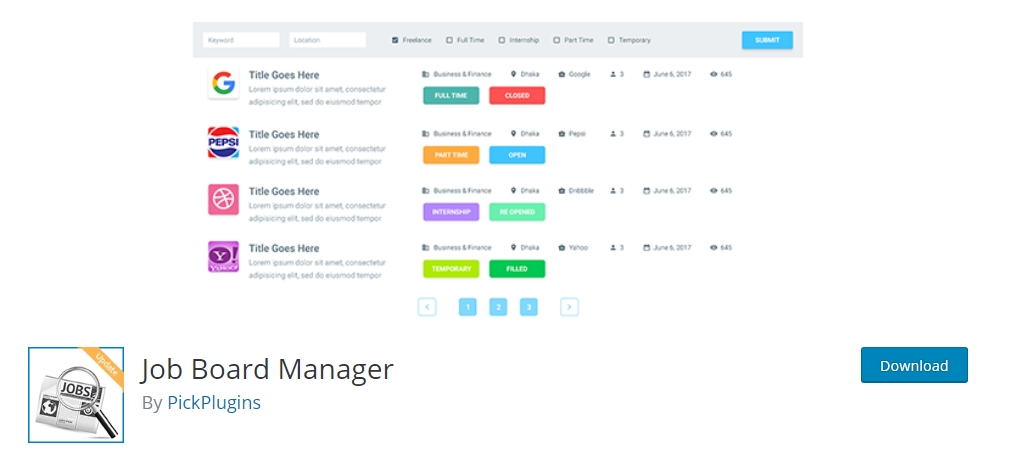 Job board manager is another excellent job manager WordPress plugins by PickPlugins. If you want to manage your job site quickly, then you are in the right place. It allows users to create a job board manager site within friction of time without any hassle and any coding knowledge. Just apply shortcodes for a specific job, and there you get it.
It offers various shortcodes for displaying different job actions; job archive, new job submission form, new job edit page, new account page, and client job list.
Want to know more? Let's look into its key features.
Features Of Job Board Manager:
Most importantly, it offers a wide range of free and premium add-ons. Locations, company profile, expired check, widgets, and breadcrumb are some of the free add-ons. While if you want to integrate its premium add-ons log on to Job Board Manager and avail numerous extra facilities.
5. WP Job Openings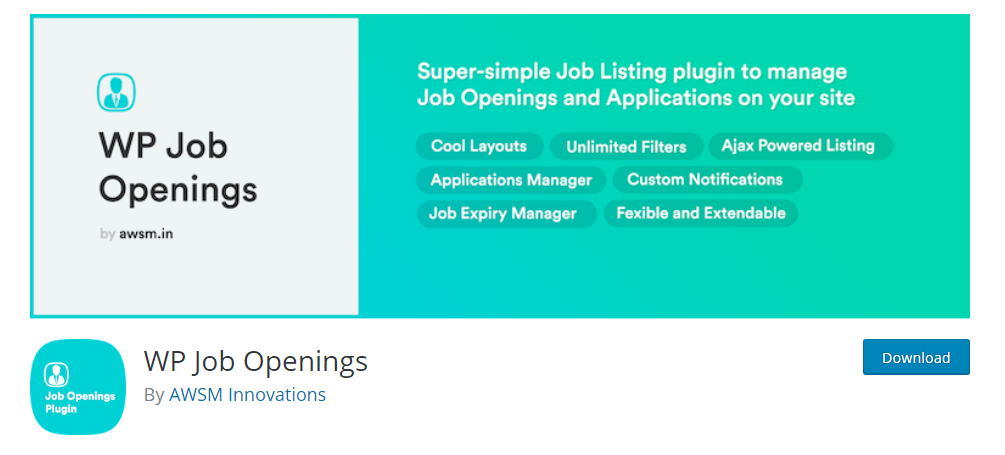 If you are looking for a job listing plugin for a corporate site or a single company, them WP Job Opening is the plugin you need. It is one of the most extensible and straightforward platforms that has attained more than 1000 active installation with a 5-star rating. Incredible? Isn't it?
WP Job Openings entails two modern layouts; grid and a list layout. They are designed to bring modernity and high-end user experience.
Features Of WP Job Openings:
Most importantly it offers a simple, easy to use setup and an interface with flexible filter options. Therefore, it is creating an astonishing experience for newbies and high-end users. What do you say?
Do you want to install this simple job listing plugin and manage your job opening and applicants efficiently, quickly and without any hassle?
6. JS Job Manager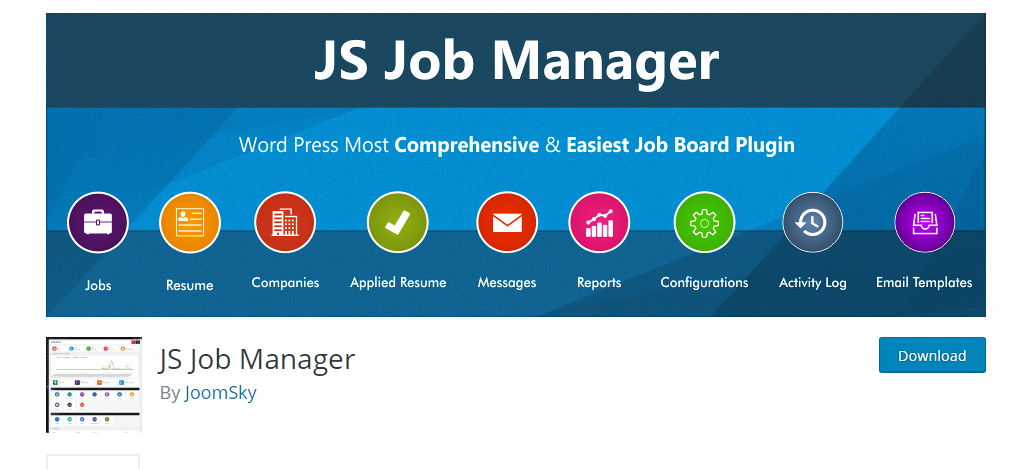 JS Job manager is the last recommendation that allows its users to run their own unique job classified service. Within this plugin, users and employers both can advertise their jobs; job seekers can upload their resume and apply to any job. It has an easy setup, and within minutes you can install and enjoy its numerous features.
Features Of JS Job Manager:
These were some of the free version features, but if you want to get hooked with their premium version get ready for MORE.
Wrapping Up
We have enlisted the best 6 WordPress job board plugins. Every plugin holds unique characteristics and functionality. Many may create an immense impact for some and none for others. Choose the one that suits you best, in the end, it's your needs that matter the most.
We hope this article helped, now you are all set to create a job website of your own.