You can stop WordPress auto updates if you often wake up to a broken website, only to discover an automatic update does not play nice with other plugins.
Let us get something straight; it is a terrible idea to run a production website on outdated software.
WordPress based websites top the charts of website hacks among content management systems.
Running a production website on an outdated version of software opens you up to potential security vulnerabilities whose cost far exceeds the value or convenience of keeping updated software.
I had to get that, out, if that still does not deter you, then do me a favor and maintain a regular backup system on your website, there are lots of free backup plugins out there, but you can start with WPVivid backup plugin that will automate your backup, storing them on the cloud.
If your worry is the likelihood of new updates breaking your website or incompatibility of new releases, then consider creating a staging site where you can test all updates before applying them to a production website.
I think anyone running a mission-critical website should have a staging environment. You can not experiment features or ideas on a production website because the reality is that updates may break a website, a staging environment gives you the lateral space to try out new changes without the pressure of ruining your website.
For whatever reason you want to stop WordPress auto updates, this is how you can do it.
Step by Step: How to Stop WordPress Auto Updates
Most hosting companies today provide managed WordPress hosting services, with them comes automated updates, assuming you are not using such a host, the easiest way is to do nothing.
Yes, do nothing, when you see the update notifications just ignore them.
If however, you are on one of those managed hosting services or if multiple people manage your website, you will want to disable the ability to update WordPress altogether, in this case, your best bet is using a plugin.
Stop WordPress auto updates with Easy Updates Manager

As advertised Easy Updates Manager manages all sorts of updates on a WordPress website, including the WordPress core, plugins and themes with several configuration options – from outrightly disabling updates universally, or choose what is updated and what is not.
For this article, we shall use this plugin to stop WordPress auto updates, and so let us get started
Install and update Easy Updates Manager
From the navigation menu, go to Plugins and then to Add Plugins.
Search for Easy Updates Manager, from the results, click Install Now then Activate.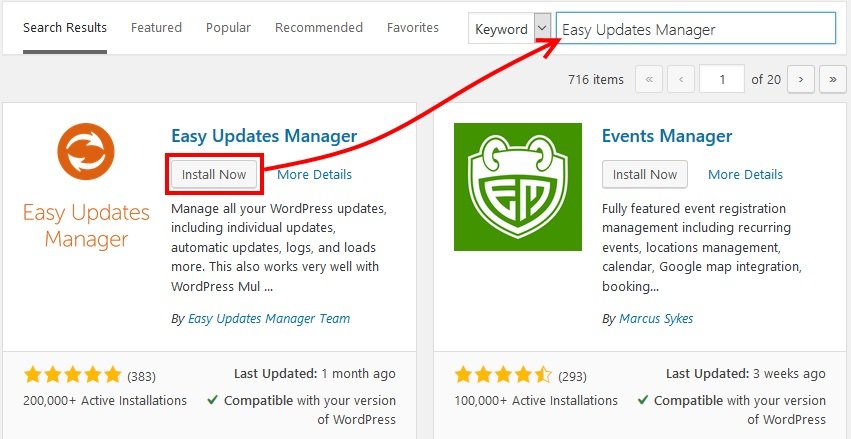 Stop WordPress auto updates with Easy Updates Manager
Once installed and activated; Easy Updates Manager is found under the Home menu item, click Updates Options.

REMINDER:
Running a production website on outdated software is a bad idea – only consider disabling updates on it if you have a staging site in place.
Clicking Updates Options takes you the screen like the one below.
We go through the different areas you can stop updates below the image.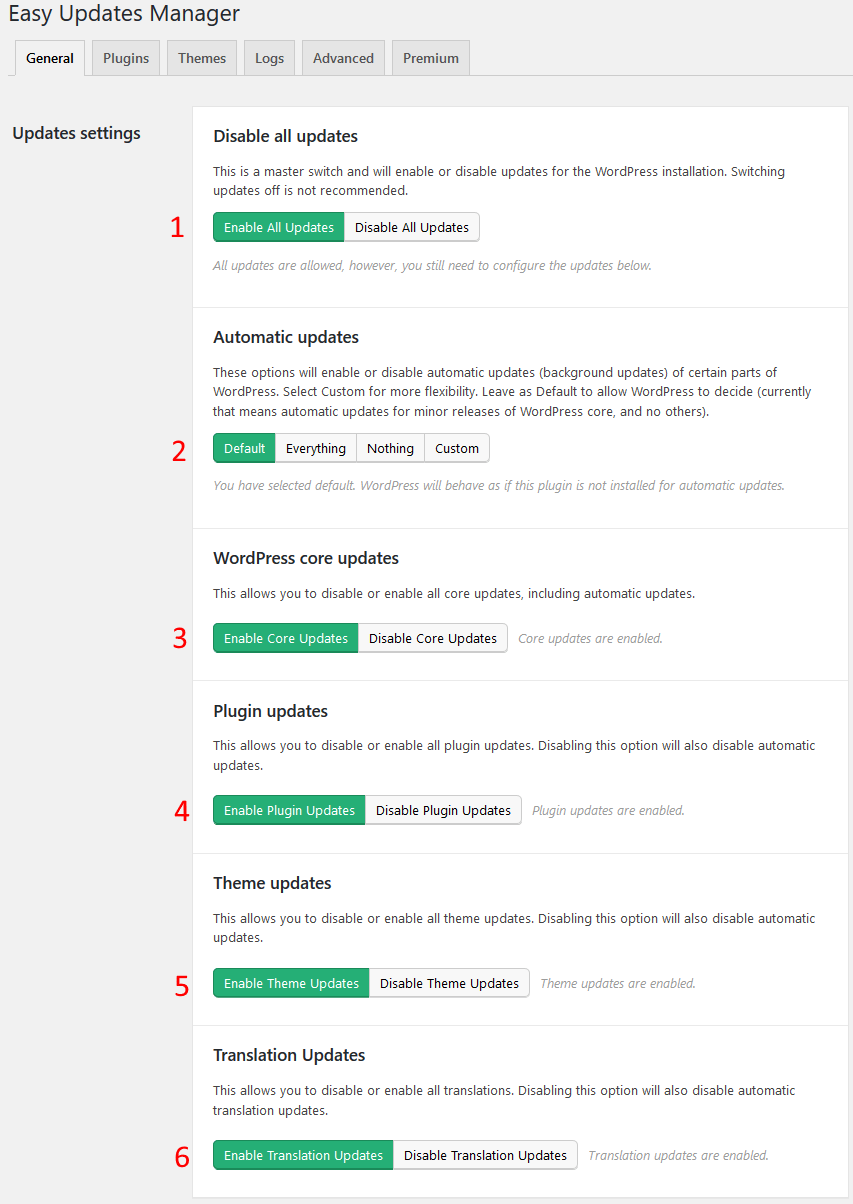 From the general tab, you have different configuration options for managing your updates.
Disable all updates
Just don't want all sorts of updates across your website? Stop it from here. However, if you want to stop certain types of updates granularly then you can consider the next update options.
Automatic updates
To stop automatic updates click – Nothing
WordPress core updates
From here you can stop WordPress core auto updates – stopping this also stops the automatic updates.
Click Disable Core Updates
Plugin updates
If you are only interested in stopping auto updates on plugins, then click Disable Plugins Updates.
You can also disable updates for particular plugins by going to the Plugins tab and then selecting the plugin you want to stop updates on.
In that case, you Click Blocked for an individual plugin select multiple plugins and block them with the bulk actions.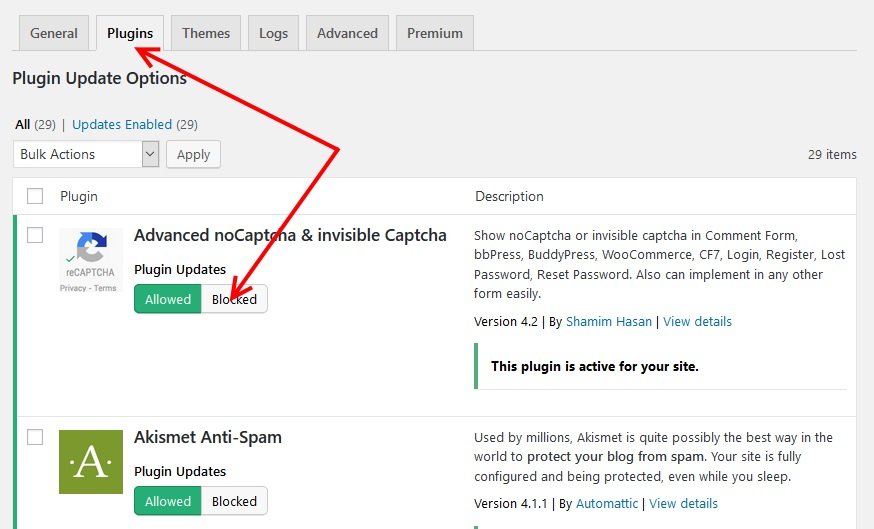 Theme updates
You can also stop auto updates for themes without stopping other kinds of updates from here – Click Disable Themes Updates.
Like the plugins, disable updates on individual themes by going to the Themes tab.
Translation Updates
Click Disable Translation Updates to disable translations. This also stops the Translations auto updates.
Wrap up
If you are looking for a simple way to stop WordPress auto updates, then we have hopefully introduced you to a simple and great plugin – Easy Updates Manager.
As I have mentioned earlier, not using updated software is a security risk – be prepared for anything by establishing a defined backup strategy for your website, you do not need to believe me on this, but I can promise you, you will need that back up soon.
Hopefully you found this read helpful. You may also want to learn how to rollback WordPress themes and plugins.