This article is for a website owner who wants to run a giveaway in WordPress.
Don't we all know the power of free things? It's the irresistible bait that master marketers and advertisers employ to drive traffic and hack the growth of their businesses.
You've seen those giveaways, win a free trip to Hawaii, win the latest iPhone, or ride the cruise ship to the setting sun. Somehow, you will find these littered all over the internet or print publications. Where ever they are, they are a secret weapon by savvy marketers.
Running a giveaway is a two-pronged weapon.
First, you can use it to reward loyal customers.
Second, you can use it to build a mailing list, fast.
If you have only stopped at admiring how big companies pull this off, then, since you are using WordPress to power your website, you are in luck.
You can run a giveaway in WordPress in five minutes or less for free with a WordPress plugin like Simple Giveaways.
I will show you how to do that in this article.
Step by Step: How to Run A Giveaway on Your WordPress Website.
Step1. Install Simple Giveaways Plugin
Login to your website's backend, go to Plugins, then Add New.
In the search box enter Simple Giveaways.
Click Install Now, and then Activate the plugin.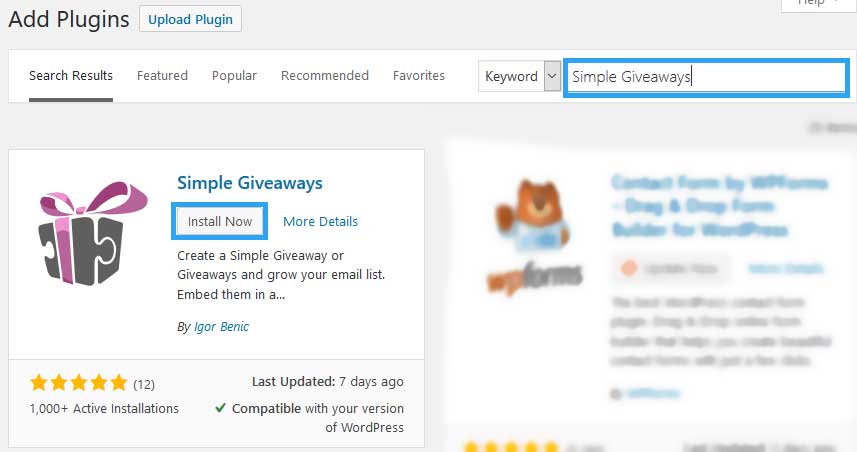 Step 2. Create A Giveaway
When the plugin is installed, on the main menu go to Giveaways, Add New.
You will see the all familiar screen – if you ever worked with the classic WordPress Editor.
In the title field, supply your giveaway with a title and then add a description in the text area.
Then scroll down the page, to configure your Giveaway.

In the General tab, select your Giveaway type.
There are for types to choose from; Simple, Limited, Only Logged-in Users, and Not Showing Subscriber Page.

Under the Scheduling tab, define the time range when the giveaway will be active.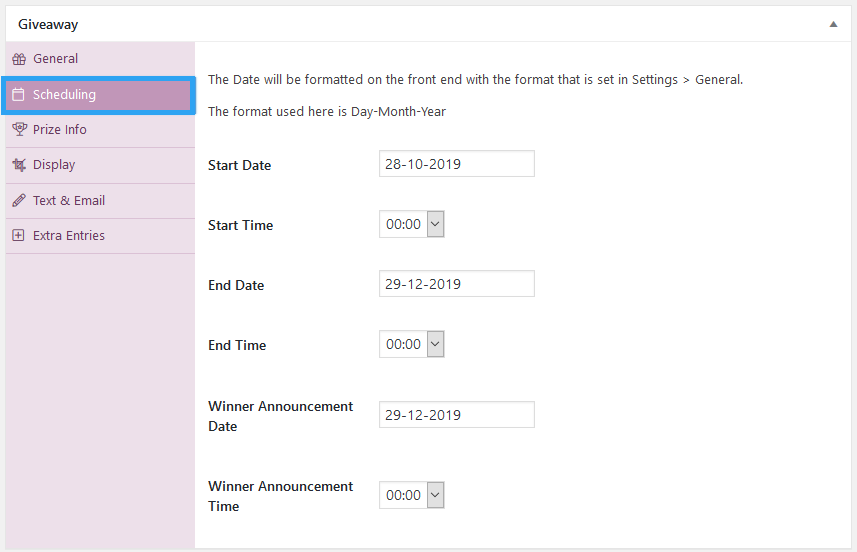 In the Prize Info tab:
Set how winners are selected, select if the number of entries impacts on the eventual winners selected.
Then, select the number of winners to be chosen.
Set your Prize and the monetary value of the prize.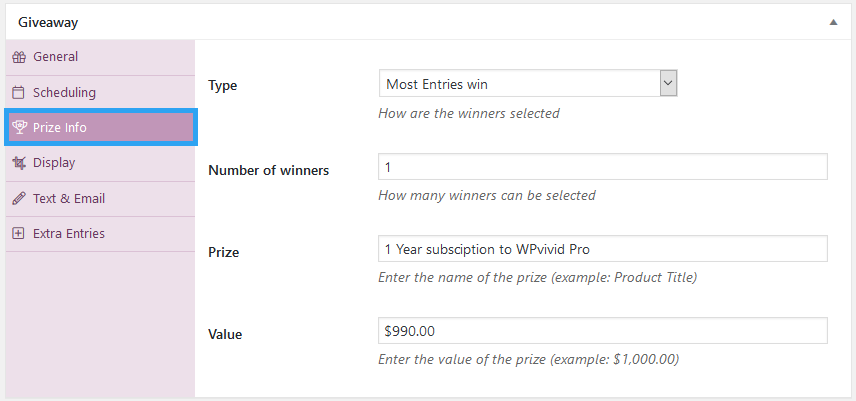 In the Display tab, add the media related to the giveaway. This could be the picture of the prize and or the logo of the sponsor and or the images used when people share the giveaway to the social media accounts.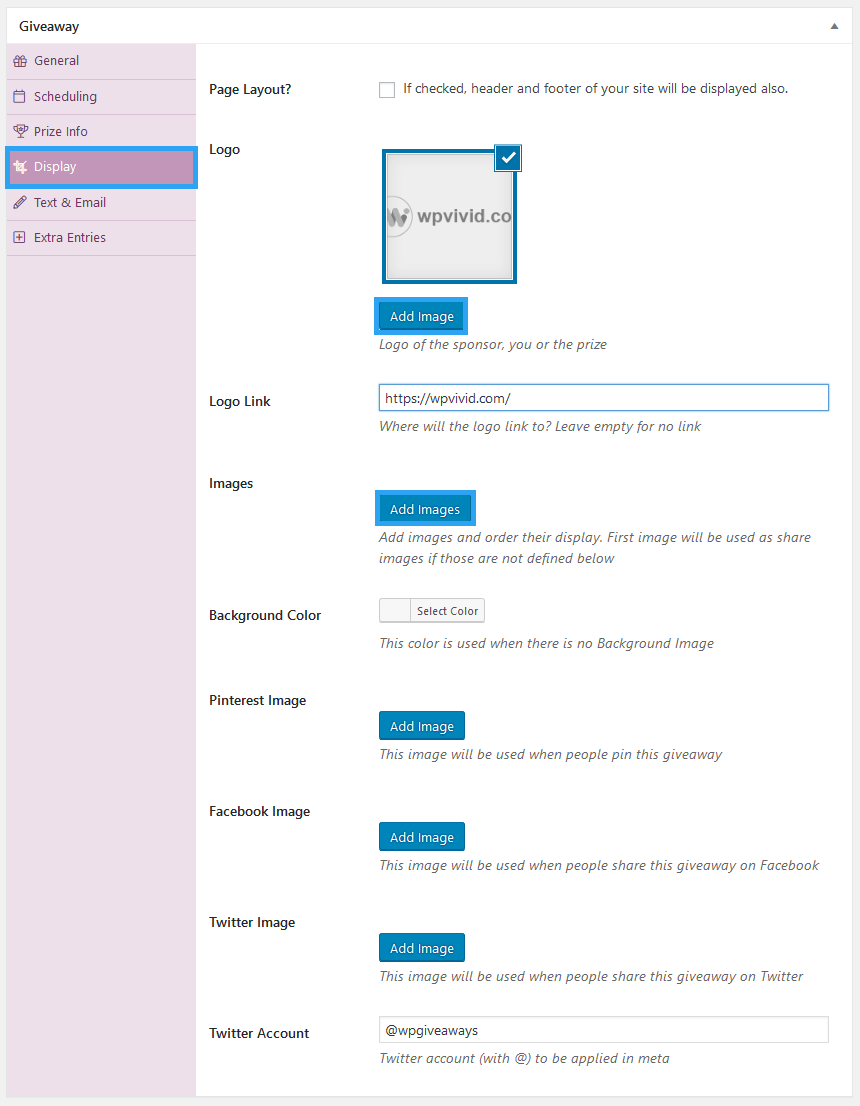 Under the Text & Email tab, enter the rules and regulations governing the giveaway, then compose an email that is sent out to the winners when they are chosen.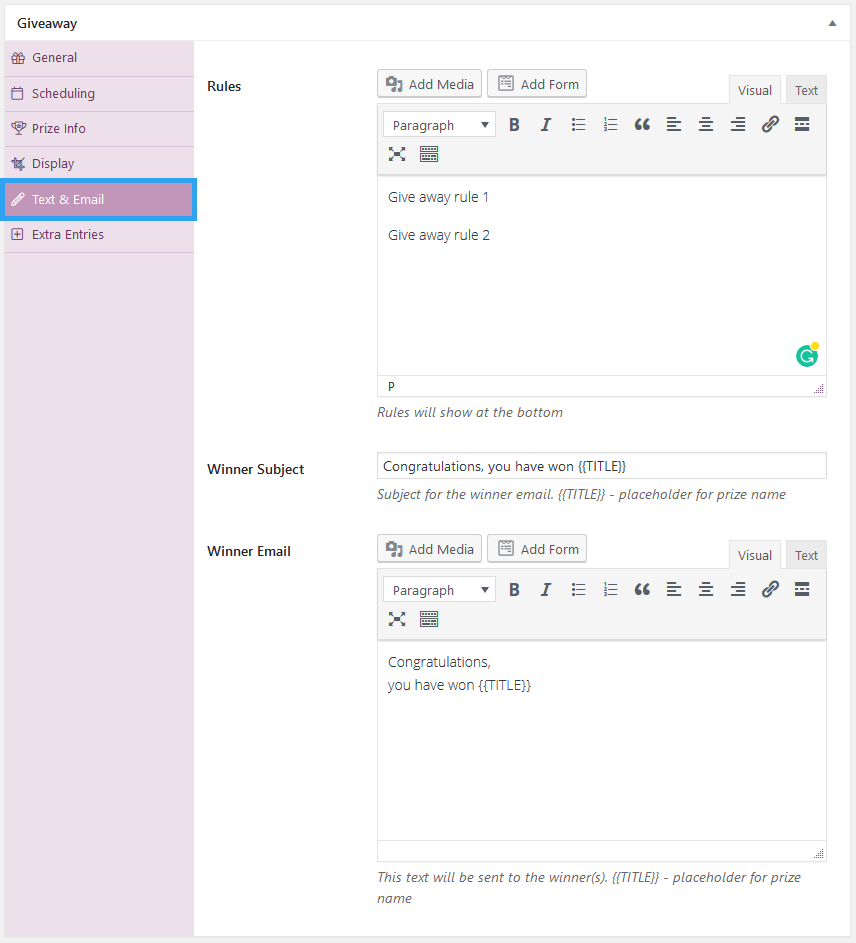 When you have supplied all the required information, go back to the top of the page, on the right pane, click the Publish button to save your giveaway.
With your giveaway created, go to the page and see it.
Step 3. Display the Giveaway
Simple Giveaways comes with shortcodes that you can use to display a giveaway and information related to it to a page.
The shortcodes are associated to each giveaway you create. You can find them under Giveaways > All Giveaways.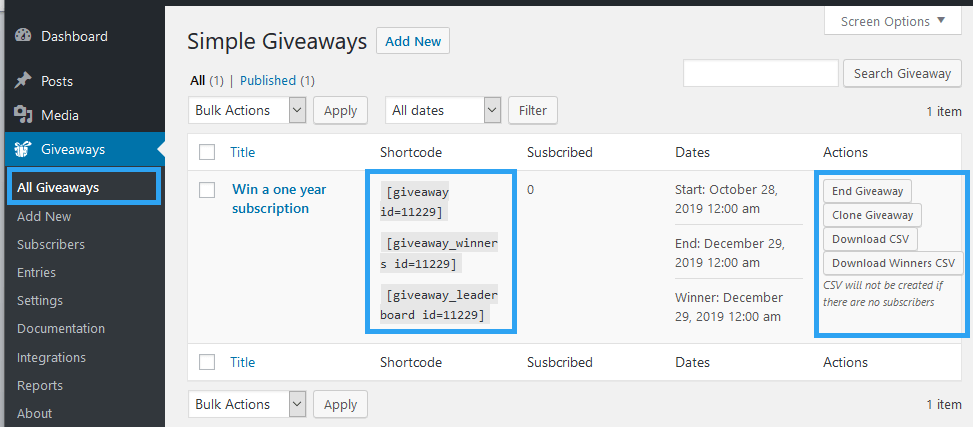 While we are on this screen, notice other tasks you can accomplish from here. You can stop a Giveaway, clone a Giveaway, download a CSV of the giveaway, or download a CSV of the winners.
Once you have copied your shortcodes, go to the page or post you want to display the giveaway and paste them there.

Save/Update your page to view the page or post.
Note that the leaderboard and winner data is only displayed if it is there.
Here is how giveaway added using a shortcode to a page or post looks like.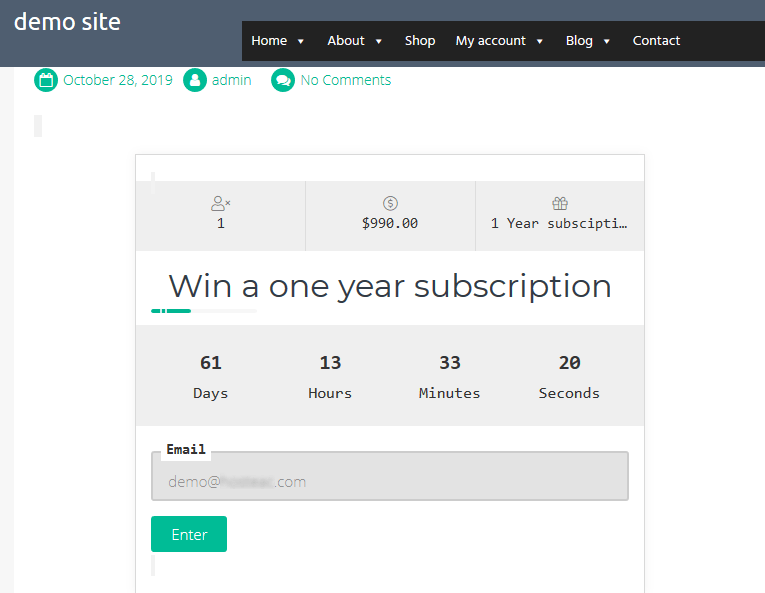 Conclusion
There are ways so varied and plenty on how to grow your business online, from the long-term pursuit of the rewards of Search Engine Optimization (SEO) to paid ads.
Most often, this growth can be slow or make a dent in your wallet.
But, there is no way around that for a business that pursues growth.
Today, I have shown you one weapon you can use to engage with your audience, grow your mailing list, and hopefully, grow your business.
It does not have to cost you a lot to run a giveaway on your website. Just have something to give your audience – it does not have to be the most expensive cruise – even a $10 giveaway as long as it is of value to your audience will do –  then install Simple Giveaways plugin, and you are good to go.
That's it! Hopefully you have found this read helpful. For next, you may also want to add an award system in your WordPress website to engage and reward loyal customers.