When revenue from your WordPress site is suddenly dropping given all factors constant, then you may want to detect Ad blockers usage by your audience.
There is general advertising fatigue among internet users.
The use of ad blockers is so much widespread that its threat to traditional advertising as we have known is real.
Today, 47% of internet users use some form of ad blocker around the world.
For a blogger or website owner whose major source of revenue is running ads on your site, this spells a threat to your survival.
If you do not do something fast and decisive, this income stream will soon run out, and you may not be able to meet your bills.
You may adopt a strict method of blocking your website entirely from website users or redirect them to another web page, but, that in itself doesn't sound right.
One of the popular ways around this is requesting your visitors to whitelist your domain name in their ad-blocking an app or disabling ad blocking when browsing your website.
It often works, especially if you are providing the reader with valuable content and make an appeal that your site depends on those ads to continue delivering the quality content the visitors expect and are accustomed to.
In this article, we share with you how you can detect Ad blockers and show notifications to website visitors.
We will use Ad Blocker Notify Lite Wordpress plugin.
Step-by-Step: How to Detect Ad Blockers And Show A Notification in WordPress?
Installing Ad Blocker Notify Lite plugin
Go to the WordPress plugin repo on your website. Click Add New under Plugins from your menu/

In the repo, search for Ad Blocker Notify Lite then click Install Now, and on the same spot click Activate.

After activation of the plugin, you are taken to the settings page.

Choose notification methods
With Ad Blocker Notify, you can notify users running ad blockers in three ways.
Using a modular box with custom content
Aggressively redirect users to a page of your choice.
In the place of your ads, you can set a custom message that is displayed to users.
You cannot have the settings on option one and two running concurrently; you will have to decide which of the two options is best for your website.

If you choose the Modal Box, then click The Modal Visual Options Tab.
Set modal visual options
Select the Box Template – note that the free version only has one template.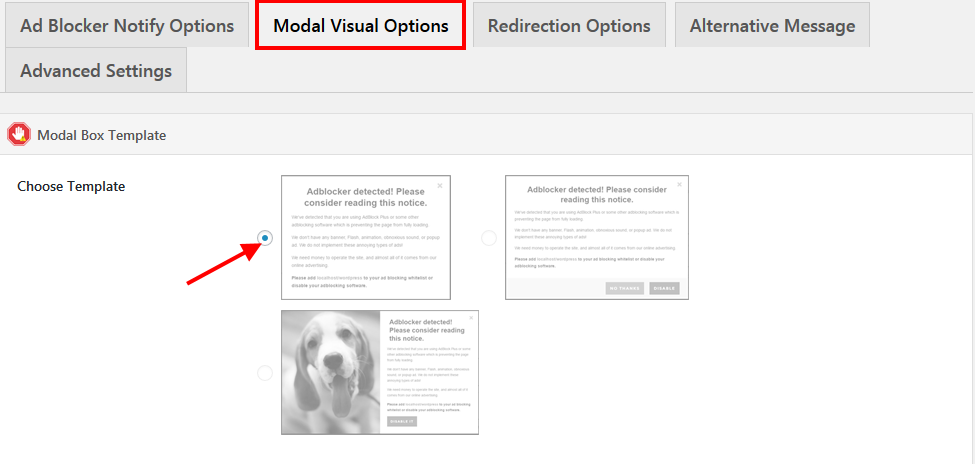 Then scroll down to the box Options and, write a Title and the text that is displayed to your visitors.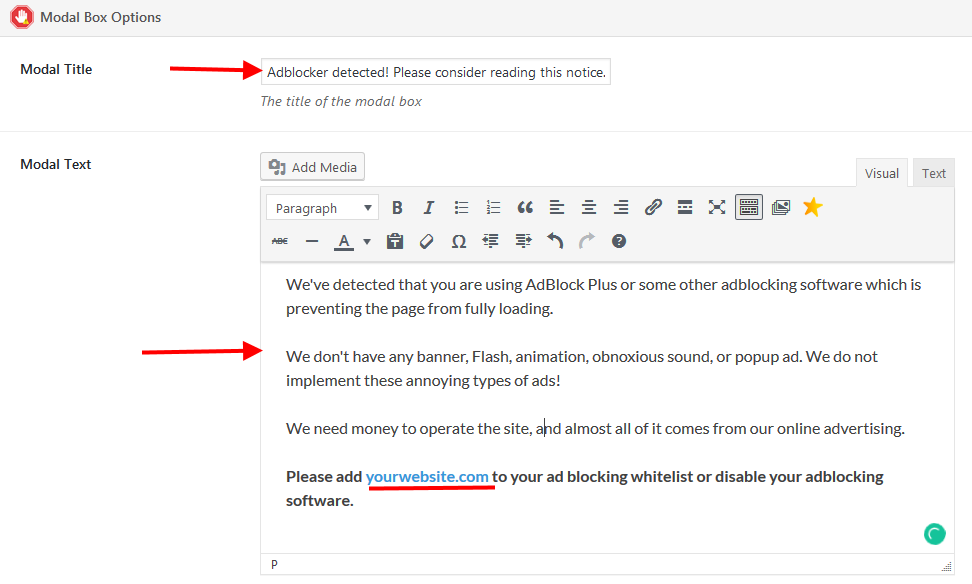 Scroll down again and provide the Modal box settings.
You have the animation and event click trigger.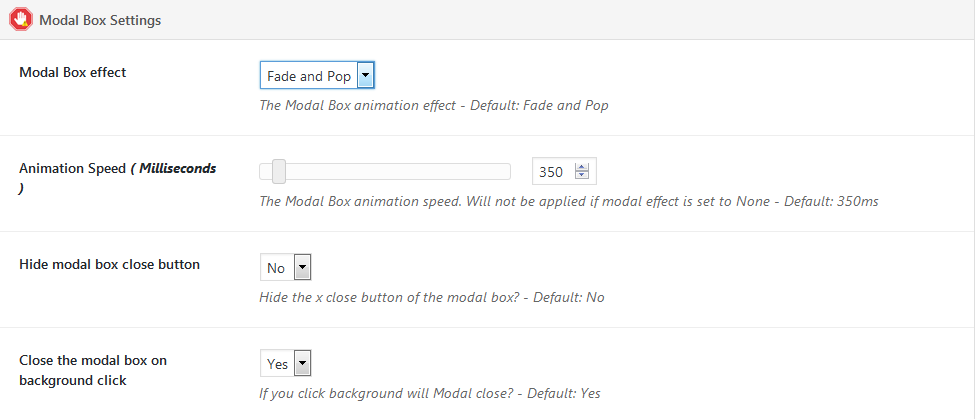 The next modal setting is the Modal Box Style.
Customize the look and feel of the modal box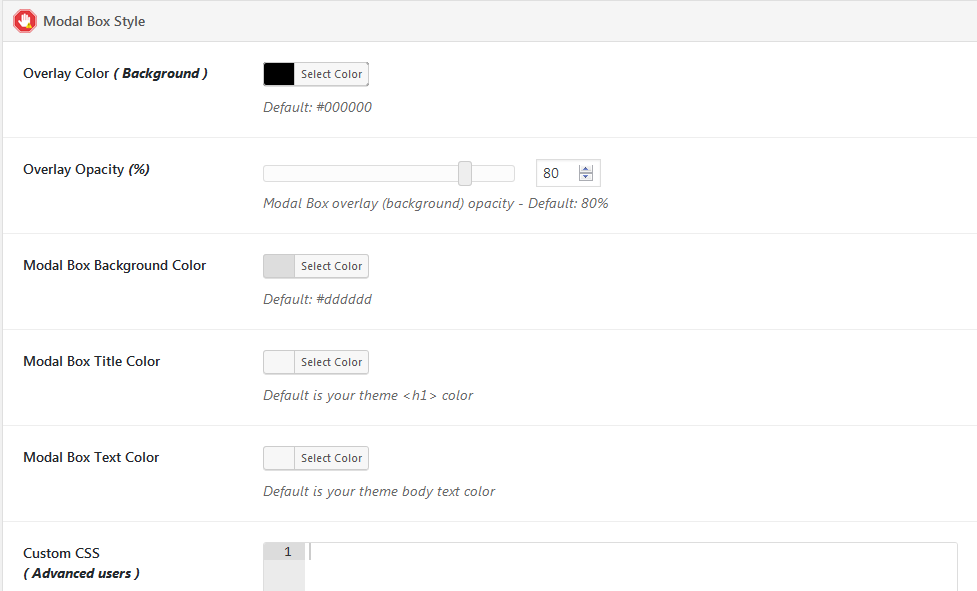 That's all you can do with the free version, now scroll down and click the Save Changes button.
Set redirection options
If on the other hand you prefer to redirect visitors to another page, and you selected Page redirection, then click the Redirection Options on the tap to specify its settings.
There is not much to do here besides setting the target page.
We shall heed the warning of the developer and choose not to redirect if no JavaScript (JS) is detected.
After setting the page, Click Save changes.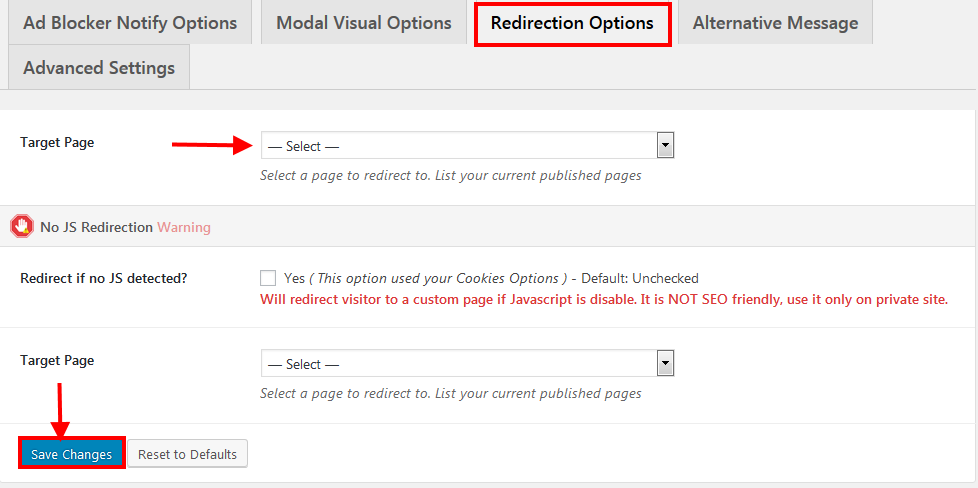 Set Alternative Message
The third and last option of handling visitors we detect Ad Blockers on is using the Alternate Message.
This is the nonintrusive method and is therefore recommended.
You can also run this alternative method with either of the first two options above.
Some HTML knowledge is required to implement this type of notification.

Enter the CSS class and ID of the ad container.
Then in alternate text, enter the message displayed to the visitor.
When you are done, Click Save settings.
That is all you can do in the settings.
View notification box in the front end
When a visitor now goes to your website they should now see a notice like this one.

In Conclusion
For whatever reason website visitors have, the reality is that as content creators and marketers we expend a lot of effort and money creating quality content for our audience.
We do that with the hope that not only shall we breakeven and at least be able to afford the bill to keep the servers up and content coming but also to turn a profit.
If however, our audience blocks ads, it becomes hard to make money if the business model is built around running ads on a website.
Using Ad Blocker Notify Lite, you can make an emotional appeal to your audience to allow ads.
Finally, the threat of ad blockers is real.
Every marketer and website owner should seriously think of diversifying the monetization of their website or content.
If you are wondering how we recently published a great article on how to monetize a website, you may find it helpful.