Link Checker Plugin Crawls to Your WordPress Site. It Inspects Your Site In Detail, Helps You Find Those Broken Links And Images And Fixes Them In A Stance.
Do you know a broken link can harm your website? It can create a bad repute of your site in the online world and a bad experience for your website visitors. most importantly, it will also compromise on your seo efforts.
Broken links are brutal, there are fatal for your business. Thus, you need to inspect those broken links and fix them before they turn your site into ashes.
Resolve this issue today, before it gets too late. So, are you thinking inspecting those broken links is an easy and stress-free task?
Well, it depends on which method you adopt; manual or through a reliable WordPress plugin.
Fixing those broken links manually on a WordPress site is an exhausting task. Whereas,  with the help of a link checker plugin, it not only simple but also hassle-free.  You can find all those broken link and images.  You can optimize your images and videos and fix all issues without any trouble.
This article reviews the Link Checker Plugin in detail. It provides all the relevant information you may concern.
Want to know all the details, continue reading this review.
Why Do You Need Link Checker Plugin?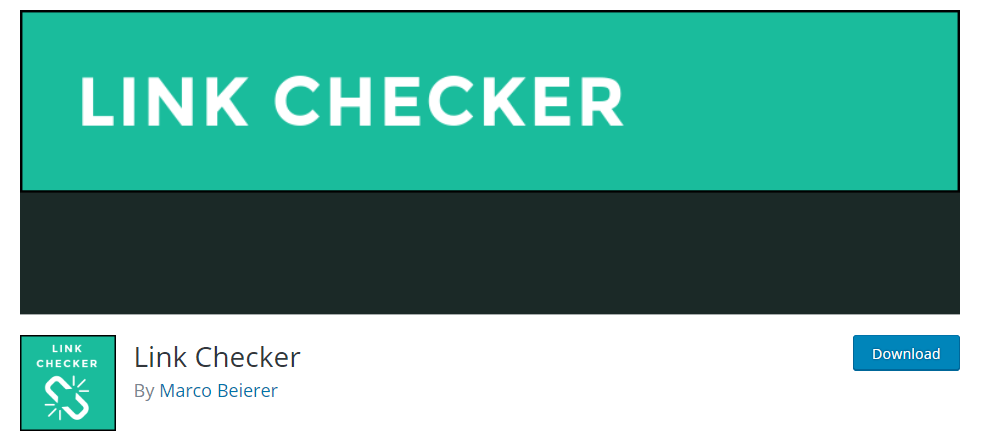 Did you recently click on a link and you were headed to a 404 error message? Or have you ever encountered a situation, when a link takes you to a no page at all?
This is a broken or a dead link!
Do you want your user customer to end up in this kind of situation too?
If no, then you need a link checker plugin.
Broken links harm your customer experience, it demotivates your customer. Moreover, they are higher chances that your customer will return and never come back. It kills the traffic on your site. Most importantly, you attain a low ranking from Google and various SERPs.
This is the biggest reason, you need a reliable WordPress plugin that will help you find those dead links and repair them. Let your site perform great with the help of Link Checker Plugin.
Link Checker Plugin is a free WordPress plugin that crawls to your WordPress site. It finds all those broken links, highlights them in all redirections. In the end, it provides you with the complete report of the broken and redirect links of your site. Its free version offers first internal and external links but if you want to attain more; you need their premium version. It's premium version allows its users to check 50,000 links.
Isn't that amazing?
So, let's look into some of the features link checker plugin is offering to its users.
Features Of Link Checker Plugin
Easy to set up.
Best for developers and users.
Compatible with all WordPress plugins.
Checks all internal and external broken links, and redirects it on its user's site.
Offers the option to scan the site on schedule basis automatically.
Check broken embedded YouTube videos.
Support Polylang and WPML sites.
So, all the newbie's if you have a hard time with your broken links. Your worrying time is over, install this plugin today and avail its free version. Whereas, if you opt for its premium services; you may also attain a full report and summary of the broken links. Whatever, the version you chose you can quickly fix your broken links with this easy plugin. Let's see some of the benefits and limitations of installing this link checker plugin.
Pros And Cons Of Link Checker Plugin
Pros Of Link Checker Plugin
Its external server crawls to the site and finds broken links
Check all the present URL from external and internal
Get rid of 404 error
Help you fix all broken and redirect links within a short period
Help you attain a good SEO ranking and avoid the negative impact of SEO.
Cons Of Link Checker Plugin
No plugin is perfect; there always certain limitations that have to cater to them. Similarly, Link Checker Plugin offers a restriction on its basic free version. Its free version provides only a check on 500 internal and external links. So, it might not be able to trace the right issue within this limit. Moreover, this WordPress plugin does run on Python 2 system and requires python 2.7.3, but it doesn't support python 3. On the other hand, its competitors are supporting Python 3, creating a competitive edge and thus attracting a wide range of users.
Final Thoughts
WordPress broken link checker tools are essential for all WordPress site owners. You need to test your website regularly, you need to find those broken links and fix them. Remember, broken links hurt your SEO results. So, whenever you plan to do an SEO audit of your WordPress site, don't forget the to use the Link Checker Plugin. It is one of the best plugins available in the WordPress repository. Use it and fix all your broken and redirected links in a niche of time. It's practical, efficient, reliable and has achieved more than 10,000 active installations.
We've also picked out a list of 10 best free WordPress SEO plugins to help your site rank high in Google.
Happy reading!