As your WordPress website grows, you start to pile up on tons of media files. This can get very messy and unorganized. It might not bother you at first, but slowly you find it very difficult to locate your old files, which can start affecting usability. This is why, for the purpose of this read, we have put together a shortlist going over the best free WordPress media library management plugins to help you out.
Why Use A WordPress Media Library Management Plugin?
The WordPress media library is a very basic tool that lets you view your media files, name them, and add metadata. However, it lacks the necessary organizational features which are a must if your site is loaded with tons of images and media files.
However, the problem can be easily resolved by installing a dedicated media category plugin, which will let you sort your files based on category. You might also require a dedicated file cleaner to remove your unused or broken files.
We have also included a file management plugin that will let you organize your files and sort them into folders, just like you do on your computer.
As such, our list of the best free WordPress media library management plugins will help you make sense of your files and help keep everything organized. So with that being said, let's get on with the list:
Best Free WordPress Media Library Management Plugins
1. Real Media Library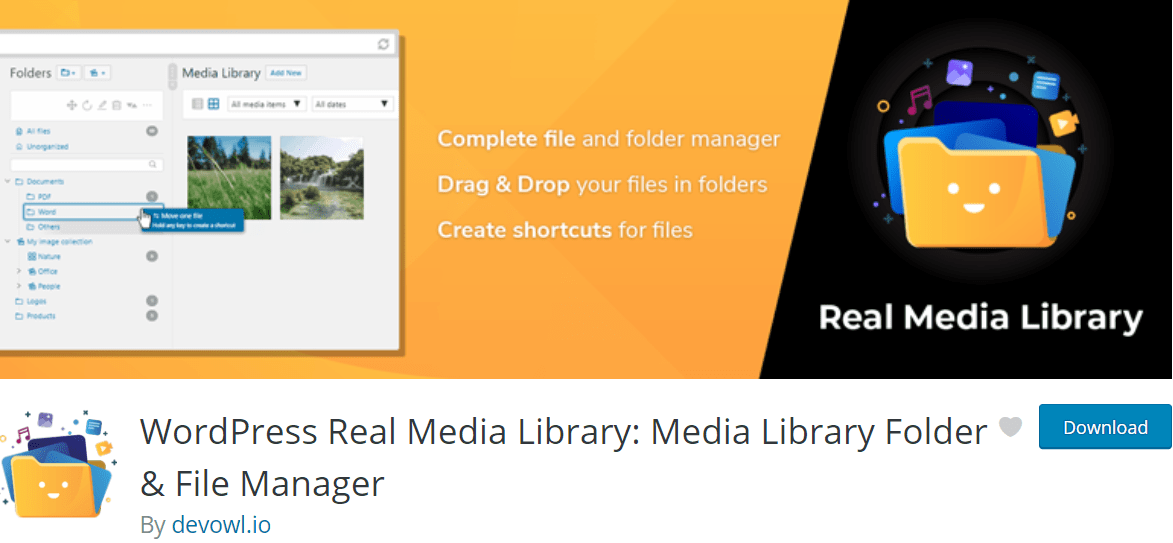 Buy Real Media Library PRO | Download Real Media Library (free) from wordpress.org
We start with the best WordPress plugin for media library folders: Real Media Library. The plugin helps you to organize thousands of uploaded files into folders, collections and galleries. It is a file manager that integrates everything you need directly into your WordPress media library. And for the case that you are not an English native speaker, it is translated into nine major languages.
In addition to the large number of great features built right into the file manager, Real Media Library offers several free add-ons and the premium add-on Real Physical Media. Real Physical Media uses the (virtual) folder structure created in Real Media Library and mirrors it in your wp-content/uploads/ file and folder structure. This is not only useful if you work with FTP, but also an SEO optimization that helps your website to get a better ranking in Google and other search engines.
Features:
Folders, collections and galleries to organize uploads
Shortcuts to avoid duplicates in your media library
Runs with great performance even with > 10.000 uploads
Automatic reordering of upload (e.g. A-Z by filename)
Integration with popular plugins like FooGallery and Justified Image Grid
Compatibility with all major page builders, themes and a lot of plugins
Translated into nine languages
SEO benefits from physical file reordering (with Real Physical Media add-on)
And much more.
2. FileBird
A great alternative to Real Media Library as one of the best free WordPress media library management plugins is FileBird. It gives you access to a super user-friendly file management system, similar to what you have on your computer. You will get to create new folders to organize your files.
There is also an option to drag and drop files into folders for faster organization. A left side toolbar also helps you navigate through your different folders.
Features:
User-friendly UI with drag and drop support to move around files into folders.

Option to create, delete and rename folders, similar to what you do on your computer.

Left Side toolbar to help you quickly access your files and folders.

Designed to work with all popular page builder plugins.

Support for all popular file types.

Nice folder themes in the style of Windows 10 and Dropbox design.

Custom folder color for better navigation.
Sometimes, you may want to publish advanced files other than images. If so, you have reached the right place! With the help of FileBird document library plugin, you can showcase your ebooks, PDF, music, audio, and other file types in beautiful thumbnails.
FileBird supports different layouts and styles for your document library in any page/post. Also, FileBird Document Library Pro provides a shortcode to display document gallery within your favorite page builders such as Elementor, WPBakery, Bricks, and so on.
3. CatFolders – WP Media Folders
As media becomes more dominant in our online world, keeping your WordPress media library organized can become a real chore. We decided to recommend another lightweight file manager plugin that enables WordPress site managers to quickly and easily organize high volumes of media. 
WP Media Folders is created on top of virtual categories and Typescript to deliver a smooth drag-and-drop experience. It provides hooks and filters ready to be integrated with third-party plugins like Media Library Assistant.
Features:
CatFolders supports default folder loader in list mode while FileBird doesn't.

It works faster than HappyFiles and Real Media Library plugin.

Tested with 10,000 folders in a media-heavy WordPress site.

Startup folder: Open the most recent folder or a specified folder.

Advanced sort options for files and folders in the main media library and media upload modal.
CatFolders pricing plans come with licenses for multiple and unlimited sites, which is affordable for all bloggers, freelancers, and website agencies.
How to Organize your Media Files in WordPress [the Easy Way]
For upcoming features, feel free to check out CatFolders Roadmap.
4. Media Library Assistant
Next up, we have Media Library Assistant. The plugin gives you access to an advanced gallery shortcode which allows you to add and organize images and other media files. You will get a dedicated shortcode that you can use to embed the gallery to any of your posts, pages, and even custom post types.
It supports tons of hooks and filters which help you customize the gallery according to your needs. The plugin also adds an advanced search box that will help you find particular images or media files based on their metadata.
Features:
Helps you add a gallery of items from your WordPress Media Library.
Comes with tons of hooks and filters giving you a lot of customization control.
Advanced search media box can help you find items based on slug, alt text, and caption field.
Allows you to find where your different images are used as featured image, or inside a post or page.
Compatible with other gallery and slideshow plugins.
And much more.
5. Folders
Folders, much like the name suggests, lets you create folders which you can use to organize not only your media files, but also pages, posts, and so on. It also comes with drag and drop support which helps you quickly add/change items between directories and tweak the folder tree hierarchy.
The plugin supports all file types from photos and videos to main web pages and blog posts. You can work these files into multiple subfolders and even mark certain folders as important by assigning stars.
Features:
Helps you create folders to organize your media files, pages, and posts.
Option to organize and tweak the folder tree hierarchy using drag and drop.
Comes with a sticky toolbar to help you easily navigate between the folders.
Customization options to help you tweak the look and feel of the folders.
Add stars to certain folders to mark them as important.
And much more.
6. Media Cleaner
Media Cleaner, as the name implies, helps you clean your media library from all unused media entries along with broken entries. It also features an internal trash bin that will store all the deleted files temporarily in case any important file got deleted accidentally.
The plugin uses smart algorithms to detect files that are not used and will list them in a specific dashboard. From here, the files will be removed to the trash. You can then choose to delete the files permanently or restore them if you see problems on your website.
Note: It would be wise to do a backup of your website before deleting any files permanently.
Features:
Detects and deletes unused files and broken files from your WordPress website.
Dedicated dashboard to let you see which files have been marked unused by the plugin algorithm.
All files are temporarily stored in a trash bin before permanently deleted.
And much more.
7. Media File Renamer
Media File Renamer is an automatic file renaming plugin that will help you rename all your media files for a cleaner media library and better SEO. It creates automatic file name suggestions depending on their titles. You can also disable automatic renaming so that the plugin displays a recommended name for the file in the media library which you can accept/reject from there.
Once a file has been renamed using the plugin, it will also update it on all references like posts, pages, custom post types, and other metadata.
Features:
Automatically renames media files based on their titles.
Option to turn off automatic renaming and only get rename suggestion which can be accepted/rejected manually.
The new name of the files will be updated on all your posts, pages, and all of their metadata.
Users can tweak the file renaming process using the plugin's filters.
And much more.
8. Media Library Categories
Once installed, the Media Library Categories plugin will allow you to use categories straight from your WordPress media library. You will get access to a drop-down menu showing all categories. You can then add, change, or remove categories from your media files, either one by one, or in bulk.
The plugin will also give you the option to filter on categories using the gallery shortcode.
Features:
Gives you access to category options and management straight in your media library.
Option to add, change, and remove categories from your media files straight from the WordPress media library.
You can change the categories of each media file, either one at a time, or in bulk.
Dedicated gallery shortcode to filter through media items in a specific category.
And much more.
9. Enable Media Replace
Enable Media Replace is a simple and lightweight plugin that can help you replace an image or a media file from your media library by uploading a new one in its place. As you can imagine, it is a real timesaver as you are saved from deleting the old file and renaming the one in its place.
The plugin will allow you to replace your uploaded files straight from the media edit view.
Features:
Helps you replace an old media file with a newly uploaded one. Automatically deletes the old file and renames the new one.
Option to "just replace the file" where the newly uploaded file will replace the old one and get assigned its name.
Can also help you replace the name and the file type of the newly uploaded file with the old one.
And much more.
10. Export Media Library
A simple and straight forward plugin that helps you to export your media library files as a compressed ZIP archive. As you can imagine, this is ideal for taking local backups of your media files.
Features:
Allows you to export media library files as a compressed zip archive.
And much more.
In Conclusion
So these were our picks for the best free WordPress media library management plugins for organizing your media files. Do let us know if you found the read to be useful and whether it helped you in better organizing your images and other media items.
With that being said, if you think we missed out on some other awesome media library management plugins that you wished to see on this list, then let us know in the comments below. Your insights are highly appreciated, and it might even help out one of your fellow readers with organizing their WordPress media library.
That's it! Now you may also want to learn how to manage files and folders on WordPress admin dashboard.