A Content Delivery Network or CDN is crucial if you are planning to deliver your content to a global userbase. Not only will it help to speed up your site, but also helps in saving bandwidth and even get your ranking higher on search engines. So with that being said, here are some of the best free CDN services to help you deliver your content globally.
Why Use A Free CDN Service?
Your hosting provider will give you a server located in a particular region. Therefore, users closer to the server location will get higher loading speeds compared to users who are far away. If you don't want this type of discrimination with your users' experience, then you will need to use a CDN service.
A CDN or Content Delivery Network is basically a cluster of servers located throughout the globe. Once you sign-up with their services, they will load your website's static files. Now, when a person searches for your website, instead of waiting for your hosting server to respond, the CDN will fetch the required site from the server nearest to the person's location.
As you can imagine, this helps boost your site's loading speed significantly which leads to delivering a better user experience. And so, you should clearly understand the importance of using a CDN service for your website. This is why, for the purpose of this read, we have put together a list going over the Best Free CDN Services To Help You Deliver Your Content Globally.
So without further ado, let's get started:
Best Free CDN Services
1. Cloudflare
Starting off our list of the best free CDN services, we have Cloudflare. It is super popular and used by over 20 million internet properties with over 194 data centers. You can start out free but there is an option to scale it as your business grows.
Their platform is super easy to use, comes with a unified control panel, boasts powerful security features, delivers top-notch performance, and also supports hybrid cloud and SaaS applications. You will even get a free shared SSL certificate along with limited protection against DDoS attacks.
Features:
The CDN network consists of over 190 data centers spread across 90 countries.
It is super easy to use and can be set up under 5 minutes.
Offers integrated security measures like SSL certificate and DDoS protection.
Automatically identifies bot and visitor behavior to help reduce spam and server load.
And much more.
2. Stackpath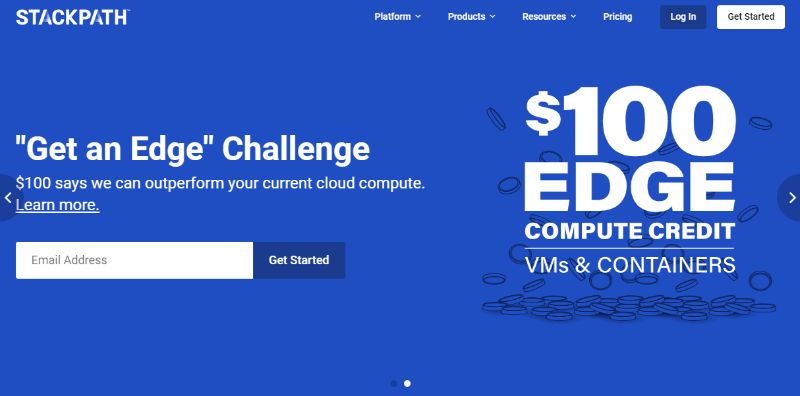 Stackpath is another super popular CDN service with over 45 full-scale data centers spread out globally. It can deliver your content to your users in less than 20ms. And if the sheer speed isn't enough to impress you, it also comes with tons of impressive features like intelligent caching, 301 redirects, free SSL certificate, and much more.
However, all these awesome features aren't available for free. Moreover, you can still use it free of cost for 30 days with their 1-month free trial plan. After that, depending on your requirements you can hop onto their different pricing models.
Features:
And much more.
3. Anyone CDN
Anyone CDN was built with the idea of providing free, fast, and intuitive CDN service for its users. All you have to do is simply enter your website URL in the provided space on their website and your CDN will be ready. And as per as quality is concerned, the service is powered by Stackpath as well as Cloudflare, so there is nothing to worry about here.
The service takes many features from the above-mentioned services, however, leaves out a few advanced functionalities to bring to us an awesome free CDN service.
Features:
Powered by Cloudflare, Stackpath, and BunnyCDN.
Completely free to use.
All your files are cached and stay with the CDN for 30 days.
Option to remove cookies.
Support Gzip compression.
Cross Origin Resource Sharing is enabled by default.
And much more.
4. Imperva
Next up, we have the CDN service coming from Imperva. Powered by intelligent caching, high-speed storage, and tons of optimization tools, it is another awesome CDN worth your consideration. They have a collection of over 44 data centers spread across the globe with support for over 6TBps capacity.
They use a mesh network architecture to create a virtual pool of DDoS scrubbing centers to boost security. On top of that, the service also uses a performance-centric approach to PoP placement to boost your site loading speeds and delivery time.
Features:
Intelligent Caching with inbuilt Cache controls.
Uses tons of content and network optimization techniques to improve site performance.
Option to improve response time and decrease bandwidth by redirecting bots to alternative sites.
Support for the new secure HTTP/2 protocol.
Integrated DDoS protection along with web app firewalls, two-step authentication, and traffic monitoring.
And much more.
5. Amazon CloudFront
Amazon CloudFront is a part of AWS and helps to deliver your content super fast across its vast network of data centers. With CloudFront, you can tap into a resource of over 200 points of presence, spread across 77 cities, within 37 countries throughout the globe.
Also, since it is a part of AWS, you get seamless integration with all AWS tools and software. To sum up all its features, you will get superb security paired with optimized performance and increase the availability of your content.
Features:
Powerful security features including DDoS protection and integrated app firewall.
Comes with custom SSL certification.
Helps improve application availability and reduces redundancy for origins.
Powerful options for content optimization with support for dynamic as well as static content.
And much more.
6. Google Cloud CDN
With Google Cloud CDN, you can tap into the same infrastructure that Google uses to expand your business. Their CDN service has over 134 network edge locations spread across 200+ countries and locations. So no matter where your users are, your content will be delivered in the blink of an eye.
However, it isn't available completely for free. There is a free trial that you can use, however, the pricing isn't that high and something that small businesses or professional bloggers can easily afford.
Features:
Enjoy a global reach with access to Google's own cloud infrastructure.
Free SSL certificate bundled in.
Seamless integration with all other apps and services with the Google Cloud Platform.
Support for Media CDN like objects up to 5 TB.
And much more.
7. Swarmify
Swarmify has dedicated itself to a particular market by building itself into the number 1 free CDN service for video-based content. It advertises itself as the world's fastest video hosting service with support for unlimited bandwidth, encoding, and storage.
It is super easy to install and allows you to deliver a buffer-free video streaming experience for your users. Furthermore, the service is optimized for all devices to ensure that the users face no discrimination if they are on mobile instead of desktop. It also bundles in a distraction-free video player that can showcase your brand logo for instant brand promotion without showing recommendation videos from your competitors.
Features:
A dedicated CDN for video content.
Delivers a super smooth buffer-free user experience.
Optimized for all device types.
Super easy to install and setup.
Automatic conversion of YouTube videos to Smart brandable videos.
And much more.
8. KeyCDN
And now for the final entry in our list of the best free CDN services, we have KeyCDN. They have over 34 datacenters spread out globally with a hit ratio of 94%. Their hardware is optimized for performance with access to 100% SSD coverage crafted with an advanced TCP stack. On top of that, the service includes powerful features like access to HTTP/2, Brotli testing, TLS 1.3, and much more.
Many security and optimization functionalities are also included to ensure top of the line performance. Now all these features aren't made available for free, but their pricing structure is still reasonable and considerably cheaper. You can, of course, use their 14-day free trial to take the CDN out for a spin.
Features:
High-performance content delivery system built over 34 datacenters spread out globally.
Offers top of the line features like log forwarding, Gzip compression, real-time reporting, HTTP live streaming, and so on.
Powerful security features like Zone referrer, secure token, OCSP stapling, block bad bots, DDoS protection, Access rules, and so on.
Easy integration with tons of popular platforms and frameworks.
And much more.
In Conclusion
So these were our picks for the best free CDN services. We hope you found the read useful and it helped you to deliver your content to a global userbase. As you can see, we have made sure to include a diverse list of free CDN services since each will have their server locations in different places. This allows you to pick a service that offers a network of servers closer to where most of your global traffic comes from.
Now with that being said, if you know some other awesome CDN services with better network distributions of feature availability then don't shy away from writing them in the comments below. We would love your contributions and it might even help a fellow reader with their own requirements.
That's it! Now you may also want to learn how to set up Cloudflare CDN in WordPress to speed up your WordPress site.