If you are new to blogging here is a simple way to do keyword research for your WordPress blog.
There is a sea of information on keyword research and SEO on the internet that if you do not know where to start, what works and what is a distraction and a waste of time, you will drown in it. Unlike in the real world, there may be no lifeguard on standby to save you, for most of us small-time bloggers; we are on our own.
Well, now you are not if you take a few minutes to understand and try out the concepts in this article.
As a blogger, you know that search engines play a pivotal role in content discovery. People looking for information will key into a search engine words, search engines then display to the user links to websites that have content relevant to the words they search searched for – keywords.
Getting search engines to refer you to users is one sure way of generating organic traffic to your blog – if you have relevant content and the monetization mix right, then this can become a sure source of passive income for years – isn't that why we all blog?
However, it all starts with the right keywords.
It is therefore imperative that you learn how to do keyword research for your WordPress blog.
If we put aside for a moment the need to rank high on SERPs, keyword research helps you create relevant and quality content that meets the needs of people. It is easy as a blogger to be taken up by your blog, and you become obsessed with –you: what you think, what you feel, what you want – all the while forgetting that you are in this business is to help someone across the world with the knowledge in your head.
Only, when you take time to investigate what people are searching for, will you stop focusing on you, to create content that focuses on others.
If you can pull that off, search engines will pick up your articles and start showing it to their visitors.  If the content is relevant, your visitors will stay longer on your website. They will explore your site deeper. They will share and bookmark your articles. This, as you see, extends the reach of your blog beyond your wildest imaginations.
The simple and free way to do keyword research for a blog post
Write down important topics or ideas related to your blog
It all starts by knowing what your blog is all about.
Write down a few topic ideas or product ideas. It is these ideas you will plug into a keyword research tool in the quest for quality keywords to build your content around.
Keyword research tools you can use
1. Leverage Google itself
Google dominates the search industry; no wonder most search engine optimization efforts are made around it.
For keyword research, I find it one of the best free tools every blogger should add to their arsenal.
2. Google Autocomplete
Google Autocomplete is a feature on any Google search form that will provide suggestions as someone keys in their search query.
I bet you already use it, but, this time, use it to for your keyword research.
Using this tool is simple: go to Google and enter any word related to the content of your blog.
I am writing about Keyword research, so this is what I would enter;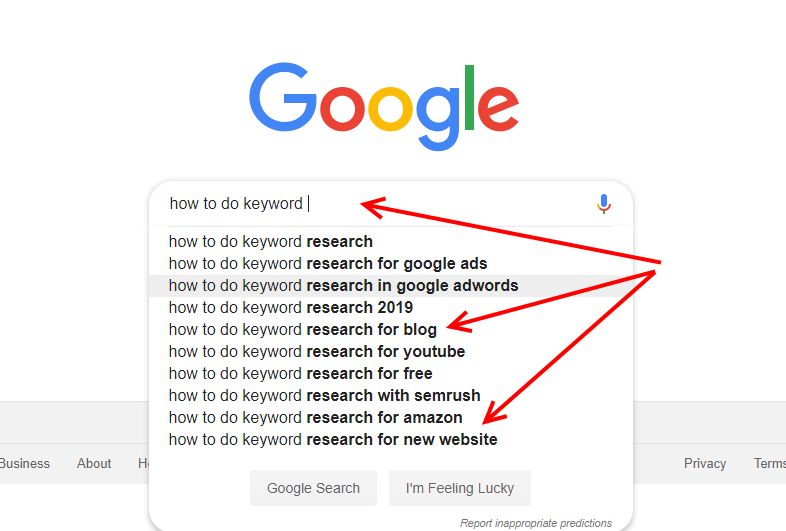 Google will automatically give you suggestions based on what you are searching for.
The suggestions give you insight into what people are searching for on Google related to your niche.
You can then use these suggestions as keywords in your article, or create articles based on them.
For instance, in the results above, we can write articles based on the long-tail keywords – "how to do keyword research for a new website," "How to do keyword research for free."
3. Google Frequently asked questions
This is another powerful feature within Google search that you as a blogger should, must, absolutely must use (I can't stress that enough).  Moreover, it is free.
Every keyword research tool you will ever use – paid or free – uses data from Google and other search engines to give you keyword suggestions.
They may simplify or automate the tasks, but most fledgling bloggers do not have hundreds of dollars to fork out for them. That's why you need to start using this tool.
When a person searches for something, Google and other search engines will show a list of what people are also asking for.
See, if you searched, "how to do keyword research for blog," Google will share with you other related questions people ask her, these are great ideas for new blog posts, or you can use them as keywords on a relevant post you are working on.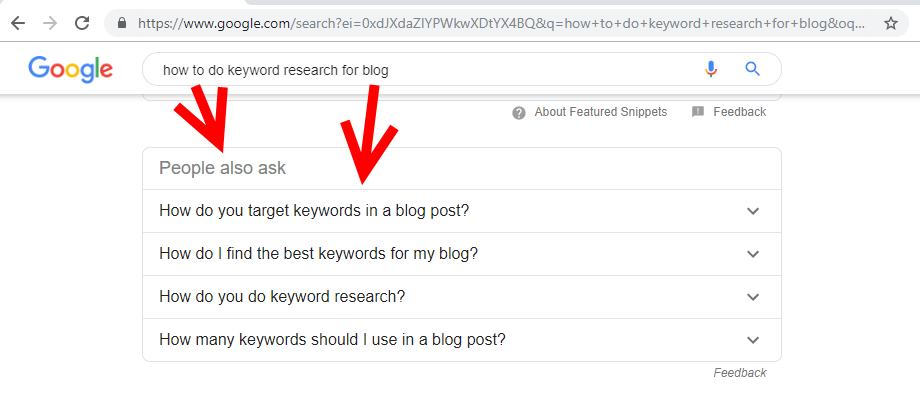 4. Google Keyword Planner
The staple of all keyword research is Google keyword planner.
Available on its Google Ads platform, the keyword planner helps you discover, view, or download trends for keyword ideas, plus their competition ranking.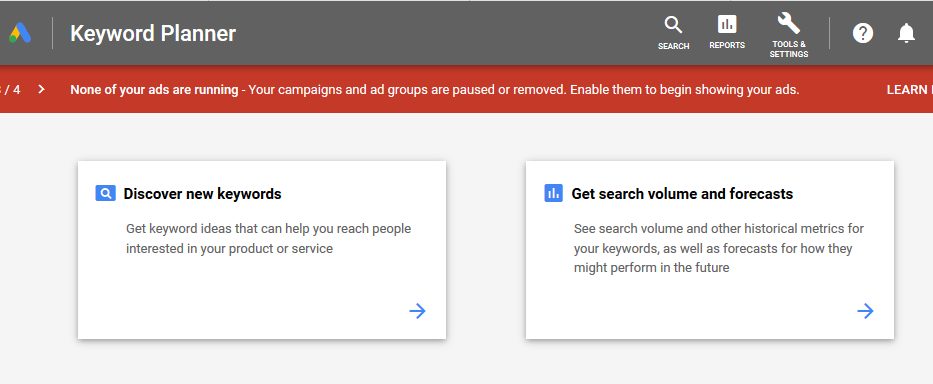 Login to the Google keyword planner to explore it.
Discover new keywords
It helps you discover ideas for keywords you can use.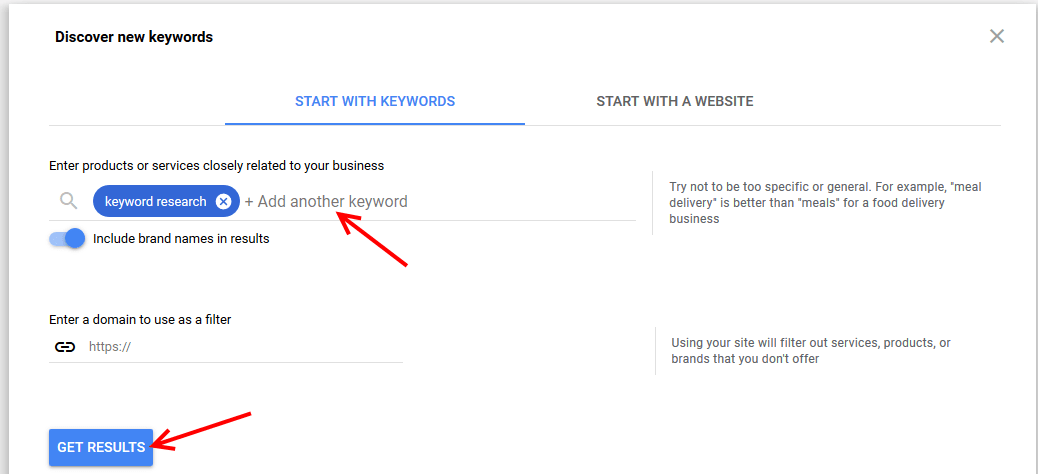 Enter your keyword or blog post idea and then click, GET RESULTS
Our search for "keyword research" yields 1,410 keyword ideas. You can glean from the average monthly searches and the competition how a keyword will work for you.
Play around with the filters, or broaden your search for better ideas. When you are done, I recommend you download the keyword ideas.
Using Excel, or any other Spreadsheet software you can better manipulate these results.
Get search volume and forecasts
To get detailed statistics for the keywords with Get search volume and forecasts, you will need to run a campaign. Gone are the days when the Google Keyword Tool was 100% free, well, it is free, but it's only paying customers who get the best out of it.

Enter your keyword. You can also search for multiple keyword ideas by entering them in a new line or separated by commas. Click, Get started, after that.

5. Research for keywords with the Keyword Tool
The Keyword Tool extracts data from the Google autocomplete and the Google Keyword Planner.
The free version only enables you to view keyword ideas.
A search for keyword research yields us this.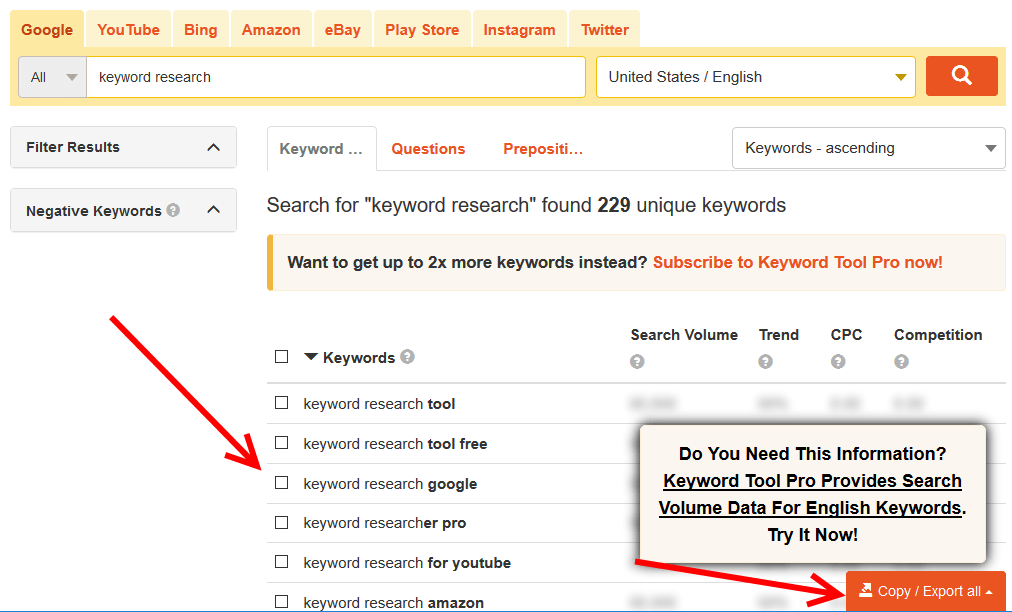 Export the results to an excel sheet, and select keywords that may work for you.
6. Other Keyword Research tools you can use.
The best tools out there are expensive, that's why in this article we have given you pretty solid ideas on how to do keyword research with the free features of Google.
And more in our top picks for the best SEO tools. Most of these keyword research tools have limited versions for free that you can start with. Please make use of them.
Conclusion
I have barely touched the surface of how to do keyword research for your WordPress blog. There are several other ways you can use to research and find quality keywords and content ideas. This article gets you started.
With this knowledge, you can start creating relevant content – content that people are looking for, and content that Google and hopefully, other search engines will love to rank high on their search results.
Sharing is caring – we would love to know the tools and tricks you use to discovering quality keywords for your blog posts. Use the comment form below to do that.
That's it! Hopefully you have found this helpful. You may also want to check out our top picks of the best SEO plugins for WordPress to help improve your Google ranking.