Though technology has changed how people live and act, there are some areas that people are a little shy and reserved about, take the case of signatures. In this article I will show you how to sign documents in WordPress for free if you are already using Contact form 7.
No one needs an introduction to signatures. I could bet every literate person has got one. You require it to open a bank account. To sign your check. To consent to some legal or binding document.
In the offline world, that works perfectly when you are with the person. How about, if you want to get someone's signature of someone in a far-away land?
You print the document, then fax it. Or scan it then email it. Then the other party has to print the document, sign it, then fax or email it back to you. Damn, that's a bit of work.
How about you are able to leverage the internet for that? Enable a client or visitor to append his or her signatures to your documents right within your WordPress website. Would that that be nice?
There are a number of options you can use to get documents signed in WordPress. But for this article, we shall go with a free option.
For one reason, chance is you are already using contact form 7. It is one of the most popular contact form plugin available for WordPress, with over 5 million active installations.
All we do next is extend its core functionality by using a free WordPress plugin – Contact Form 7 Signature Add-on
This plugin adds a new field type to the Contact Form 7 plugin and allows users to add a handwritten signature to the message using a signature pad. The plugin uses Szymon Nowak's signature pad JavaScript library.
Step by Step: How to Get Documents Signed With WordPress.
Step 1. Install Contact Form 7 Signature Addon
Log in your admin area, then click Add New under the Plugins menu.
Enter Contact Form 7 Signature Addon in the search form. When the results are retrieved, click Install Now and then wait for a moment to Activate the plugin.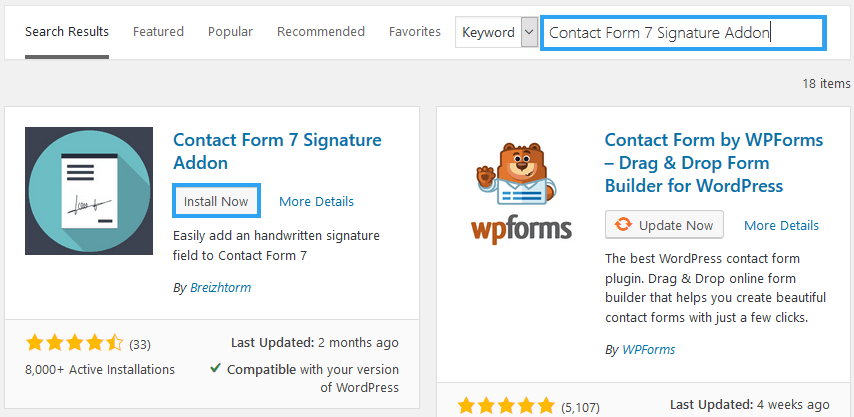 With the plugin activated, you can now add a signature field to any of your Contact Form 7 forms or content.
If you are not using contact form 7, it's all right, you can easily install it to your WordPress website.
Head to your admin dashboard, on the left menu, go to Plugins, then Add New.
Search for Contact form.
You will see Contact Form 7. Click Install Now, wait for a minute or less, Click Activate.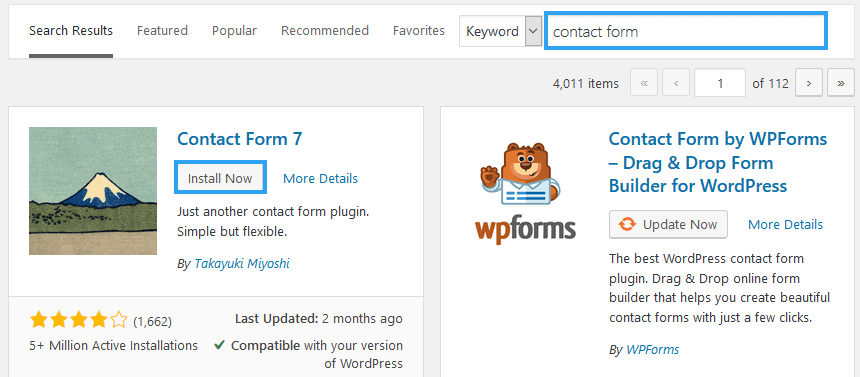 With everything in place, let's now proceed to add a signature field.
Step 2. Add a signature field with Contact Form 7 Signature Addon
On the left menu, look for Contact, then navigate to Contact Forms, then edit or click the form you want to add a signature field to.
Now click Signature.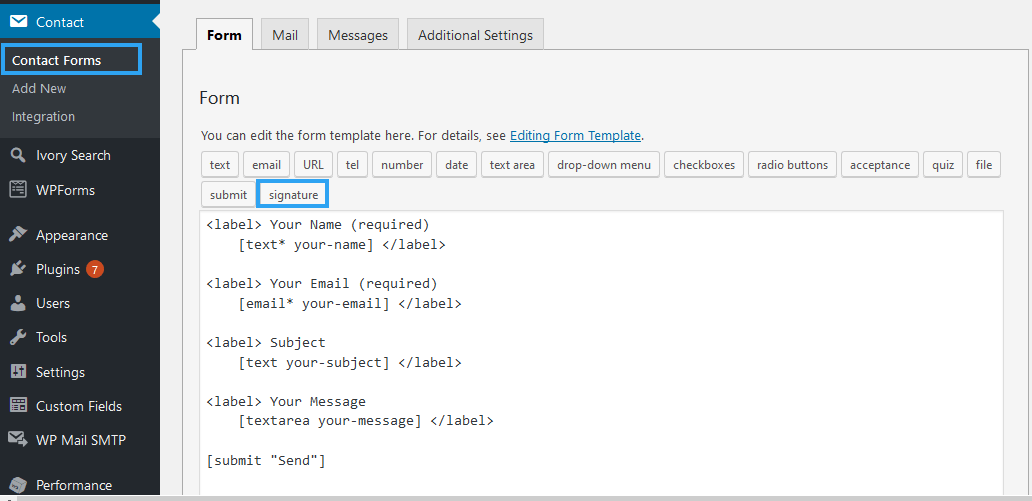 When you click the signature option, a popup form appears.
Provide the necessary information then click the insert tag button. Or copy the shortcode next to insert tag then paste it into your form.
If you are not familiar with what ID an Class attributes are, then ignore them. Those are fields used by a developer to style the signature field manually.
For now, check the required field if it mandatory for a reader to sign the document, then give it a name if you do not like the default name, then specify the width and height attributes.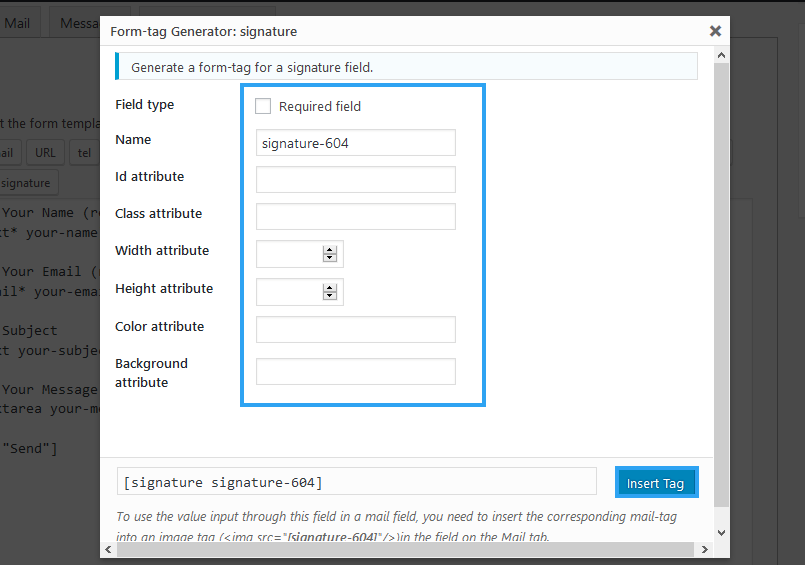 Your form should now look like this. Now click the save button then go to the post or page where the form is.
On our page we see
With that, you can now get documents signed with WordPress.
From my signature field above, you notice that it requires more clarity to your audience. Going back to the signature field area, you can specify the background and color attributes so that someone knows where they need to add a signature.
Conclusion
As you have seen, it is not that complicated to get documents signed with WordPress.
You can do it in a minute or less painlessly. As long as you are using Contact Form 7, just install the signature add on, and you are good to go.
Want to try something different? Here are a couple of alternatives.
Formidable Forms – free
Swift Signature – free
WPForms – premium
And a bunch of more plugins.
That's it! Hopefully this guide has helped you sign documents on your WordPress site. You may also want to learn how to accept payments on WordPress.