Wondering how to group affiliate links by categories in WordPress?
No problem, you will learn how to do that in a bit.
Affiliate marketing helps authors and bloggers monetize their websites or blogs. As your blog or affiliate website grows, you tend to look for more and better opportunities to earn more. That is signing up to different affiliate programs or promoting different products altogether.
The affiliate links you have to manage will keep growing; soon you can not just keep up with it.
You will need a neat and automated way to manage these, affiliate links.
Fortunately for us, there are a couple of WordPress affiliate managing plugins for that.
In this article, we shall use ThirstyAffiliates Affiliate Link Manager to group affiliate links by categories in WordPress.

Step by Step: How to group affiliate links by categories in WordPress.
First, you need to install and activate the plugin on your WordPress website.

Once it is installed and activated, on the Left Menu, search for ThirstyAfflilaites and click Link Categories

I assume you have affiliates links already added if you do not, the Click New Affiliate Link and add your links there.
Or jump down to the section we talk about how to add affiliate links to a group.
You will work with an all familiar page, that is if you have ever added or managed post categories.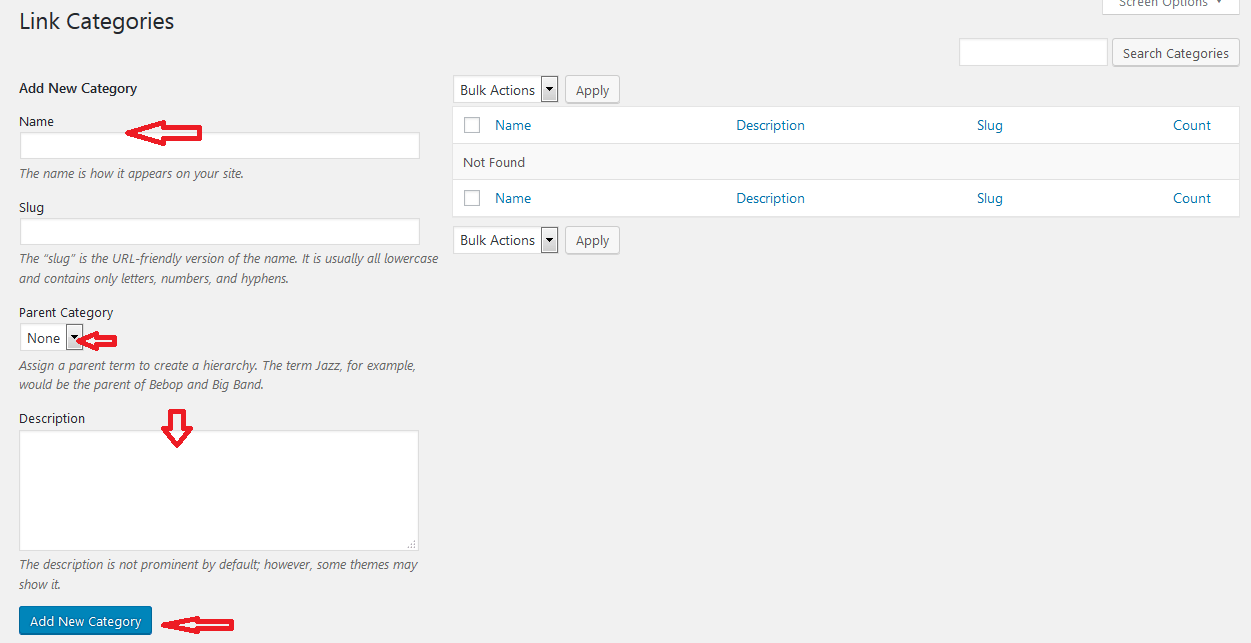 Supply the category name, the slug – if you wish, if left blank the category name is used, choose the Parent Category, Add a description for your category and then click the Add New Category button.
I recommend you give your categories logical names associated with the network or products you are promoting – something you can easily identify.
For instance, the parent category could be the name of the affiliate network; say, Amazon, ClickBank, Maxbounty, and more.
Break this down further based on what offers you are promoting, if you are promoting books on Amazon, then you set a sub-category called books, going down further, to something like, business books, or motivational, books. You get the idea.
So we would now have a simple tree like this.
Amazon > Books > Business > Sales
You do not have to go down that many levels; all you need is to group your links logically.
Your categories should be seen on the Link categories page (the same page we used for adding categories).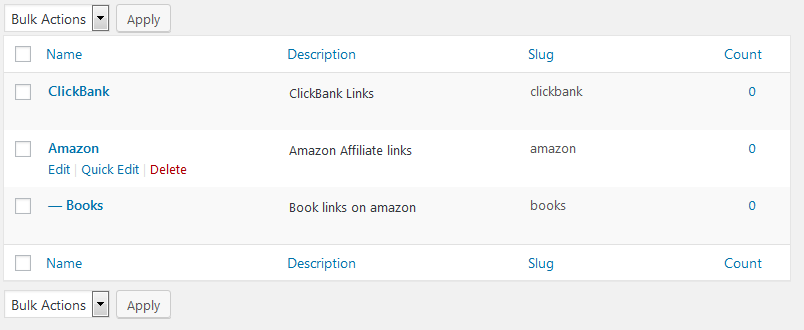 How to add a new affiliate link to a group.
You can easily add your affiliate link to a group the same way you add your posts to categories.
This should also help those who are new to the plugin and need to learn how to add affiliate links to ThirstAffiliates.
From the left Menu, navigate to ThirstAffiliates then click New Affiliate Link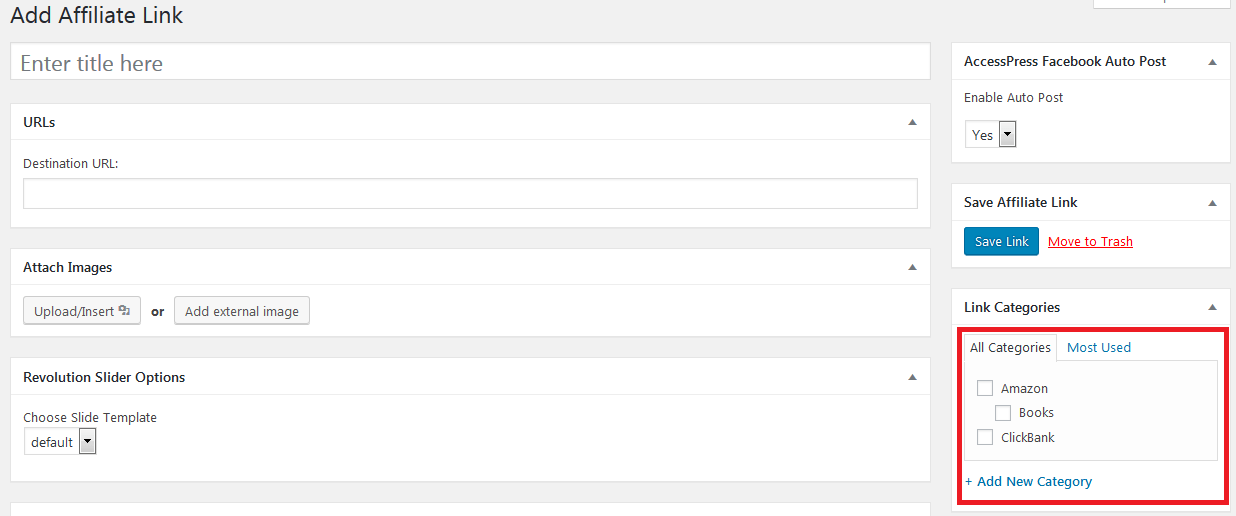 Supply the details of the affiliate link – that is the Title, the destination URL – which is your affiliate link for the product then attach Images where necessary.
Next, assign a category to your affiliate link from the right sidebar of the page as you can see above.
If the group is not there, then you can click Add New Category.
This is not something new. It is the same thing you do when adding your WordPress posts to a category.
Do not forget to click Save Link after making any modifications to your affiliate links.
Viewing all affiliate links with ThirstAffiliates.
To view all the affiliate links you have, you click Affiliate Links under ThirstyAffliates on the left Menu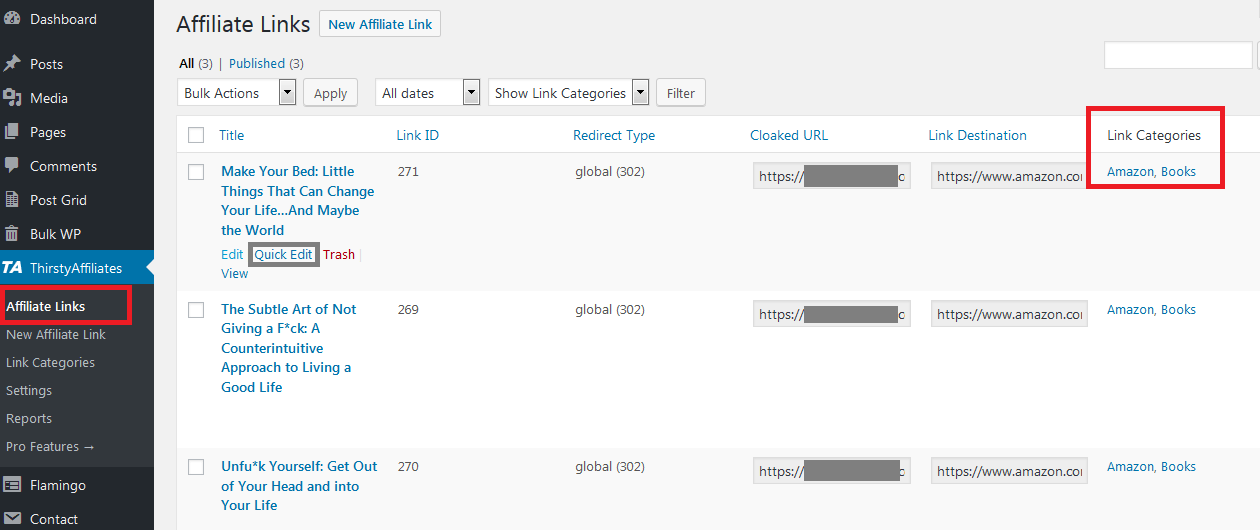 On the right, under Link Categories, you should see which groups your link is grouped in.
To add a link to a group or modify the category, hover over the affiliate link you want to modify and then click Quick Edit.
Under the Link Categories, make the modifications as you desire. After that, click Update.

Note that the quick edit doesn't provide for adding a new category. If this were what you wished to do, then you would have to either create a new category as we did above or Edit the affiliate link.
With that, you should be able to organize and group your affiliate links in your WordPress website using ThirstAffiliates.
If you are not using ThirstAffiliates, you do not need to worry as every other affiliate links management plugin does provide a way to categorize your affiliate links. Plugins like: Pretty links and Easy Affiliate Links and more in our list of the best affiliate link plugins.
I hope this has helped you group your affiliate links by category, you can also cloak affiliate links with clean and simple URLs.
Have something related to share, leave your comments below.