In this article, we shall consider what WordPress pingbacks and trackbacks are, and then consider a case for and how to disable WordPress pingbacks and trackbacks from a WordPress blog or website.
WordPress has, from its inception, been about enabling people to create, and importantly about building community and engagement.
One feature it came with, and it still does, is the commenting system.
Commenting on a post or page is a subject that needs no introduction; just scroll down to the tail end of this article, and you should see a Submit a Comment section.
How it works is simple, read a post, like it or hate it, write and share what you feel with the author and other readers.
WordPress trackbacks and pingbacks share the same purpose and are actually equally considered as comments, only that they are a special kind.
Technically, trackbacks and pingbacks are communication methods for alerting blogs that you have linked to them. The difference being that:
Trackbacks– are manually created sent with an excerpt from the post or page.
while
Pingbacks– are sent automatically without any content.
Let's consider them individually.
What Are Trackbacks and Pingbacks in WordPress?
Trackbacks
Trackbacks are a way to notify legacy blog systems that you've linked to them. Today, if you link to a WordPress blog, they'll be notified automatically using pingbacks; no other action is necessary.
While for a trackback, you need to add the trackback URI from the other person's blog manually.
To understand what a trackback is, let's look at this scenario
Jane loves and wants to comment on John's article, but, she also wants her readers to see what she comments on John's article and be able to comment on her blog
Jane posts an article on her blog and sends John's blog a trackback.
John's blog gets the trackback and shows it as a comment on the post Jane loved. This comment will now include Jane's blog post.
Pingbacks
A pingback is a comment created when one links to a blog post from another website. It appears on a remote blog's comment section only if both sites have pingbacks and trackbacks enabled.
This is how it works
John creates a rich and resourceful article on his blog.
Jane writes on her blog and refers to John's post – what you usually do when you link to another article.  If both John and Jane's website have trackbacks and pingbacks enabled, then as soon as Jane links to John's article, a pingback is automatically sent to his site.
John's site will then atomically go to Jane's website to verify that she is the author of the pingback.
All that happens behind the scenes in seconds.
Once the pingback is verified, John sees the pingback on his comments admin page.
If he approves it, it will appear in the comments section of the article Jane linked to.
Here is an example of how a pingback appears: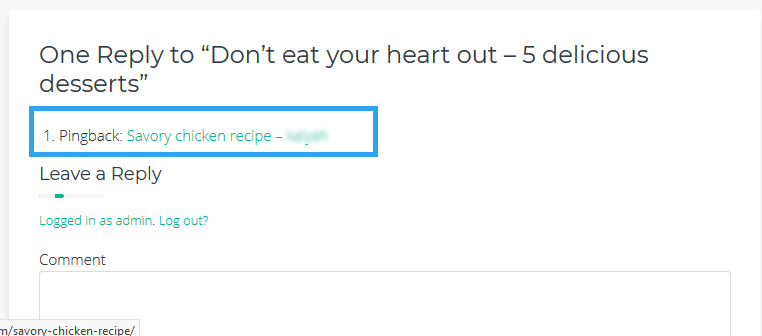 Why Disable Trackbacks and Pingbacks in WordPress?
Trackbacks and pingbacks, just like regular comments suffer from one major issue, Comment Spam.
Because backlinks are essential for SEO, spammers have taken advantage of this feature to post irrelevant links in blogs to score quick backlinks.
The problem with these links is not in them being irrelevant – out of context and not related to the content on your blog; they also tend to come from spammy or blacklisted websites. This is disastrous for SEO purposes, given that Google penalizes sites that link to suspect websites.
For that reason, it's often never worth it risking your site's reputation both with your audience and search engines for the benefits of trackbacks and pingbacks.
And, that's why a blogger may decide to disable trackbacks and pingbacks from their website altogether.
How to Disable WordPress Trackbacks and Pingbacks
Trackbacks and pingbacks are enabled in WordPress by default.  So if you don't want them you will need to disable them on your site.
WordPress trackbacks and pingbacks can be disabled site-wide, or on individual posts and pages.
To disable them sitewide.
Go to Discussion, under Settings.

Under the Default post settings, uncheck the ticked checkbox beside Allow link notifications from other blogs (pingbacks and trackbacks) on new posts.

Unchecking that will disable trackbacks and pingbacks on new posts. If you wish to disable them on old posts or if you want to enable or disable trackbacks and pingbacks on individual posts and pages, then simply edit the page or post, or as you create a new post or page, under the Document panel on the right.
Go to the Discussion meta box.
Uncheck to disable pingbacks and trackbacks, or check it to allow pingbacks and trackbacks.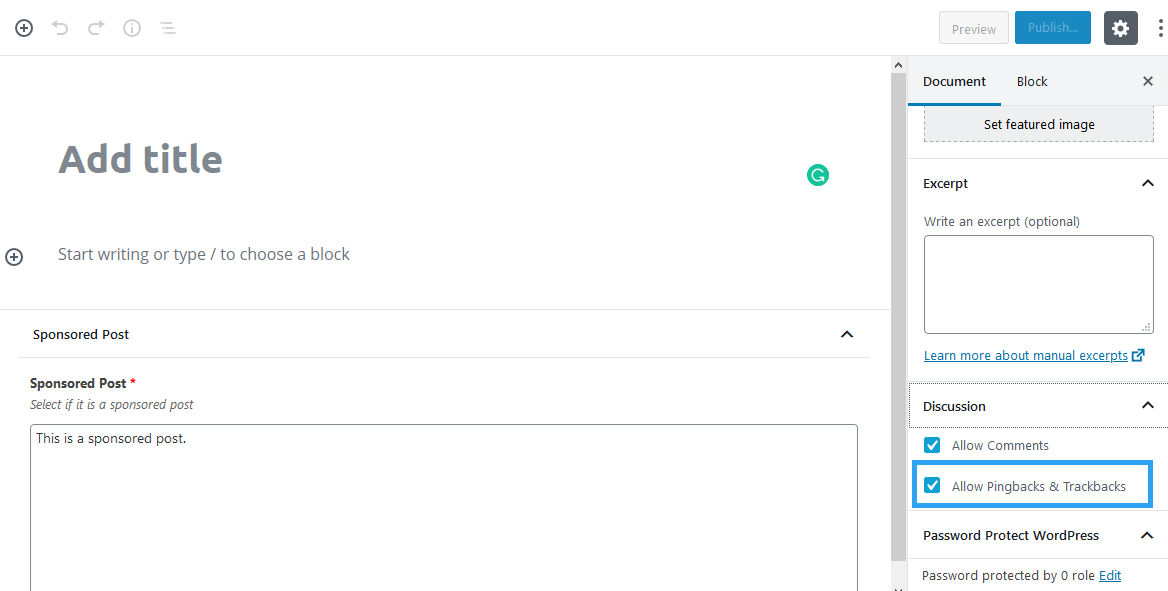 If you are using the classic editor and don't see the Discussion meta box, then check if it is enabled in the Screen Options.
Conclusion
Though designed for a noble purpose, trackbacks and pingbacks are being abused by spammers to the destruction of unsuspecting sites.
To avoid the penalties and loss in search engine ranking, you can simply disable trackbacks and pingbacks. This article has hopefully shown you how to do that.
In case you choose to keep them, the least you can do is moderate the trackbacks and pingbacks before they appear on to the posts.
That's it! You've found this read helpful. You may also want to learn how to import RSS feeds in WordPress.