When you are new online, you may not care, but soon you will see the need to change your permalink structure in WordPress or any other content management system.
In this article, I will show you a one minute – or less – way to change your permalink structure in WordPress.
Just so we are on the same page, let's understand.
What Exactly Is A Permalink?
The word "permalink" is a portmanteau or a blend of two words, permanent and link.
A link you know is the URL or the website address of your content; your pages, posts, categories, and tag archives.
For usability and SEO reasons, the URL to each post should be permanent.

In our blog post on How to Add Breadcrumbs to WordPress to Help Users Navigate Your Website Better the permanent address or link – permalink – is https://wpvivid.com/add-breadcrumbs-to-wordpress.html
This address won't change probably for a lifetime, unless if there is another major shift in technology trends dictated by Search engines that may warrant us changing our permalink structure.
But, until then, anyone interested in our content on how to add breadcrumbs to a WordPress website, will find that information through its permalink.
A permalink, as you can see, is composed of;
The protocol – http:// or https
The domain name – wpvivid.com – in your case, yourdomainname.tld
The slug – add-breadcrumbs-to-WordPress
The extension-.html
Why Should One Change Their Permalink Structure?
So far, we know that humans and bots alike arrive at your website content using a URL link – a permalink.
So, the justification for changing is a permalink structure that can be pegged to these two visitors.
The humans like you would use a URL structure that is pleasing, not just to the eyes but to their ability to remember.
You do not need change or keep a simple URL structure because Google recommends it, keep it simple so your visitors can from memory recall the address to your website.
While, for the bots – the Search engines – you have the prerogative to do what they need you to do, whether you like it or not, as long as you expect them to rank your website high on their search results.
A website's URL structure is one of the ranking factors Google and other search engines use.
For instance, rather long URL links hurt a website's search engine visibility, and most importantly, permalink structures that have keywords in them perform better in search engine results.
Take a look at how we implement these recommendations in our posts.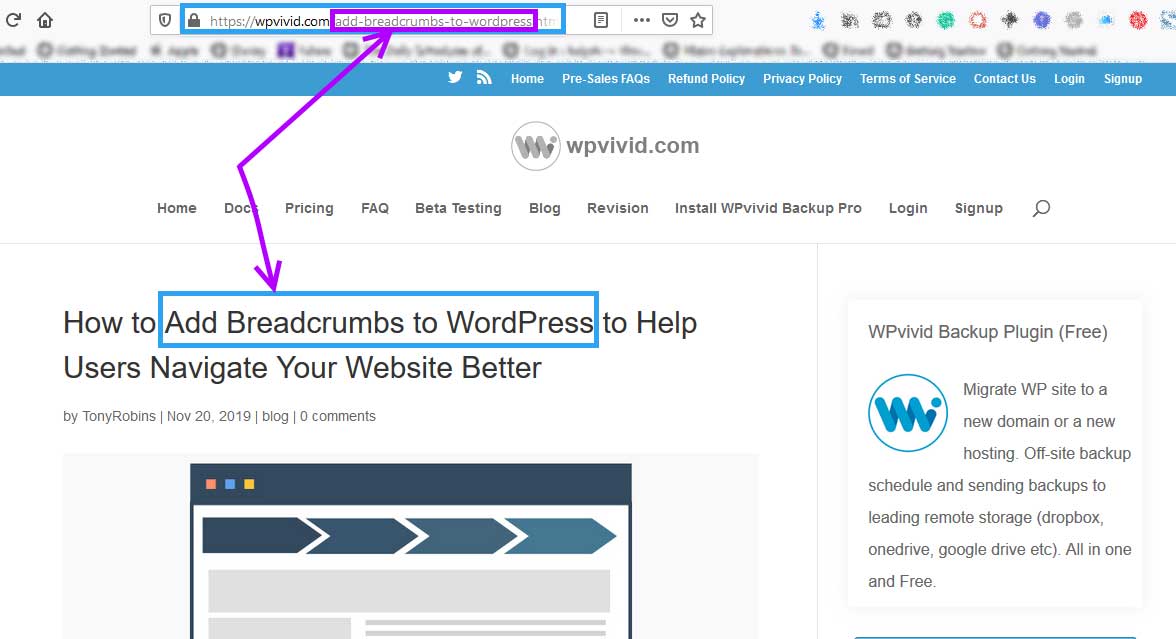 We keep the permalink slug short – three to four words are recommended – plus, we use keywords in the slug. You set these words as you create the posts or pages.
That way, we take care of you, our human friends, and the bots.
If we are on the same page about permalinks, then let's take a minute to learn:
How to Change The Permalink Structure in WordPress?
We change the permalink structure in the Permalinks page under Settings.
You need to be logged in to get there.

When you are there, you can choose from the common settings or create custom URL structures.
By default, WordPress uses web URLs which have day and name in them; however, WordPress offers you the ability to create a custom URL structure for your permalinks and archives.
Here are the common URL permalink settings WordPress supports.
Plain – An example of the default structure is http://www.sample.com/?p=123
Day and name – An example of the day and name-based structure is http://www.sample.com/2019/11/21/sample-post/
Month and name – An example of the month and name-based structure is http://www.sample.com/2019/11/sample-post/
Numeric – An example of the numeric structure is http://www.sample.com/archives/123
Post name – An example of the post name structure is http://www.sample.com/sample-post
Custom structure – In the box, specify the custom structure you desire to use. One example is /archives/%year%/%monthnum%/%day%/%postname%/.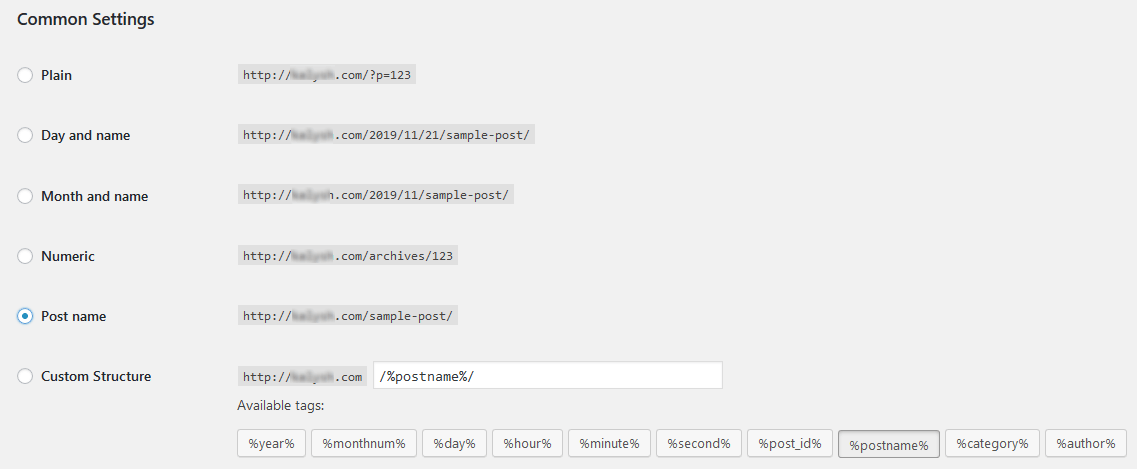 From what we looked at for the best SEO results, choose the Post name option or the Custom structure the add tags to it.
Make sure you click the Save Changes button at the bottom of the page to save your permalink structure settings.
Conclusion
It should take you a minute or less between logging in and logging out to change your permalink structure in WordPress.
It is that easy.
Your website visitors and search engine bots will love to share, link back to, and refer your content.
Happy publishing.
For next, you may also want to check out the off-page SEO checklist for WordPress sites.