You have seen survey and polls or most likely even participated in one. If you are wondering how to, I will show you how to add a survey poll to a WordPress website.
A poll or a survey is a human research survey of public opinion from a sample space of the population.
The idea is that opinion on a particular subject of the poll by the sample space fairly represents that of the whole population. The research need not, therefore, to ask everyone in the town what they think about the new legislation on animal rights. A sizeable sample size should reflect the overall view of the people.
In practice – like the example above, we see public opinion polls where citizens share their view on critical matters of public concern like abortion, new legislation or even predicting who will win an election. While in business, it cuts across introduction of new products to seeking consumer sentiments some branding ideas like colors, logos.
For a website owner, whether your website is for a cause or to make profit, polls are essential for they;
Stimulate discussions and add engagement on a website.
They show readers and customers that their opinions are important and do matter.
They help you make better decisions on a particular course of action, knowing that what you are engaging in fares well with your audience – more like a compass.
For those and many more reasons you could consider adding a survey poll to your WordPress website.
Step by Step: How to add a survey poll to WordPress
Once you have your subject that seeks public opinion, what you need next is a way to collect that the people's views.
For a developer or even a tech enthusiast who can meddle with HTML and some CSS, creating a basic poll shouldn't be a problem.
However, you can leverage the rich WordPress plugin repo for that.
What you need is a free WordPress plugin that can enable you to build a form.
For this article, we will use Contact Form by WPForms – a Drag & Drop Form Builder for WordPress
It is a clean, fast, modern, and extensible drag and drop form builder with several pre-built templates for building almost any kind of form. In our case, a survey poll.
Now, here are the steps.
Install and activate the Contact Form plugin from your WordPress backend.
On the left menu, go to Plugins and then Add New.
Next search for Contact Form by WPForms.
Install and activate it.

Create a survey poll.
After the plugin is installed and activated, you can start building your poll.
Wondering what kind of poll to build –  check out these sample poll questions and answers.
Assuming we wanted to know what remote storage provider scored high among users of our WPvivid data backup and restore plugin, we could build a poll to gather that feedback.
Something like this.
Question: Which remote storage provider do you prefer for backing up your WordPress Website?
Choices.
With the survey poll questions ready, we can go ahead to create our poll.
Go to WPFormson the menu, and then click Add New or on the dashboard, click Create Your Form.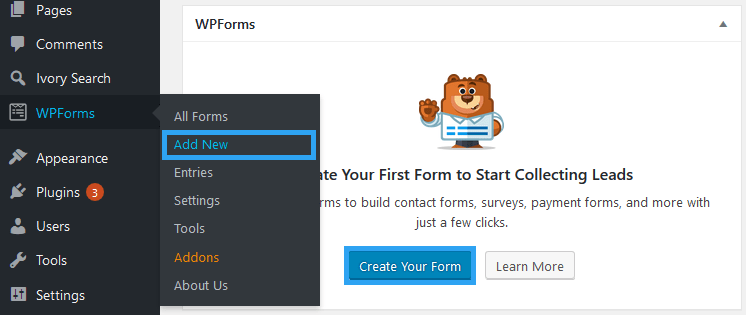 Give your form a name, then select the Blank Formfrom the templates.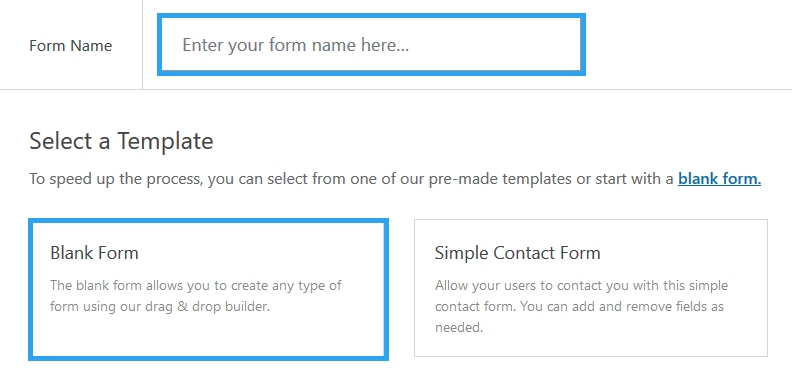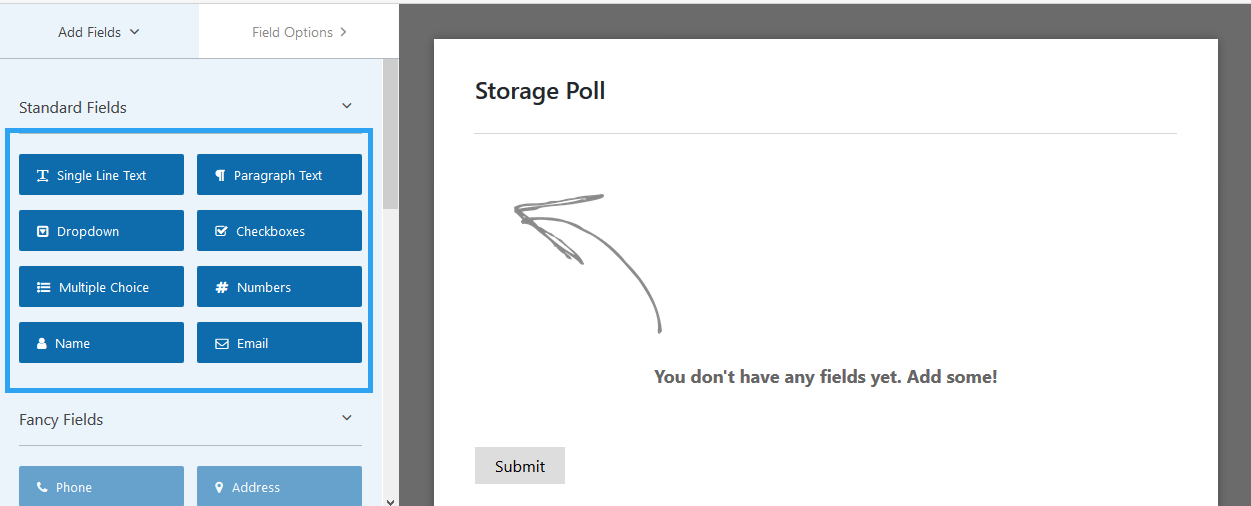 For my poll, I will need to add a Multiple Choice field.
When you add a field, hover over it, to edit, drag, copy or delete.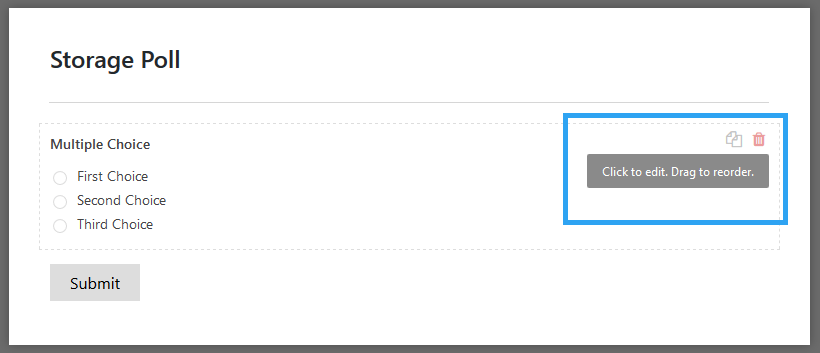 Editing a poll opens the form fields on the left pane.
Replace the default placeholder content with yours.

When you have built your poll. Click the Submit button.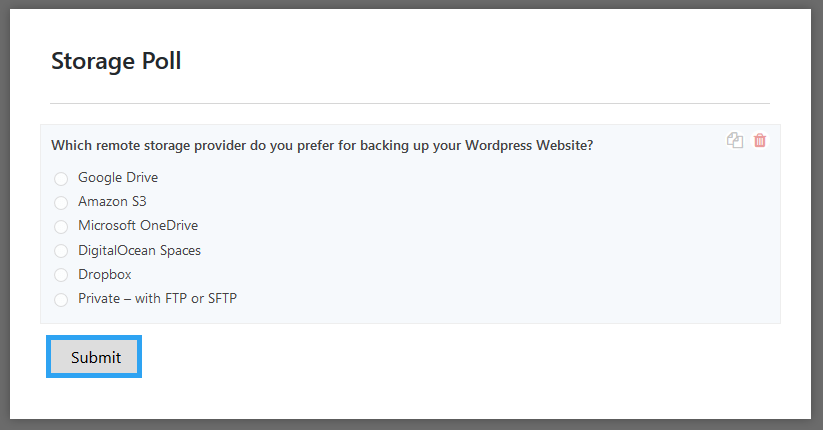 Now check your General, Notification, and Confirmation Settings if you need to make any modifications. The default settings will often work.
Then click the EMBED button on the top right corner of your screen to copy the code that you will paste to any page, post, or widget.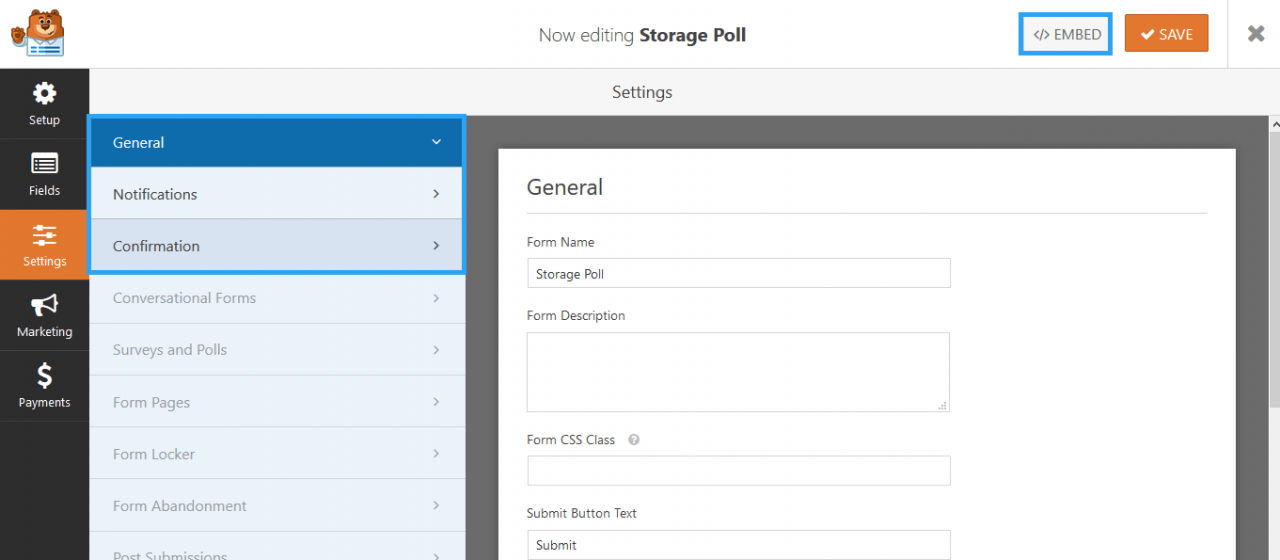 Copy, the shortcode and paste it on any post or page or on a sidebar.

Go to the front end of your site, the page, post, or widget where you inserted your shortcode.
Conclusion
Congratulations, you now know how to add a survey poll to a WordPress website.
I contend that Contact Form by WPForms – a Drag & Drop Form Builder for WordPress – is the best plugin to build a survey poll. That doesn't mean you have to go with it.
Here are some other plugins you can explore.
And more options in our top picks for the best free survey plugins for WordPress to collect user feedback.
The above plugins are niche plugins – just for polls – however like I mentioned earlier any form builder plugin can enable you add a survey poll to your WordPress website.  Thanks to WordPress you do not need to meddle with code.
Hopefully you have found this read helpful. You may also want to check out our top picks for the best free review plugins for WordPress to increase user interaction.