Do you want to replace your URL, a single word or HTML string in your WordPress database? If yes, then WordPress find and replace plugin is what you are looking for.
A search and replace plugin will help you make quick adjustments to content like url in your WordPress site, for example, it will find and replace the specific text or url and fix your WordPress site the way you want.
However, before you get hooked to one of the plugins; make sure you choose the right one. WordPress is bombarded with search and replace plugins; but pick the right, credential and authentic one. Select that search and replace plugin that is the most credible one and the most efficient one, so you won't regret after using it. Search and replace plugins allow its users to replace domains, content, text, HTML codes and many more in their WordPress sites.
Within this article, we will look into one of the best WordPress Search and Replace plugin and will help you decide how this plugin will assist you to accomplish your desired needs. Before we start, let's learn:
Why Do You Need WordPress Search And Replace Plugin?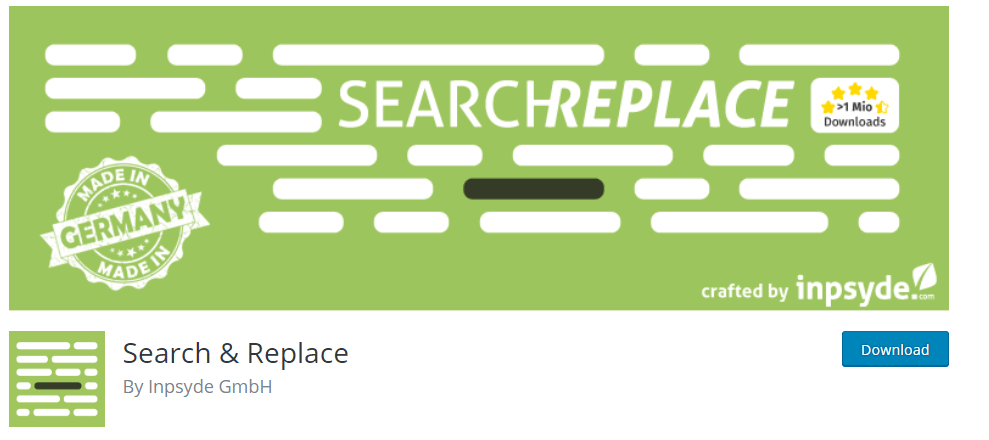 Have you ever encountered a need when you want to add a specific text or URL to many posts?
There may be quite a chance that you may have added text to a variety of posts, but you don't exactly know where you have added them.
Now, you have two options:
Automatically find and replace all your posts in a stance.
Which option would you prefer; 1st or 2nd?
If we look from the realistic point of view, the 2nd option seems the best. It is quick, efficient, saves time and resources. If you agree and vote for the 2nd option, you'll need Search And Replace WordPress plugin.
Alternatively, if you still want to get hooked with the 1st option, then all we'll say is "don't waste your time, resources and effort because search and replace plugin are free, easy to install and best for beginners".
So, now are you ready to head on?
Let's look into some more reasons why to search and replace plugin is the best plugin for your WordPress site.
Features Of Search And Replace Plugin
Search And Replace WordPress plugin is a 4.3 star WordPress plugin with more than 100,000 active installations. With the help of Search And Replace Plugin you can easily search for everything and replace it instantly with a single command. Moreover, they are offering its users a simple database backup option where they can restore all their data. It is one of the most reliable WordPress plugins that is used and referred by a large population. Its features are highly compatible and attract most of the users.
Let's look into some of its features in detail:
Pros And Cons Of Search And Replace Plugin
You must be fully aware that find and replace plugins hold two categories; real-time search and replace, and database search and replace. Real-time search and replace plugins finds and replace text without making changes in the database, so the user can revert to its original state whenever it wants. On the other hand, database search and replace plugin makes changes permanently, unless it offers backup services.
Search And Replace Plugin makes changes in the database but also allows its users with full database 'backup and restore option'. It offers its users' convenience to update its site's URLs, domains and much more. This is the biggest reason users rely on this find and replace plugin.
Now let's look into some reasons other why users are adopting and referring this plugin to others:
Pros Of Search And Replace Plugin
It is an ideal plugin for users and developers
It offers quick and easy domain and URL replacing
Quickly makes changes in WordPress site
Search and replace plugin does offer a backup solution but it is still not perfect.
Cons Of Search And Replace Plugin
There is no undo button; once you make a mistake, you replace the text; then it's gone.
It offers strict "replace with" option; if you fail to understand, all your effort goes vain.
So, be vigilant when you type the text you are looking!
Make sure to double cross the text you want it to replace. Once you make a mistake, it's gone. So it's best to create a database WordPress backup. Once formed, now you can move on and run your find and replace commands.
Even after backup, still, be careful!
Final Thoughts
Search And Replace Plugin is one of the best WordPress plugins that can work within the best of your business.it is free, and its features are competitive that allows users to accomplish what it wants in a couple of minutes. With the help of this plugin, you can quickly fix content on your WordPress site. It is a highly effective and efficient search and replaces tool that can quickly fix content in your website including text, URLs, HTML and more.
We hope this article helped you as it entails all the relevant details you need about Search And Replace Plugin. If we missed something, do let us know in the comment section below.
When doing content optimization on your site, you should also consider finding broken links and images then fixes them in a stance.