Tired of the restrictions of Blogger or want to explore WordPress? Then here is a guide on how to move your blog from Blogger to WordPress.
Like you, many of us dipped our toes into blogging with a Blogger, a free blogging platform from Google.
For those who work hard enough, you soon realized how constrained and limited it can be to publish on blogger.
And like you are considering, the majority of us jumped ship and opted to move our blogs to the self-hosted version of WordPress that powers over 35% of websites on the internet today.
Considering moving a blog to another platform is not something to take lightly, and like any change you face in life, there may be doubts and fears.
One thing I can encourage you, moving your blog to WordPress is a great decision; you are in good company.
The second thing is that I will try to allay your fears by making a move smooth and painless as possible.
How to Move Your Blog from Blogger to WordPress?
Step 1. Choose A Domain Name And A Web Hosting
Moving from Blogger to WordPress implies a shift from a free service to a paid service.
The first expenses are on a domain name and a hosting account.
Luckily, there are several website hosting companies that will give you a free domain name for the first year when you purchase their hosting accounts.
If you are worried about costs, you shouldn't be, shared hosting plans start from as low as $2.9 a month. I am sure you can spare a cup of coffee every month.
If you already had a custom domain name at blogger, you will need to login to your domain name service manager and modify the nameserver details to point to the nameservers that your host gave you.
Step 2. Install WordPress to Hosting Account
Once you have purchased your hosting, you will need to install WordPress to your hosting account.
If you purchased a WordPress hosting account, then most likely, WordPress comes preinstalled, all you need is to log in to your backend.
Step 3. Backup Website Data From Blogger
Now you will need to make a back up of your pages, posts, and comments, which you will later import to your WordPress blog.
Log in to your Blogger account and go to Settings.
In the submenu, click Other.
Under Import & Back up, click Back up Content.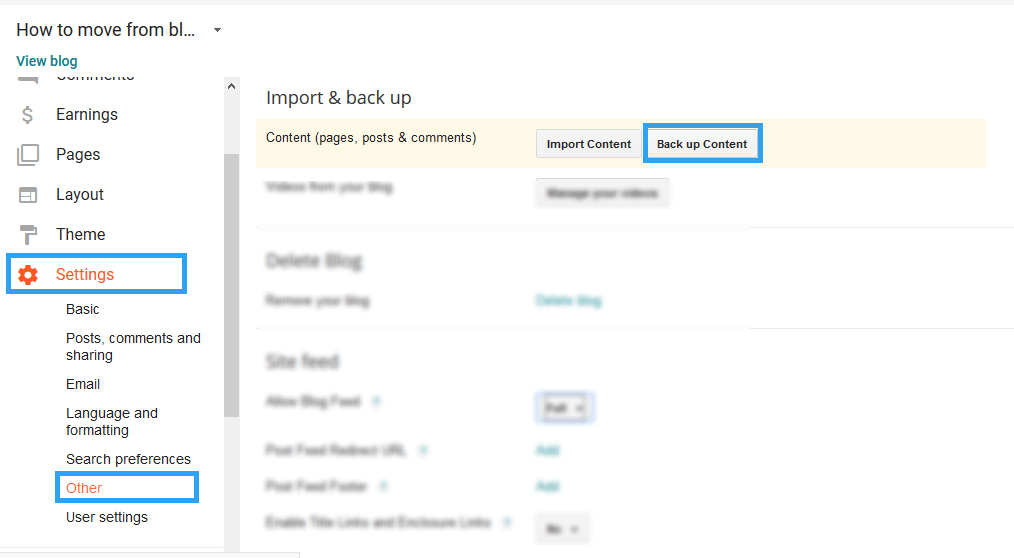 On the pop-up, click Save to your computer.

Your browser will now ask you to save an XML file to your computer. Save it.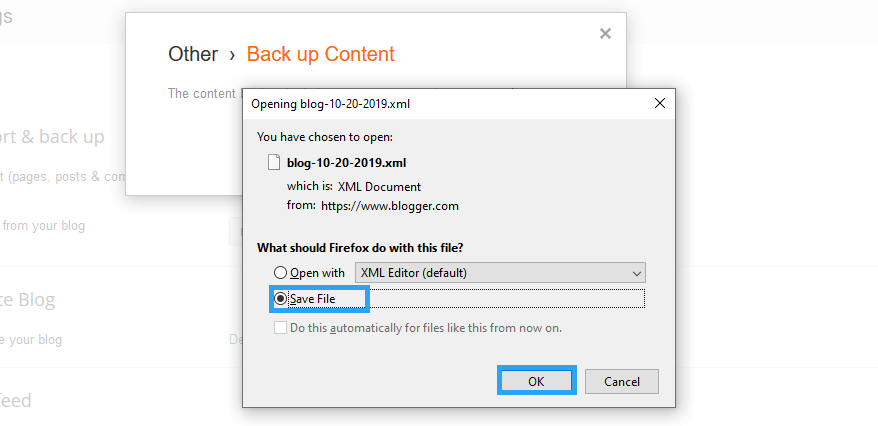 Step 4. Import Blogger Data to WordPress
After you save your back up, log in to your WordPress admin area to import your blog.
To access the admin area of your new WordPress blog, go to;
www.yournewsite.tld/wp-admin
On the left menu, look for Tools, under it click Import.

In the tools page that opens, under Blogger, click Install Now

After the Blogger tool is installed, click Run Importer.

Now, upload the XML file you saved earlier.
Click Browse to choose the file from your computer, then click Upload file and import.

Next, assign your imported content to an existing user.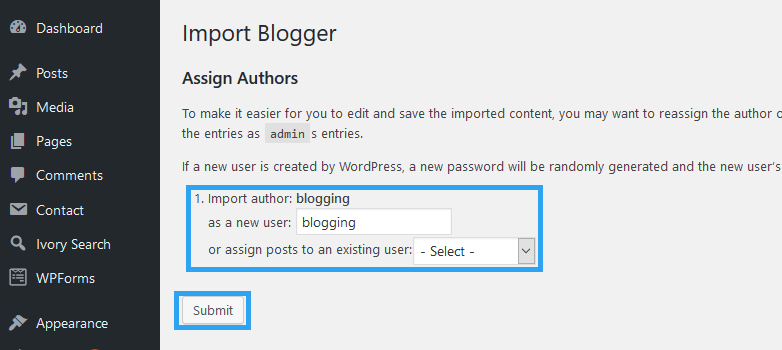 To make it easier for you to edit and save the imported content, you may want to reassign the author of the imported item to an existing user of this site. For that, under the option to assign posts to an existing user click the drop-down menu to select a current user.
If you want to keep the author name you were using in Blogger, then don't select anything. A new user is created by WordPress with the same author name, a new password is randomly generated, and the new user's role will be set to subscriber.
When you've made your choice, click Submit.
If all goes as it should, you should see the message below.

Ideally, with that, you have successfully moved your Blogger blog to WordPress.
Before you call it a day, you need to do at least one more thing – redirect traffic from Blogger to WordPress.
How to Redirect Traffic from Blogger to WordPress?
For next, you need to redirect the traffic that goes to your older Blogger site to your WordPress blog.
This not only redirects your traffic, but it also helps your blog keep its Search Engine rankings since you do not have to start from scratch, optimizing your website.
At this point, you will use one of the best things about WordPress – Plugins.
We shall use a plugin called Blogger 301 Redirect.
Step 1. Install Blogger 301 Redirect WordPress Plugin
If you are not logged in, log in to your WordPress admin area.
On the left menu, look for Plugins, and click Add New.
In the search box enter, Blogger 301 Redirect.
In a moment, the results are automatically displayed.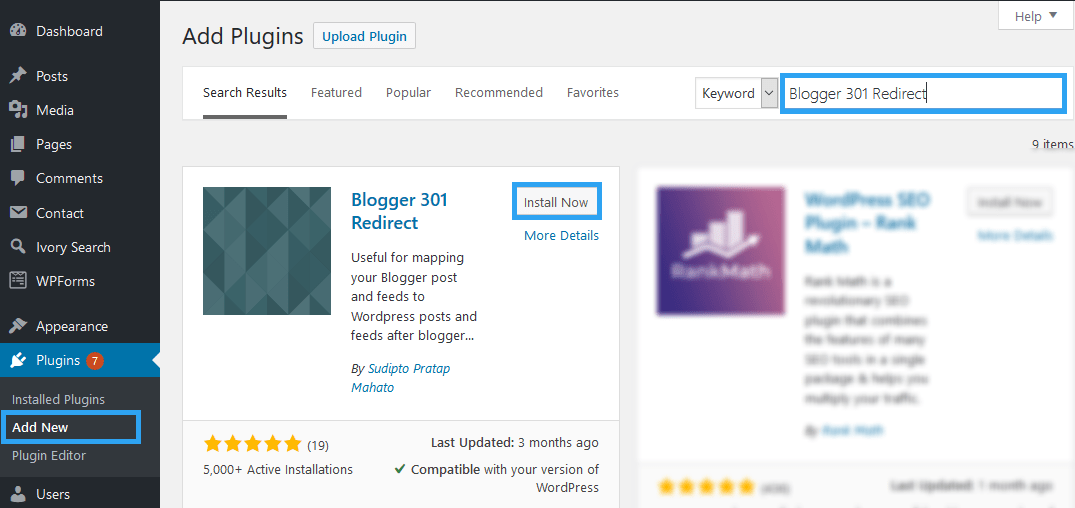 You should see Blogger 301 Redirect.  Click the Install Now button beside it.
Wait for a second or two and click Activate.
Note that before you install a plugin to your blog, verify that it is compatible with the version of WordPress you are using. That information is in the plugin details as you install. See the screenshot above.
Step 2. Match the Timezone You Were Using on Blogger
Once it is activated. First, you need to set the Timezone under Setting, General, Timezone to match what you were using on blogger.

Though not required, it is recommended to change the Permalinks Structure to Custom [ /%year%/%monthnum%/%postname%.html]
Go to Settings, then to Permalinks. Paste /%year%/%monthnum%/%postname%.html into the Custom Structure field and click Save Changes.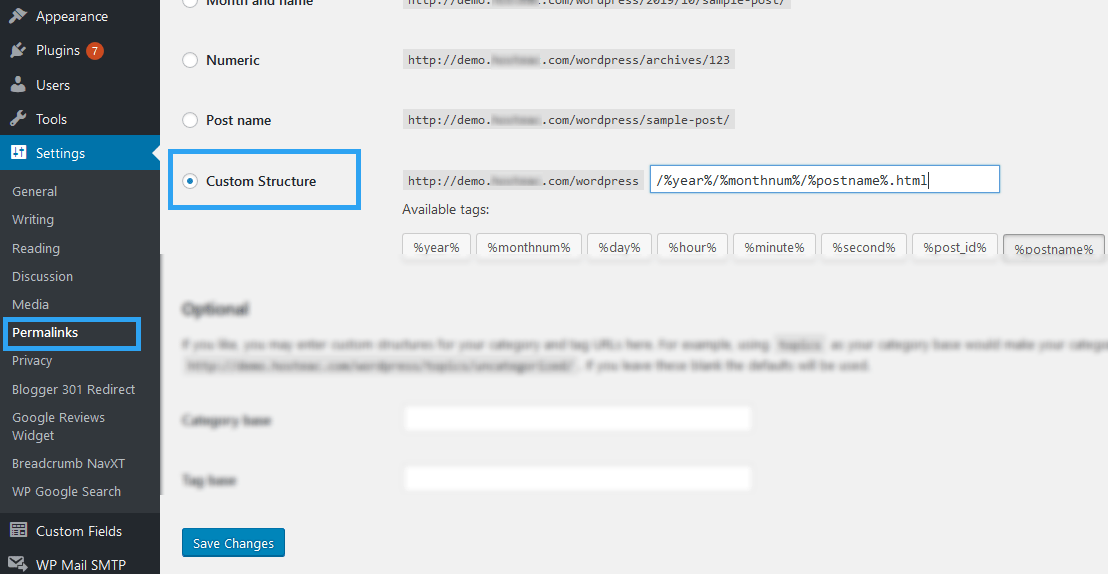 Step 3. Copy the Redirection Code
Now, go to Blogger 301 Redirect to copy the redirection code.
There are two methods you can use, the first is Using New Blogger Template, and the second, Using Classic Template.
We will use the classic template here.
Click on the code and copy it.

After you copy the code.
Log in to your Blogger Dashboard
Before you make any changes, back up your theme. Go to Theme > Backup/Restore button then click Backup/Restore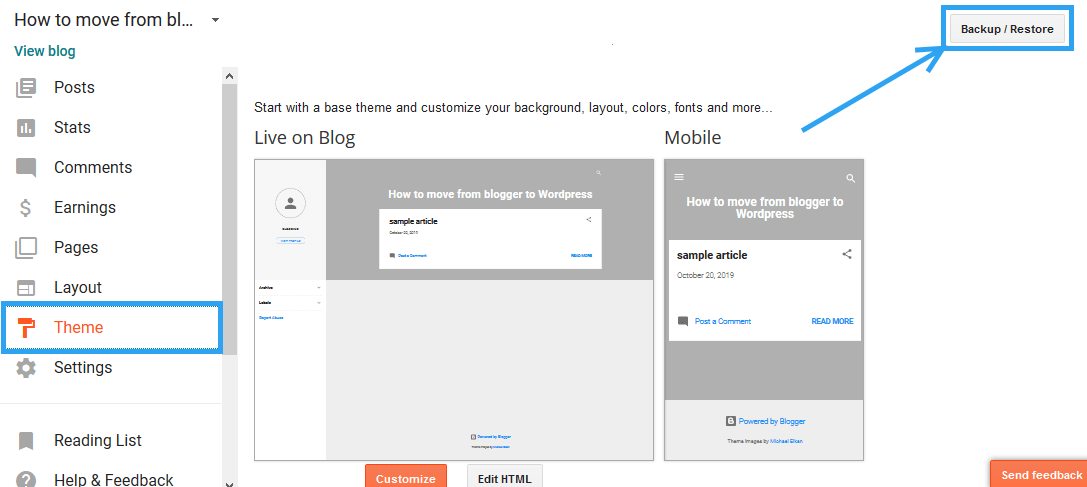 Now Scroll down to the bottom of the page click Revert to classic templates (link at the bottom of the page) and select OK to revert to classic template
Under Edit Theme HTML, replace the code of your blogger template with the code you copied from your WordPress site.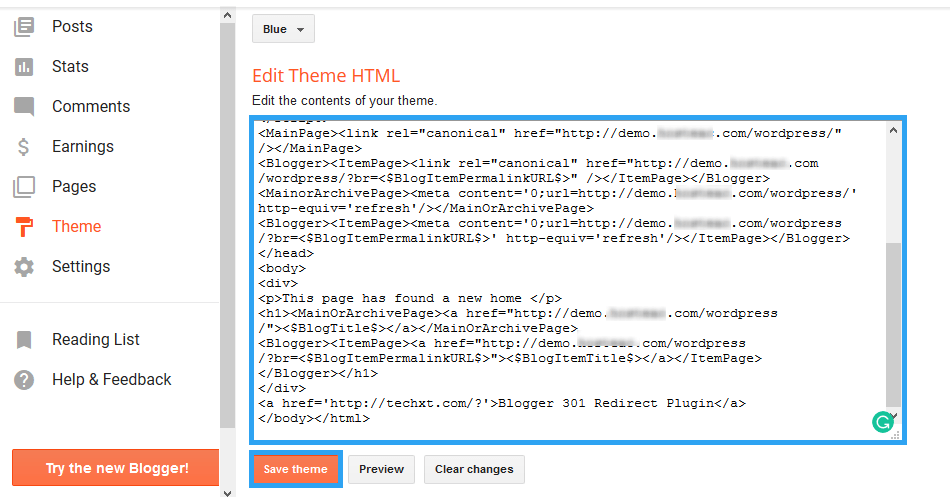 Finally, click Save Template changes
Test your settings.
Go back to the Blogger 301 Redirect settings page, and click the links identified to test your settings.

That's it.
If you need more help on how to use Blogger 301, Redirect  then check out this article
http://techxt.com/blogger-301-redirect-plugin-for-wordpress/
What Next?
Now that you have moved your Blogger blog to WordPress, what next?
The first thing I recommend is to schedule a data backup. Unlike Blogger, with WordPress, you are often on your own.  You are like an emancipated child who, for the first time, lives outside the reign of their parents.
All decisions, successes, and failures lie squarely on you.
Although WordPress is the most popular, the most used content management system, it is also the most hacked into.
A backup schedule will save you nights of stress and regret why you migrated in the first place.
We have built a solid backup plugin – there is a premium version you can use, but you can start with the free version.
Conclusion
As you have learned, it is not that complicated to move from Blogger to WordPress.
In this article, I have shown you how to move a Blogger blog to WordPress without losing its traffic and page rank.
I hope we've been helpful today.
Welcome to WordPress. Freedom and a great community await.
If you have moved, and are confused about anything, don't hesitate to leave a comment here.
You may also want to learn how to move a WordPress site to a new domain without losing SEO.