If you are looking for a simple way to add folders to your WordPress media library and manage files on your WordPress website, then we've got a solution for you. Using the default WordPress media library can be a pain. Everything you upload goes to the same place.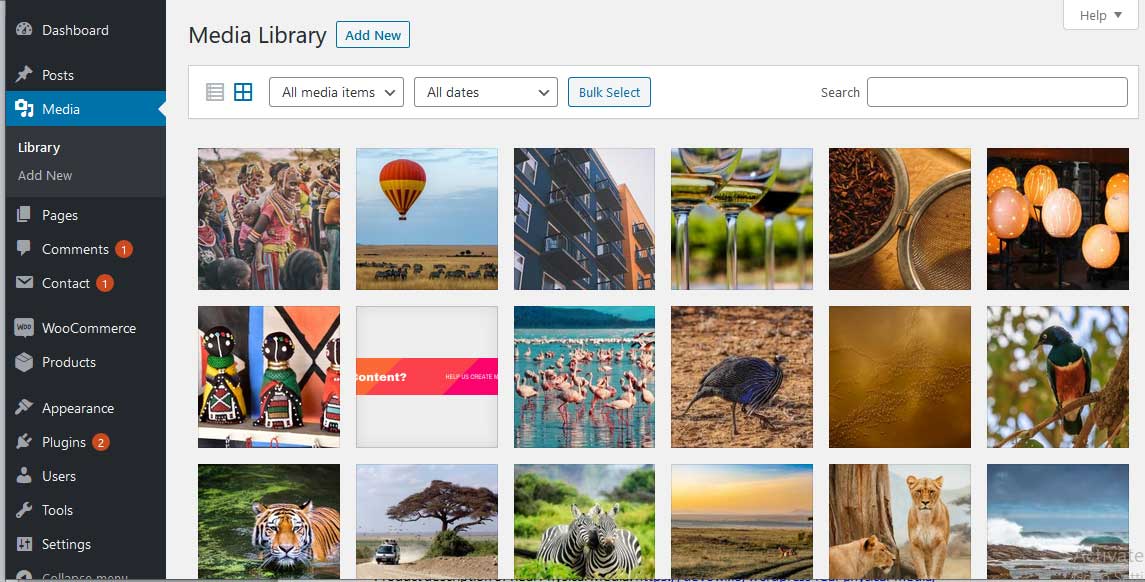 If you want to reuse an image, yes, you can search for it in the media library, but would you remember how you saved the picture last year? I doubt you would.
That's the pain of the default WordPress media manager. Like in most cases, where WordPress is inept, there is a plugin. And in this case, WordPress Real Media Library.
We had the privilege of testing the plugin on a real-world tour and travel website that needed a better way to organize photos and files.
This is what we think about the plugin.
What is Real Media Library, and What Does it Solve?
WordPress Real Media Library is a free Media Library Folder and File Manager for WordPress. It is built by devowl.io, and you can easily install it in your WordPress site from the official plugin store.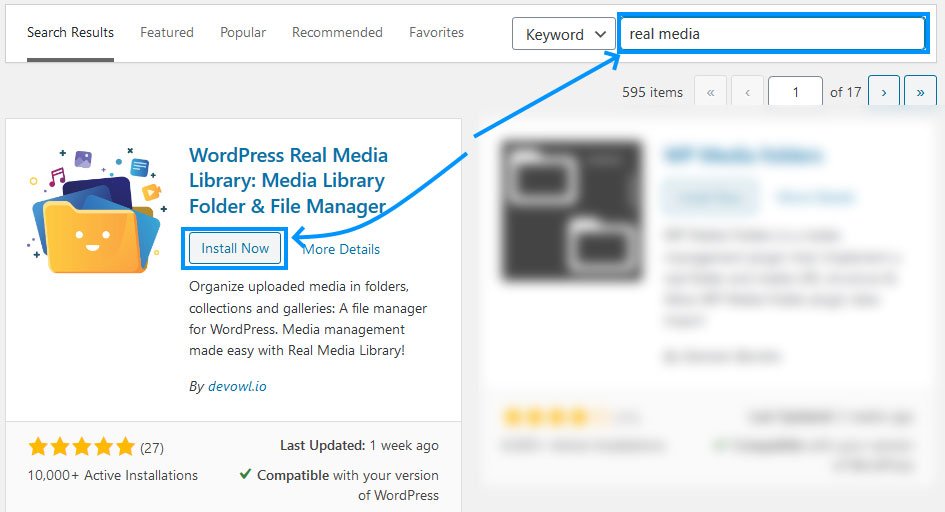 It fixes the problem with how WordPress bundles every file you upload to the same folder. The folks at devowl.io built a plugin that organizes files in three logical ways – with folders, collections, and galleries.
Folders
What's the use of a folder on your computer? To organize/store files in a way, you can locate them, right?
Just the way you would organize files from your latest adventures in the jungles of Africa by country or activities.So you can do the same in your website with WordPress Real Media Library.
In the folder, you can drop there any file type – jpeg, avi, pdf, png, etc.
For more organization, you can stack folders (subfolders) in the main folder.Or create Collections then add galleries to the collection. I will explain later what the difference between folders, collections and galleries is.
If you are on the free version of the plugin, you get only ten folders (includes collections and galleries).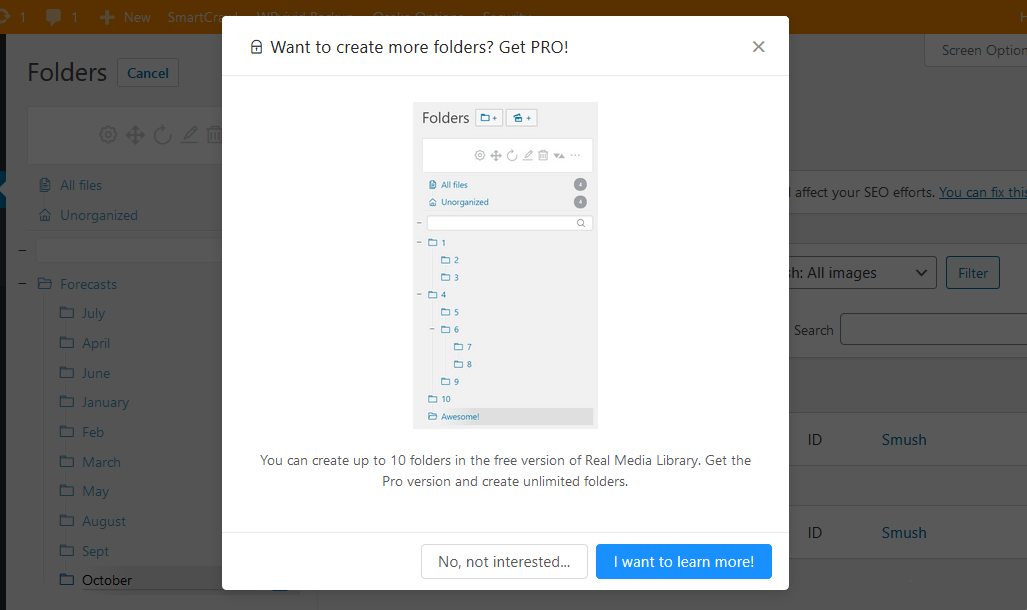 Use them wisely or go unlimited with the boundless PRO version of Real Media Library.
Once you create your folders, simply drag and drop your files to the folders.
Collections
In the image below – files are organized – first in a folder (Photography), then into collections (wildlife) and then galleries (Lions, Snakes, etc.). A collection is a logical way to organize your galleries based on general themes that the plugin calls collections.
You can also create sub-collections inside a collection. Remember, galleries can only have images.
Galleries
For most WordPress users, images take the lion's share of media uploads.So, it is only logical that you organize images in a way one can easily understand and retrieve. WordPress Real Media Library makes it possible using galleries.
A travel blogger can now, within the file manager, create galleries of the beauty they capture in their photography.
He can later retrieve the galleries and add them to his posts using the Real Media Library Gallery block for those using the Gutenberg editor or with a shortcode that supports the classic editor.
You'll see in a moment how to use the block to add a gallery to your post.
In these galleries, you can also drag and drop the images to order them how you want.
Features of WordPress Real Media Library
We've so far looked at WordPress Real Media Library's solution for the default WordPress media library limitations by using folders, collections, and galleries.
Now let's run through the features of the plugin.
We've seen WordPress Real Media Library comes with a complete file and folder manager. With it, you can do anything you would do with folders on your local computer – create, move, rename or delete a folder.
Easily Filter and Insert Images to Your Posts
One of the nightmares every publisher has with the default WordPress media manager is finding the picture to add to content. WordPress Real Media Library takes away the nightmare.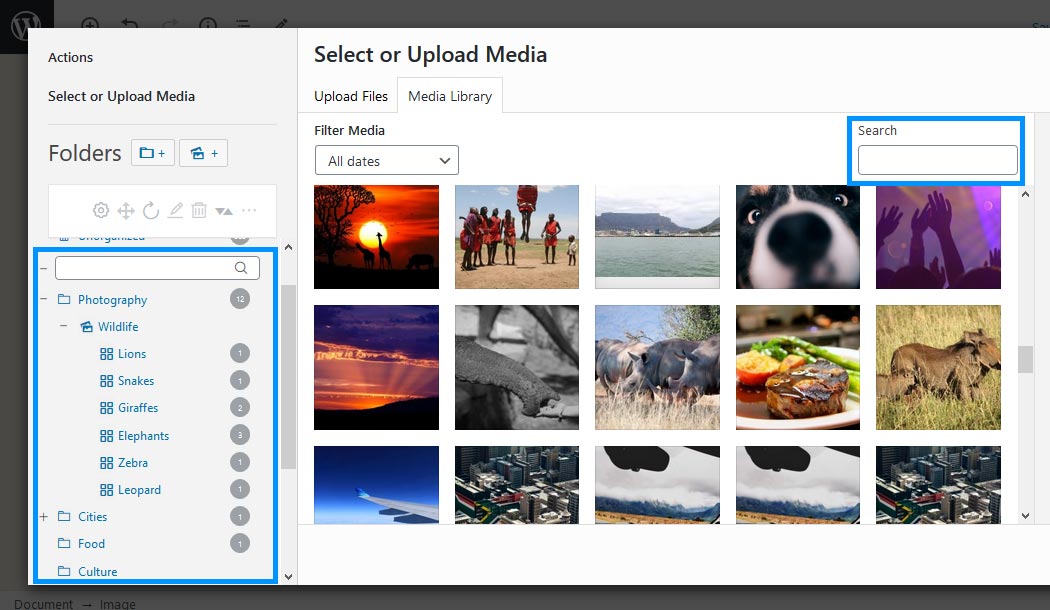 Upload Files Directly to Your Folders, Galleries or Collections
Once you have set up your folder structure, it is easy to add files directly to the folders, galleries or collections. In the WordPress media upload dialog, choose the folder you want to send your file directly.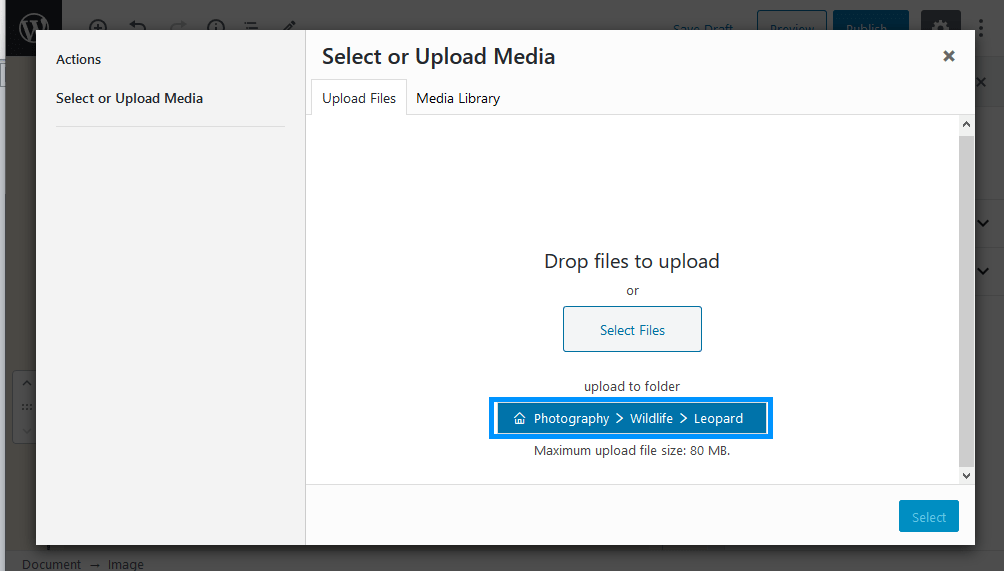 Add Galleries to Your Content from Your Folders
A feature that will make you love WordPress Real Media Library is the neat ability to add galleries to your post based on the folders you created in the media manager. Within the Gutenberg editor, you can automatically add images to your posts and pages. Add the Real Media Library Gallery block as you would any other Gutenberg block. For other editors, you can simply use a shortcode.
Then select a Gallery or folder from the Block pane under Gallery Settings.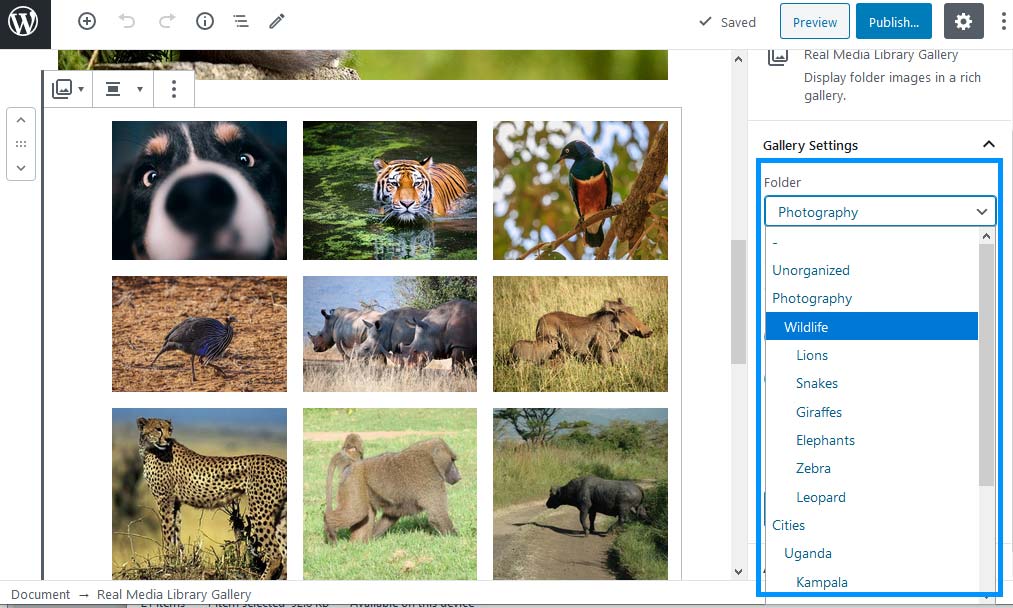 Advanced Upload Management
When you upload a file, this feature shows you a little more information about your upload – including the current status, remaining time for the upload to complete, and the upload speed.

Quickly Move around Files with Drag and Drop Features
Managing and organizing files cannot get easier than this. Drag then drop the image to another folder.
Touch-Friendly
Are you working on a touch-friendly device? It's easier to drag and drop files because WordPress Real Media Library is touch-friendly.
Custom Image Order – Only in the Pro Version of the Plugin
With WordPress Real Media Library, how you organize your files is up to you.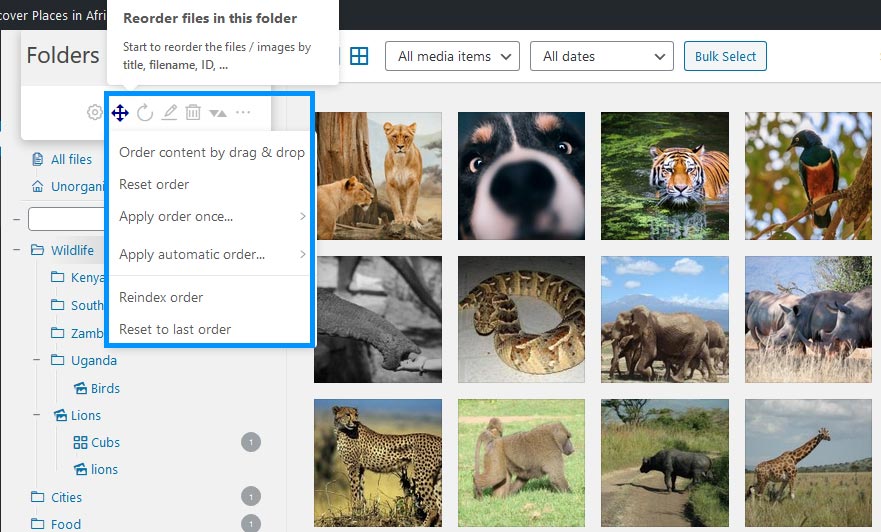 Do you want to place the elephant tusk next to the bird manually? You can just drag and drop them.
Do you want to organize files by date or name automatically? Ascending or Descending? Once or automatically? Then you will love WordPress Real Media Library.
In addition to these cool features. You also get this with Real Media Library:
Create shortcuts for files
View your images and files in a grid or as a list.
WordPress 5.x/ Gutenberg ready
Create shortcuts of filesthat do consume physical storage space in multiple folders.
Order or sort folder contentsmanually by dragging and dropping or automatically by date or time.
Rearrange foldersmanually by dragging and dropping or automatically by ascendance or descending.
Bulk select foldersand delete multiple folders at once
Quickly navigate to folders with quick folder search
Translated into several languages
Compatible with all major themes, page builders and many plugins
Supports WordPress Multisite
Import categories/folders from plugins like FileBird, WP Media Folder, Advanced Media Library, Media Library Wizard and more
Get more with Real Physical Media
You've seen the power of Real Media Library. It provides a simple solution to organize files in the bland default WordPress media library in folders that are easy to find and use as you create content.
If you upload files a lot through FTP, you will notice that you still have the default WordPress folder structure.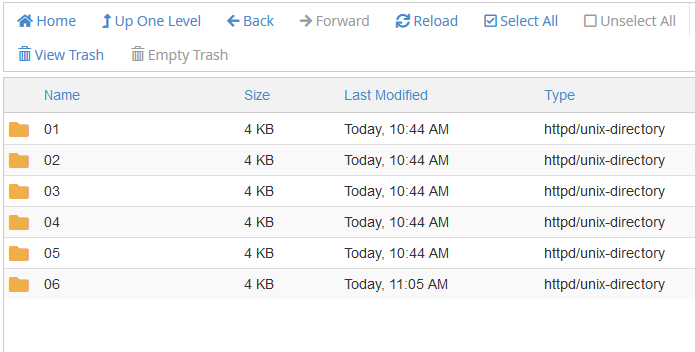 That's because WordPress Real Media Library uses virtual folders to organize your files. If you deal with your physical server often – e.g. when you use FTP a lot – then you need an add-on: Real Physical Media.
Real Physical Media replicate the virtual folders created by WordPress Real Media Library in your physical storage.
That is. It will create folders on your host based on the folder names.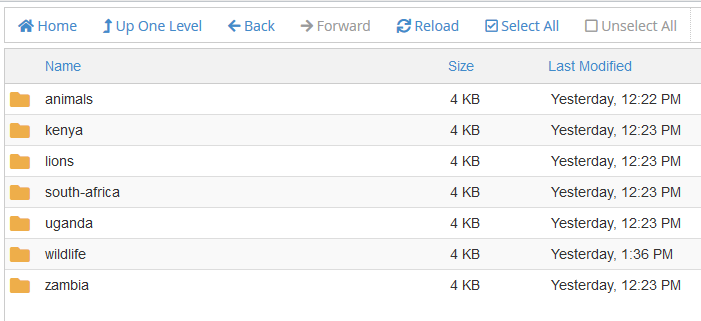 There are a couple of benefits to this.
Obviously, is that those who FTP a lot, have a logical and easy way to upload their files.
There is the immense value of SEO juice you can squeeze out of this way of organizing files. According to MOZ, 29.9% of Google search results are from image searches.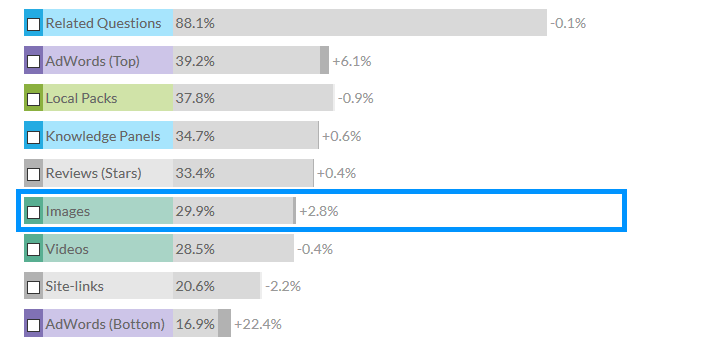 If you are still reading this article, I can assume one thing: Your website has a ton of images.
So why not pick this low hanging SEO fruit and drive traffic to your website? By using Real Physical Media, you get a descriptive file path for each image.
You would have a file path like this – in the case of our test website: Wildlife > Animal > Lions > file-name
By organizing your files this way, you optimize your site for search engines to easily query and understand your content. And as a reward, you get free traffic from search engines.
Like its sister plugin, Real Physical Media is packed with a ton of features.
Check them all out here.
Cost of WordPress Real Media Library PRO and Real Physical Media
A regular perpetual license of WordPress Real Media Library goes for $39, and that of Real Physical Media goes for $24. That's not cheap, but you get a really good solution for your money.
Where to Buy WordPress Real Media Library PRO and Real Physical Media?
You can buy both plugins at the Envato Market place – the guys behind Themeforest.net.
Here are the links again:  WordPress Real Media Library and Real Physical Media.
Conclusion
At WPVIVID, we love to shine a light on great plugins that make publishing with WordPress amazing. So far, over 15,000 WordPress users share the delight we found using Real Media Library. Give it a try and let us know how it goes!
Still, in doubt, you can try it out without installing it on your website here. Or you can install the free version found in the WordPress repo or go pro here.