It's The WPvivid 
Black Friday Sale!
All-in-One Backup & Migration Plugin for WordPress
Robust and stable WordPress backup and migration solutions, designed for freelancers, agencies, and site owners.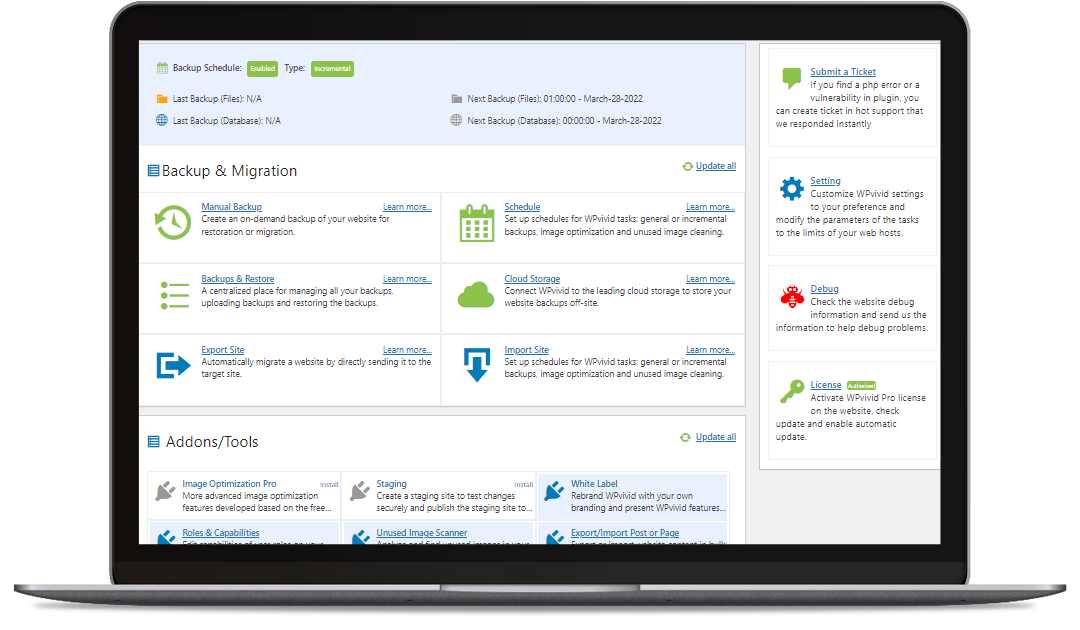 Featured Addon: Staging Pro
Create a staging site to safely test changes. Push the staging site back to live when you finish the work. Learn more…
Featured Addon: Image Optim Pro
Optimize your website images in bulk and convert to WebP to improve your Google PageSpeed Score. Learn more…
Trusted by 17,000+ Happy Customers
More than 17,000 + users have taken advantage of WPvivid plugins to make their job easier!
300 K+
Active  Installations
//Core Feature:
Advanced Backup Engine
Designed for site owners, freelancers, and agencies. The most economical choice especially for users who have many websites.
Easy to use
With a smart built-in learning mode, you don't have to touch or understand the annoying parameters to make a successful backup on shared hosting, our plugin automatically takes care of it.
Powerful Custom Feature
You can flexibly customize the backup content – include/exclude files/folders, files/folders of certain types, database tables, even web databases as needed.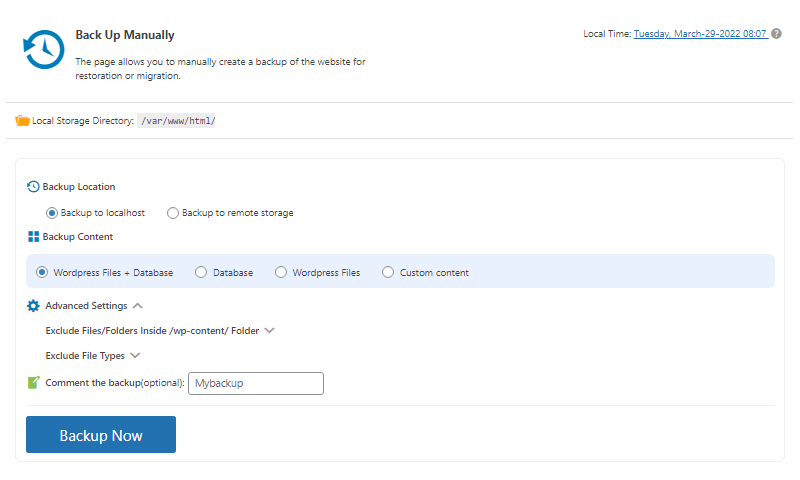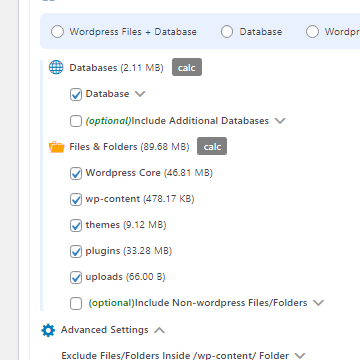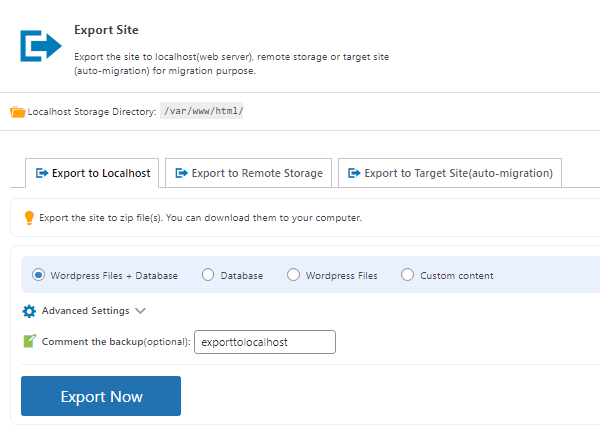 Migration Via Remote Storage
Site To Site Migration Directly
//Core Feature
Advanced Migration Engine
With a clear migration workflow, developers can save great time when building WP sites and migrating sites from dev(on local or remote) to live, or to new web hosting.
Never crash the live site
Our plugin comes with a built-in feature of snapshot, so even in the case where the restoration failed for some reasons, your current running site will not be affected.
Compatible with many themes and page builders
Safely replacing site urls in WordPress migration is crucial. The plugin has been extensively tested and is compatible with most leading page builders and themes in the market.
Main Features
A wide range of WordPress backup and migration features that cover all your needs.
Backup: Include/Exclude Rules
Include/exclude specific files or folders and database tables from a backup. Exclude files of certain types. Back up web databases and tables. Global exclusion rules for all backup types.
Schedule (Incremental /General)
Two backup schedule types – general and incremental schedules. Customize backup content and start time of a schedule. Specify cloud storage for a schedule, and set up multiple WordPress backup schedules.
Export/Import Site (Migration)
Separate export and import workflows for easier WordPress migration. Export a website to 3 locations as needed: web server, remote storage, and target site (auto migration). Import the site from corresponding locations to restore.
Cloud Storage Support
Support leading cloud storage providers including Google Drive, Dropbox, OneDrive, Amazon S3, s3-Compatible storage, FTP, SFTP, Wasabi, pCloud, Webdav and Backblaze. Customize backup folder for each site. Send a backup to multiple cloud storage.
Auto-Backup Before Update/Rollback
Automatically back up plugins, themes, WordPress core before you update them. So if something goes wrong after the update, you can quickly restore everything back to normal.
Flexible Backup Retention Rules
Set the number of backups of different types(manual, scheduled, incremental, and rollback) to retain in different locations(web server and remote storage) for different purposes. Set individual retention rules for different cloud storage.
Roles & Capabilities
Specify individual WPvivid modules/features for different user roles: Editor, Author, Contributor, Subscriber. Administrator(s) have the access to everything.
White Label
Replace WPvivid branding on the plugin UI with your own brand name and present WPvivd Backup Pro functionalities to your clients as your own service.
Multi-Email Notification
Set up one or multiple email addresses to receive backup report. You can choose to get notified when a WordPress backup succeeds or fails, and customize email report subject for different sites for easy identification.
WordPress Multisite Support
Back up the entire WordPress multisite network or migrate it to another multisite, or migrate a subsite in the multisite network to a standalone WordPress install.
Testimonials
What They Say About Us
WPvivid Backup & Migration plugin are rated 4.9 out of 5.0 based on 500+ reviews on wordpress.org!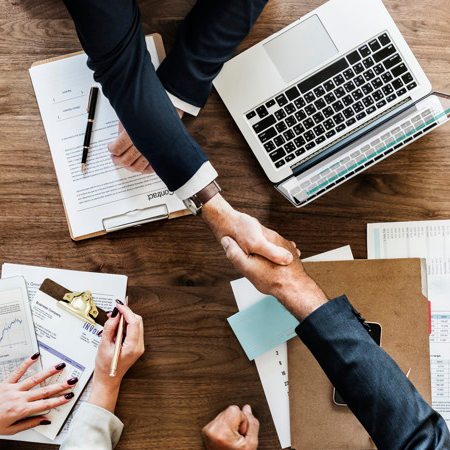 Trusted by 17,000+ Customers
Reliable choice of more than 17,000 users, with 4 million+ total downloads, 300, 000+ active installations and counting.
Full Functions & Reliable Quality
Covers almost all features you will ever need for backing up and migrating your WordPress websites.
24/7 Ticket Support
We offer 24/7 customer support for users via multiple channels, responsive and responsible.
Affordable Pricing
We care about every single user, thus offer the most value-based pricing in the market that is affordable for everyone.
Let's Try!
Backup or Migrate Your Site
30 day money back guarantee, cancel anytime, zero risk