Try the free, full-featured trial for 14 days. Zero-risk.
No credit card needed. Trial starts with the Trial plan with 2 sites. 
Create A Staging Site
WPvivid Staging Pro provides the ability to create a staging copy of your WordPress site easily. You can customize the content that you want to copy from a live site to the staging site.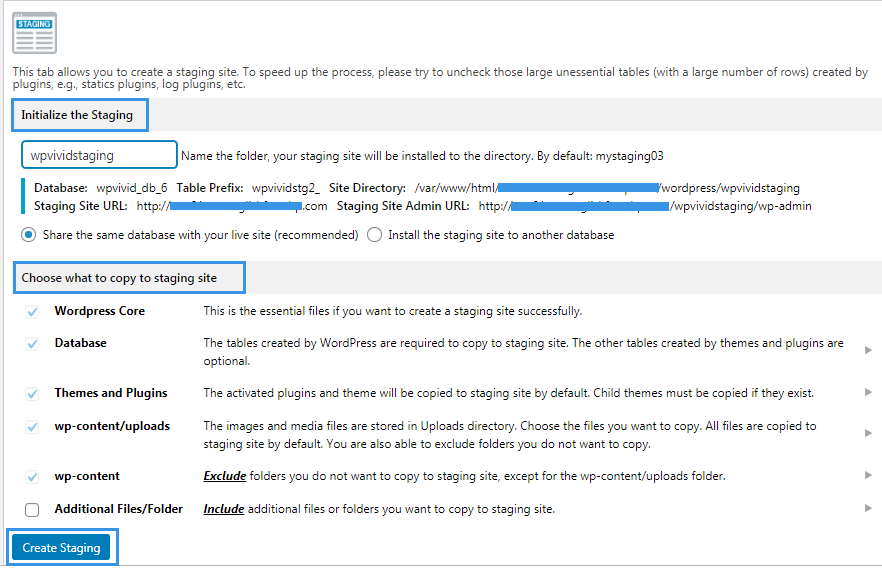 To create a staging site, login to your admin dashboard >> click WPvivid Backup in the left side menu >> click Staging sites >> switch to Creating Staging tab.
The "Creating Staging" tab is where you can create a staging site. It is made up of two sections,
Section 1. Initialize the Staging
From this section, you can give a name to the folder where the staging site will be saved under your WordPress installation, which is also the staging site's name.


In the next part, you can choose a database for the staging site:
Share the same database with your live site, which is recommended.
Install the staging site to a different database, this requires you to provide additional login credentials for the database: database name, user name. user password, localhost.


Between the two options, there also displays some basic info of your staging site, which includes:
Database: e.g.,

wpvivid_db

Table Prefix: e.g.,

wpvividstg

Site Directory: e.g., /var/www/html/yourdomain.com/wordpress/

yourstagingsite

Staging Site URL: e.g., http://yourdomain.com
Staging Site Admin URL: e.g., http://test6.learnenglishfromhp.com/

yourstagingsite

/wp-admin
Section 2. Choose What to Staging
From this section, you can customize the content on the live site that you wish to copy to the staging site:
WordPress Core
Database
Themes and Plugins
wp-content/uploads
wp-content
Additional Files/Folder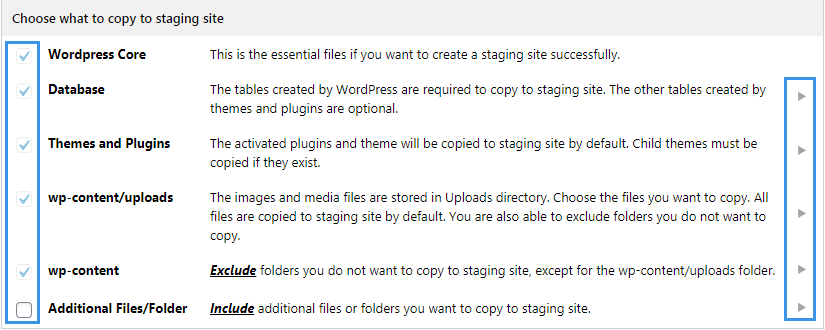 Once you're all set up, click the Creating Staging button at the bottom to start copying your live site to staging.
Note: Please don not close or refresh the page while the plugin is creating a staging site. This can take some time depending on your connection speed and the size of the copy.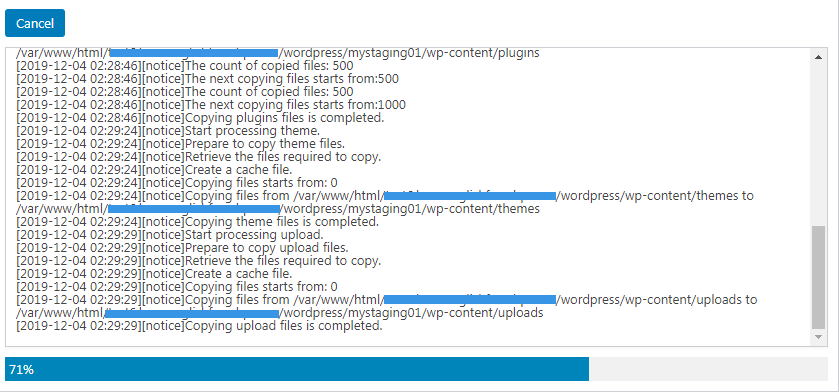 Once done, head to Staging Sites tab where all your staging sites are displayed. You can then log in to the staging site's admin area from login url showing in the list, and your login credentials for your staging site's WordPress dashboard will be the same as your live site's.
Now feel free to develop your site on a staging environment and once the development work is done, you can publish the staging site your live site with one click.